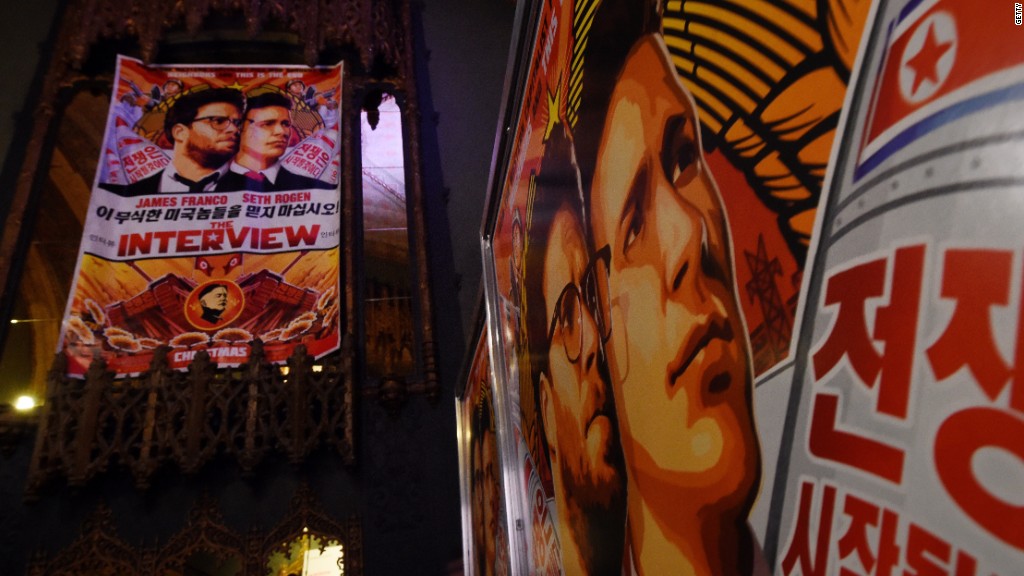 Now that "The Interview" is back on, where can you watch it?
Sony Pictures put out a list Wednesday of about 300 theaters in nearly every state that will show the controversial Seth Rogen comedy on Christmas Day, and several dozen more starting January 1.
The movie is also now available online through via YouTube, Google (GOOG) Play, the Microsoft (MSFT) Xbox video game console and a special Web site.
Related: Sony plans limited release in theaters
Here's a list -- from Sony -- of where you can watch the movie starting on Christmas Day:
Alabama:
Andalusia: Clark Theatre 3
Birmingham: Edge 12
Boaz: Boaz Cinema 9
Enterprise: Clark Cinema 1 & 2
Fort Payne: Fort Payne Cinemas 6
Greenville: Edge Cinema 8
Huntsville: Madison Square Stadium 8
Troy: Continental Cinema 6
Arizona:
Lake Havasu: Lake Havasu Cinema 10
Maricopa: Ak-Chin 12
Payson: Sawmill Theatres
Scottsdale: Ultraluxe Scottsdale Pavillions 11
Show Low: Wme Theatre
Sierra Vista: Uptown 3 Theatre
Tempe: Valley Art
Tucson: Loft Cinema 2
Arkansas:
Cabot: Silver Screen Cinemas 8
El Dorado: Stars Cinema 6
Hot Springs: Behind The Mall Cinema 5
Little Rock: Riverdale 10
Searcy: Cinema 8
California:
Agoura Hills: Agoura Hills Eight
Angels Camp: Angel Cinema Six
Avenal: Avenal Theatre
Azusa: Foothill Mall Ten
Bakersfield: Maya Bakersfield 16 Cinemas
Bakersfield: Easthills Mall 10
Barstow: Barstow Station 6
Berkeley: Elmwood 3 Theatres
Cathedral City: Mary Pickford Theatre
City Of Commerce: Regency Commerce 14
Fairfax: Fairfax 6 Theatres
Folsom: Palladio 16 Cinemas
Fontana: Fontana Eight Cinema
Fortuna: Fortuna 6
Garden Grove: 4 Star Cinemas
Granada Hills: Granada Hills 9
Hesperia: Civic Plaza 12
Lancaster: Blvd Cinemas 3
Livermore: Livermore Cinemas
Los Angeles - Los Feliz 3
Martinez: Contra Costa Cinemas 8
Monterey: Osio Plaza Theatre 6
Morgan Hill: Tennant Station Stadium Cinemas
Palm Desert: Cinemas Palme D'or
Palm Springs: Camelot 3
Perris: Perris Plaza 10
Petaluma: Boulevard Cinemas 14
Pittsburg: Maya Century Plaza 16
Red Bluff: Prime Cinema 6
Riverside: University Village Cinemas
Riverside: Jurupa Stadium 14
Riverside: Mission Grove 18
Salinas: Maya Salinas 14
San Bernardino: Sterling Cinema 6
San Jose: Almaden Seven
San Jose - Camera Three Cinemas
Santa Barbara - Arlington
Santa Cruz: Del Mar Theatre 3
Santa Paula: Santa Paula Seven
Scotts Valley: Scotts Valley 10 Cinema
Sebastopol: Sebastopol Cinemas 9
Sonoma: Sonoma Cinema 9
Thousand Oaks: Janss Marketplace 9
Van Nuys: Plant 16
Westminster: Regency Westminster 10
Westwood: Crest
Colorado:
Littleton: Alamo Drafthouse Littleton 7
Connecticut:
Hartford: Spotlight Theatres Front Street Stadium
Waterbury: Apple Cinemas Waterbury 10
Delaware:
Middletown - Westown Movies
Rehoboth Beach: Movies At Midway 14
Wilmington: Penn Cinema Riverfront Imax 15
Florida:
Bonita Springs: Prado Stadium 12
Ft Lauderdale: T-Bird D/I 14
Ft Myers: Edison Park 8
Jacksonville: Sun-Ray 5 Points 1
Key West: Tropic 4 Cinema
Lake Worth: Lake Worth D/I 2
Orlando: Touchstar Cinemas Southchase 7
Palm Bay: Nova Cinemas Of Palm Bay
Shreveport: Robinson Center
Tampa: Funlan D/I 4
Titusville: Satellite Cinema 10
Gulf Breeze: Treehouse Cinema
Georgia:
Atlanta: Plaza 2
Cordele: Cordele Stadium 5 Cinemas
Greensboro: Parkside Main Stadium 8
Pooler: Royal 13 W Imax
Roswell: Aurora Cineplex 10
Savannah: Eisenhower Cinema 6
Idaho:
Meridian: Village Cinema
Ponderay: Bonner Mall Cinemas 6
Twin Falls: Magic Valley Cinema 13
Illinois:
Arlington Heights: Arlington Heights
Bloomington: Bloomington Galaxy 14 Cine
Buffalo Grove: Buffalo Grove Theatre 5
O'fallon: O Fallon 15 Cine
Ottawa: Roxy Cinemas 6
Peoria: Willow Knolls 14
Peoria: Reynolds Landmark 10
Savoy: Savoy 16
Woodridge: Hollywood Boulevard 10
Indiana:
Columbia City: Bones Theatre 4
Greendale - Greendale Cinema 10
Greensburg: Wolf 10 Theatres
Indianapolis - Georgetown 14
Jasper: Jasper 8
Portage: Portage 16 Imax
Iowa:
Cedar Rapids: Cedar Rapids Galaxy 16 Cine
Kansas:
Overland Park: Cinetopia 17
Kentucky:
Georgetown: Theatres Of Georgetown 7
Louisville - Village 8 Theatre
Pikeville - Riverfill Cinemas 10
Louisiana:
Chalmette: Chalmette Cinema 6
La Place: Hollywood Cinemas 7
Maine:
Bangor: Hollywood Cinemas
Caribou: Caribou Cinema Four
Maryland:
Baltimore: Eastpoint Movies 10
Brandywine: Xscape 14 At Brandywine
Hagerstown: Leitersburg Cinemas
Massachusetts:
Cambridge: Apple Cinemas
Danvers - Hollywood Hits
North Attleboro: Cinema Pub
Salisbury: Cinema 95
Michigan:
Ann Arbor: Quality 16
Ann Arbor: State Theatre
Ironwood: Cloverland 4 Cinema
Kalamazoo: Alamo Drafthouse Kalamazoo
Traverse City - Bijou By The Bay
Wayne State: Wayne Theatre 4
Minnesota:
Cambridge - Cambridge 5 Cinemas
Cloquet: Premiere Theatre 6
Cold Spring - Quarry Cold Spring 5 Cinema
Fairmont - Fairmont 5
Int'l Falls: Cine 5 Theatre
Minneapolis - St Anthony 5
North Branch - North Branch Cinema 7
Onamia: Grand Makwa 4 Cinema
Rochester - Rochester Galaxy 14 Cine
Sauk Centre: Main Street Cinema 6
Missouri:
Arnold: Arnold 14 Cine
Blue Springs: Blue Springs Eight
Cape Girardeau: Cape West 14 Cine
Chesterfield: Chesterfield Galaxy 14 Cine
Independence - Pharaoh Cinema 4
Kansas City: Alamo Main Street 6
North Kansas City: Screenland Armour
St Louis: Chase Park Plaza Cinemas 5
St Louis (Clayton): Galleria 6
St Louis (Des Pers): Des Peres 14
Warrenton - Warrenton 8 Cinemas
West Plains: Glass Sword Cinema Six
Montana:
Hamilton: Pharaohplex 6
New Hampshire:
Keene: Keene Cinemas
New Jersey:
Clifton: Allwood Cinemas 6
Jersey City: Hudson Cinema 7
Newark: City Plex 12 Newark
North Bergen: Columbia Park 12
Ocean Township: Middlebrook Cinema 10
Paterson: Fabian 8 Cinema
New Mexico:
Deming: Starmax Deming
Nevada:
Mesquite: Mesquite Stadium 6
Minden: Ironwood Stadium Cinema 8
New York:
Auburn: Movieplex 10
Canandaigua: Movietime Cinemas 10
Canton: American 5
Cortland: Cortland Plaza Theatre
Dunkirk: Movieplex 59 Dunkirk Cin
Flushing: Main Street Six
Hudson: Movieplex 8
Kew Gardens: Kew Gardens Cinema
Massena: Massena Movieplex 8
Mastic: Island Cinemas
Merrick: Merrick Cinemas
New Windsor - New Windsor 12
New York: Quad Cinema 4
New York: Cinema Village
Painted Post: Crystal Cinema 8
Saugerties: Orpheum Triples
Sunnyside: Center Fiveplex
Yonkers: Alamo Drafthouse Yonkers
North Carolina:
Durham: Northgate Stadium 10
New Bern: Neuse Theatre
Roxboro: Palace Pointe 8
Smithfield: Smithfield 10
Sylva: Quin Theatre 4
Greensboro - Carousel Cinemas 15
North Dakota:
Fargo: Fargo Theatre 2
Williston - Grand Theatre 6
Ohio:
Cincinnati: Esquire 6
Cleveland: Tower City 10
Columbus - Gateway Theatre 7
Columbus: Grandview Theatre
Nelsonville - Movies 10
Oklahoma:
Altus: Heritage Park 7
Chickasha: Valley View Cinema 6
Jenks: Riverwalk Movies 8
Tulsa: Circle
Weatherford: Showest 4
Oregon:
Beaverton: Cinetopia Progress Ridge 14
Corvallis: Darkside Cinema 4
Eugene: Bijou Art Cinemas 2
Portland: Hollywood Theatre 3
Pennsylvania:
Coraopolis: Dependable D/I (4)
East Stroudsburg: Pocono Community Theater
Elizabethtown: Movie Town Cinemas 8
Johnstown: Richland Cinemas
Lehighton: Mahoning Valley Cinemas 8
Lewistown: Miller 6 Cinemas
Marshalls Creek: Pocono Movieplex
Matamoras: Majestic Cinemas 7
Pittsburgh: Southside Works 10: Pittsburgh
Rhode Island:
Providence: Cable Car Cinema
South Carolina:
Charleston: Terrace Theatre 4
Columbia: Nickelodeon Theatre
Lancaster: Crown 2
Tennessee:
Estill Springs: Montana D/I 3
Franklin: Franklin Theatre
Murfreesboro: Premiere 6
Nashville: Belcourt Theatre 2
Texas:
Abilene: Town & Country D/I 2
Austin: Alamo Drafthouse Lakeline
Austin: Alamo Ritz Theatre 2
Austin: Alamo S Lamar 9
Austin: Alamo Slaughter Lane 8
Carrollton: Venetian 8 Bar & Grill
Conroe: Pine Hollow 6
Dallas: Look Cinemas Dallas
Dallas: Texas Theatre
Ennis: Galaxy D/I 5
Gainesville: D-Max 6
Gainesville: D-Max 6
Houston: Alamo Drafthouse Vintage Park 7
Katy: Alamo Mason Park 7
Lubbock: Alamo Drafthouse Lubbock 8
Missouri City: Star Cinema Grill
Mt Pleasant: Mt Pleasant Southside 6
New Braunfels: Marketplace Cinema 12
Portland: North Shore Cinema 8
Richardson: Alamo Drafthouse Richardson
San Antonio: Rialto Bistro 9
San Antonio: Alamo Drafthouse 6 Stone Oaks
San Antonio: Alamo Park North 8
San Antonio: Alamo Westlakes 9 Drafthouse Cinema
San Antonio: City Base 12
San Antonio: Mayan Palace 13
Tomball: Silverado 19 W/Imax
Webster: Star Cinema 6
Utah:
Cedar City: Historic Cedar Theatre
Ogden: Moviegrille
Park City: Library/Attn:Film Series
Perry: Walker Cinema Eight
Salt Lake City: Brewvies Cinema & Pub 2
South Jordan: Megaplex At District 20 Imax
St George: Main Street Cinema 6
Virginia:
Abingdon: 21st Century Cinemas 12
Ashburn: Alamo Drafthouse Cinema: One Loudoun
Farmville: Sunchase Cinema 8
Hayes: York River Crossing Cinema
Manassas: Manassas 4 Cinemas
Martinsville: Hollywood Cinema
Norton: Cinema City Stadium 9
Washington:
Bainbridge Island: Bainbridge Cinemas 5
Bremerton: Olympic Cinemas
Ellensburg: Grand Meridian
Oak Harbor: Plaza Three Cinemas
Stanwood: Stanwood Cinemas 5
Vancouver: Cinetopia 8
Vancouver: Cinetopia Vancouver Mall 23 14
Yelm: Yelm Cinemas 8
Seattle: Ark Lodge Cinemas
Tacoma: Grand Tacoma 4
Washington, DC:
West End Cinema
Angelika Pop-Up
West Virginia:
Elkins: Elkins Cinema 8
Fairmont: Tygart Valley Seven
Wisconsin:
Ashland: Bay 6 Theatre
Beloit: Beloit Luxury 10
Eagle River: Vilas Cinemas 4
Fond Du Lac: Fond Du Lac Theatre (8)
Hartford: Hartford Cinemas 6
Hayward: Hayward Cinema 4
Janesville: Movies 16 Theatre
New London: Grand Theatre 4
Platteville: Millennium 6 Cinema
Shawano: Shawano Theatres 4
Sparta: Sparta Cinema 6
Sturgeon Bay: Sturgeon Bay Cinemas 6
Wyoming:
Jackson: Jackson Hole Cinema 2
Rawlins: The Movies 3
Riverton: Gem Theatres
--CNN's Brian Stelter, Molly Shiels, Lorenza Brascia and Stephanie Gallman contributed to this report.