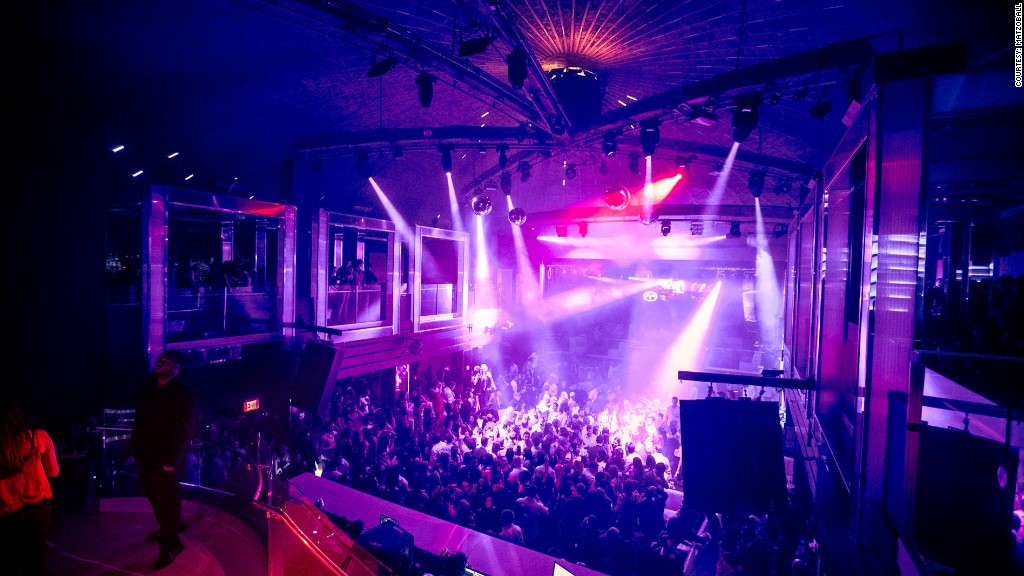 It's the most wonderful time of year -- for Jewish singles to mingle and for savvy businesses to cash in.
And we're not talking Chinese restaurants and movie theaters. There's a growing number of "ball" events popping up at clubs -- from New York City's Tao Downtown Lounge to Miami's Fontainebleau -- all catering to Jewish singles on Christmas Eve.
"It has become Valentine's Day on Christmas Eve -- for Jews," said Andrew Rudnick, who has been organizing the MatzoBall for 28 years.
Rudnick partners with hot spots like Fontainebleau Miami Beach's LIV night club, charging from $30 to $50 for access to the club. (Beverages aren't included.)
"It's the only night of the year we can take on a fantastic venue that would normally be closed and deliver it almost exclusively to the young urban [Jewish] community," said Rudnick.
He's renting 21 venues this year across the country (up from seven in 2013), including one called "Christmas is Canceled" hosted by Instagram sensation The Fat Jew.
For clubs -- it makes business sense. Entrepreneurs and event planners like Rudnick take care of the marketing, and they just staff and throw a party, like any other night of the year.
"It's a great opportunity on a night that's typically very quiet," said Jeff Klein, vice president of operations at Fontainebleau Miami Beach. "We've taken advantage of a niche market."
Klein declined to disclose revenue generated by the club as a result of the event, but said it's on par with a normal Wednesday or Thursday night (also evenings when many other venues are closed).
Related: 7 lifehacks to eliminate your holiday hassle
This year, Fontainebleau partnered with Rudnick to extend the activities beyond just Christmas Eve. An overnight package -- which costs $249 -- will buy a ticket to the MatzoBall at LIV, hotel accommodations, brunch, and access to a MatzoSplash Pool Party on Christmas Day. According to Rudnick, he wants to ramp up his business in 2015 by hosting monthly meetups and launching a membership-based network.
As the longest running of the events, the MatzoBall faces fierce competition. Rudnick says he's issued cease-and-desist letters over the years to those who've copied the MatzoBall name. And several of his rivals are already hosting events year-round -- like event producers Jeff Kashi (who hosts NYC's Official Xmas Eve Party) and Eli Lunzer (who runs a similarly titled The Official Xmas Eve Bash for Young Jewish Professionals in NYC).
Lunzer has been offering his MatzoBall alternative for seven years now. Ticket prices to the Bash cost half the amount of some competitors -- between $18 and $25 -- and part of the proceeds go to charity.
"It's much more economically reasonable," said Lunzer, of his event held at the Ainsworth Park this year.
Like Klein, Lunzer has found this time of year to be a tremendous business opportunity -- he expects up to 900 people to attend this year (up from 100 when he first started hosting the event).
"I've had venues beg me for my business," said Lunzer, which he credits to the fact that he runs events year-round, including New Year's Eve, President's Day, and Hanukkah, all catering to young Jewish professionals.
Related: Sony will release 'The Interview' at limited number of theaters on Christmas
Creating a loyal base of customers is essential to attracting attendees as the number of events grows -- and they compete with dating sites offering up singles to mingle with (at least digitally speaking).
Let My People Go -- which also hosts events year-round -- has been organizing "The Ball," on Christmas Eve for 20 years. In Los Angeles, it's a one-venue destination. But in New York City, they have a foothold on the Tao/Strategic Group -- the parent company for nightlife destinations including PH-D, Marquee, and LAVO. The Ball is a multi-venue extravaganza event lets party-goers club hop to five different clubs (and provides free SUV limo transportation to and from the venues) for $35 to $45.
According to Michael Marinoff, director of nightlife at Dream in Meatpacking District, the event brings in 65% of a typical night's revenue -- and manages to keep the club packed. PH-D has a capacity of 400 so over the course of the night, they see three times that amount on Christmas Eve. (They're also the host of The Ball Afterparty on Christmas.)
But what keeps people popping into these events year after year? The promise of becoming another statistic.
According to Rudnick, the MatzoBall has resulted in 20 marriages (including his own) over the years. And Lunzer said his Xmas Bash has resulted in 23.
Happy holidays -- and happy hunting!