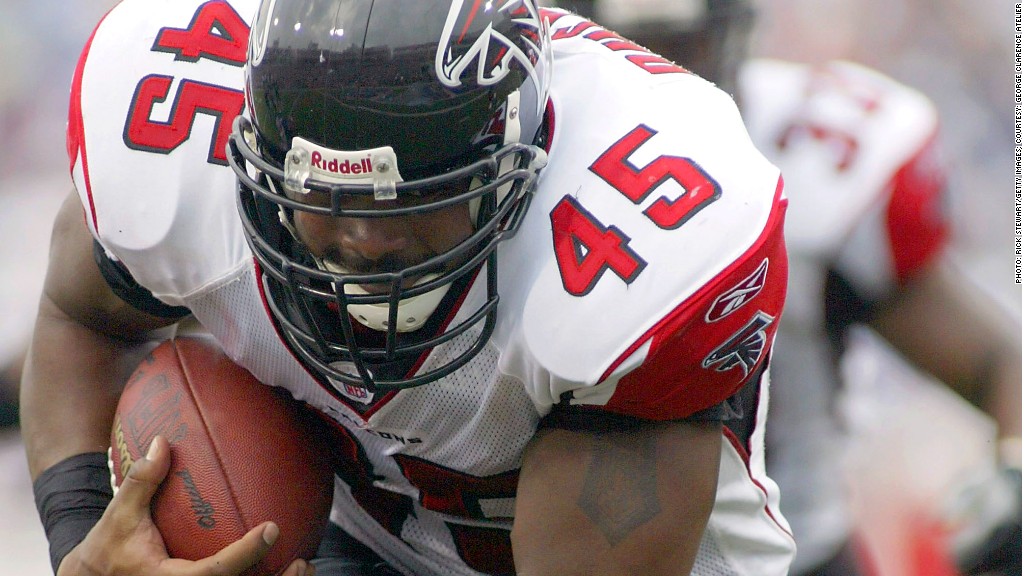 After living the dream for a decade, T.J. Duckett fell into depression in 2009 when the clock stopped on his professional football career.
Like many players, the former Atlanta Falcons running back realized that devising a game plan for life after the NFL can be very challenging.
"I didn't really know where I was headed or what I was doing," Duckett told CNNMoney.
"As a kid, I had a dream and was blessed to reach that dream and live that dream. Afterwards, I had to start over and pick up the pieces," said Duckett, who was drafted by the Falcons in 2002.
Related: How to re-invent yourself at any age
Two-year funk: Duckett effectively put his 254-lb. frame to use as the power runner behind faster backs like Warrick Dunn and Shaun Alexander.
He didn't make Peyton Manning money, but his last contract, with the Seattle Seahawks in 2008, included $4 million in guaranteed money.
When he retired in 2009 and moved back to Michigan, Duckett initially stepped up his role at the janitorial supplies and facilities management company he co-owns with his brother. While it sounded appealing at first, Duckett, who now goes by "Todd," quickly concluded he wasn't passionate about it.
That's when a two-and-a-half year depression set in. Duckett, 33, experimented in different business areas and eventually emerged from his funk with a new passion for volunteering and community service.
"I dug into my spirit and who I was. I came out of that realizing life to me is about serving people and helping the community," he said.
Related: The perks of taking a sabbatical
Turkey giveways, cancer fundraisers: Feeling re-energized, in 2011 Duckett launched New World Flood, a volunteer organization aimed at encouraging people to contribute their time, talent and resources to help those who are less fortunate. The nonprofit says its purpose is to "flood the world with service!"
Last month, New World Flood distributed over 1,000 frozen turkeys and trimmings to families in Lansing and Kalamazoo -- the region of Michigan where Duckett grew up and went to college at Michigan State.
Duckett's organization also launched the Jacquelyn Barham Challenge, a fundraiser that raises awareness about life-threatening illnesses by shaving heads and beards. The challenge is named after his mother, who died in 2000 after fighting lymphatic cancer for six years.
$100K raised: All told, New World Flood has raised at least $100,000 that's funded various projects, including giving away backpacks to students and supporting a school in Tanzania.
In addition to donating his time salary-free, Duckett has sunk a lot of his own money into the organization to make sure all fundraising targets are met.
"We've set goals. Whatever we didn't raise, I would always fill in the extra," he said.
Duckett currently makes a living through his investment in the janitorial company and a t-shirt printing venture he launched that caters to nonprofits.
Related: How young tech millionaires invest
Challenging transition: Duckett is hardly the only NFL player to initially struggle to develop a post-playing career. Players who grew accustomed to making millions of dollars a day suddenly have to adapt to a more modest lifestyle.
"The biggest fear is that players are going to go broke and drift into the night and be forgotten about," he said. "I definitely had to cut back. Things change. That's a different place."
Related: NFL players warn rookies: Stop spending so much!
That's one reason why in 2011 the NFL players union launched The Trust, a group that provides career transition, financial and health services to former players.
"We really try to form resources around common challenges that we know former players face when they leave the NFL," said Bahati VanPelt, The Trust's executive director.
The Trust wasn't around to help Duckett during his earlier struggles. But today it's helping him assess his needs and advising him on possibly going back to school.
"It helps with everything from trying to decide what business you want to get involved with to who you do business with," he said.