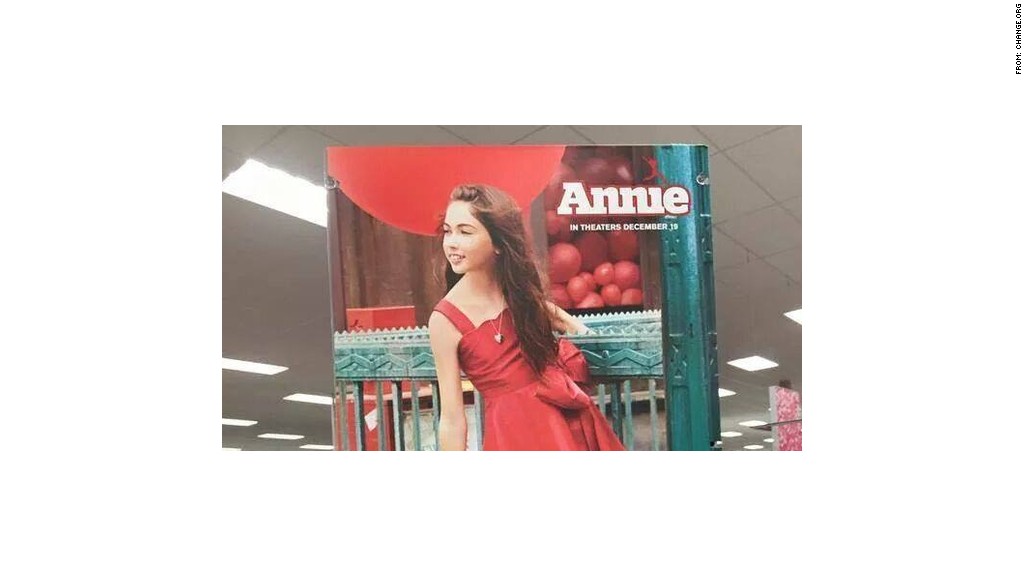 Thousands of people have signed a Change.org petition asking Target to replace its in-store ads for "Annie" apparel.
Some of the ads show a white girl wearing a $29.99 red dress available in Target's "Annie for Target" collection. In the "Annie" remake currently in theaters, Annie is played by Quvenzhané Wallis, who is black.
The Change.org petitioners are asking Target (TGT) to remove the ads and apologize to Wallis.
"These grossly misleading ads are adding to the divide and does (sic.) not give young African American girls aspiring to become actors anything to be optimistic about," the petition reads.
Prior to the movie's Dec. 19 release, Target partnered with Renée Ehrlich Kalfus, the costume designer for the new "Annie" movie. In November, the department store began selling clothes inspired by the orphan character's wardrobe. The collection includes 26 tights, jeans, dresses, shirts and accessories ranging from $4 to $30.
Joshua Thomas, a Target spokesman, noted that the in-store ads actually feature girls of various ethnic backgrounds. The ad for the online store features one black girl and two white girls.
"Girls from a variety of backgrounds were featured within the campaign, reflecting that anyone can embody the spirit and character of Annie," Thomas said.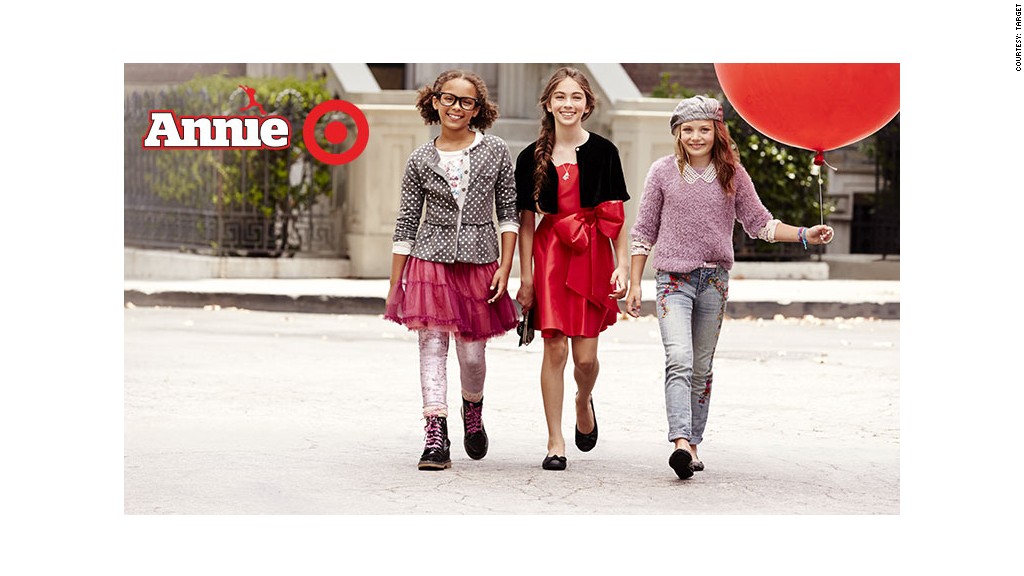 Related: Whites get wealthier, while Blacks and Hispanics lag behind
Still, critics are going to get what they asked for ... at least, partially.
The "Annie" collection was designed to have a limited-run, and it will be out of stores by the end of this week. Most of the department store's ads for the "Annie" line have already been taken down, Target noted.
Target won't be apologizing to Wallis, but Thomas said the company has been in contact with the actress and her representatives about the situation.
The company did have some preliminary conversations about Wallis modeling the clothes, but that never came to fruition, Thomas said. But Wallis and co-star Jamie Foxx came to Minnesota for the collection's launch event and helped promote the collection -- something the Change.org petition acknowledges.