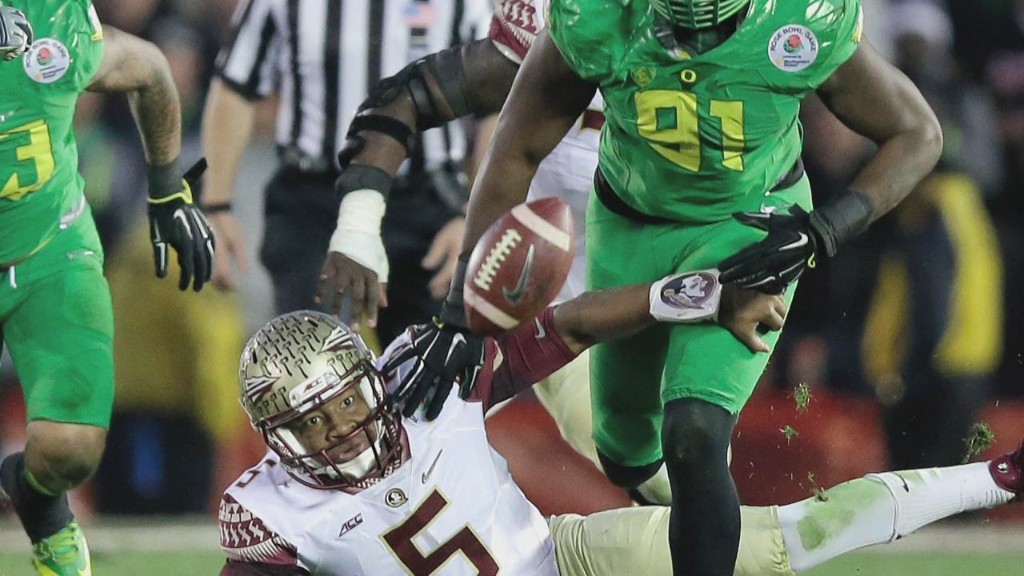 The two highest-rated broadcasts in cable TV history now belong to ESPN thanks to the new college football playoffs.
On Thursday, 28.2 million viewers watched Oregon blow out Florida State 59 to 20 in the Rose Bowl. Later in the night, 28.3 million tuned in as Ohio State upset top-seed Alabama 42 to 35 in the Sugar Bowl.
These numbers make the semifinal games the two most-watched broadcasts in cable TV history.
"These record setting numbers illustrate the enormous fan interest in college football and the wide ranging appeal of the new College Football Playoff format," John Wildhack, ESPN's executive VP of programming, said in a statement.
This year marked the first time that the college football champion will be decided by playoffs.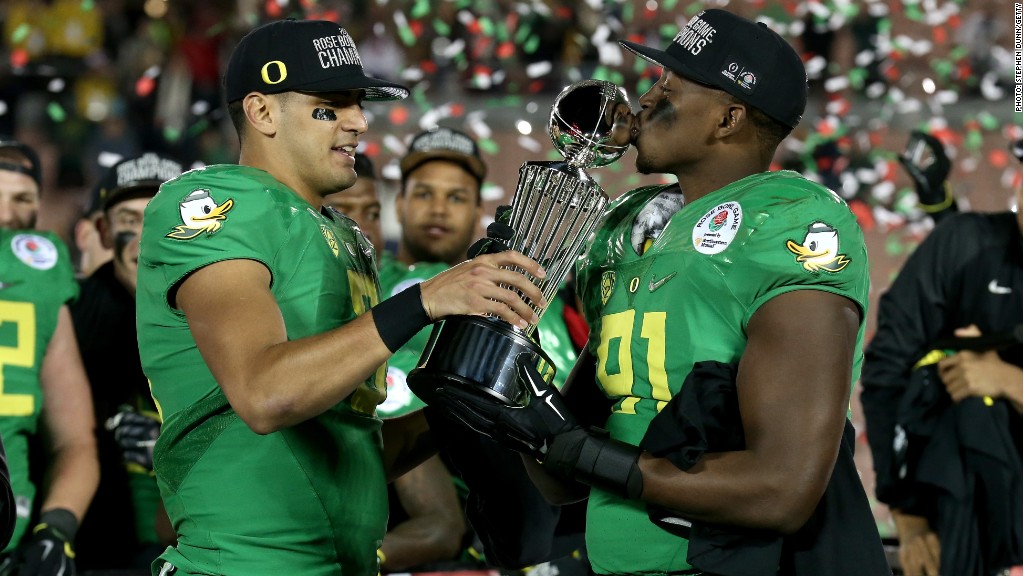 In prior years, computer rankings and coaching polls were used to determine which teams would compete for the crown.
ESPN now holds the largest 18 audiences in cable TV history.
While the network's ratings are huge, they pale in comparison to the 111 million viewers that tuned in for the Super Bowl on network TV last year.
Related: TV contracts keep sports programming steady for next decade.
The ratings are welcome news for ESPN, which reportedly paid $7.3 billion for the rights to the playoff through 2025.
The coverage did have a bumpy start. The network's online TV and mobile app, WatchESPN, went down during the Rose Bowl.
Yet, the games themselves were widely praised by fans watching on social media.
"So that college football playoff was worth waiting for," tweeted the sports media blog Awful Announcing.
Thursday night's games also drew huge live crowds: Attendance at Pasadena's Rose Bowl was 91,322, while the Sugar Bowl in New Orleans was attended by more than 70,000 fans.
The Oregon Ducks and Ohio State Buckeyes will now meet for the national championship, which will be played on January 12 in Arlington, Texas.