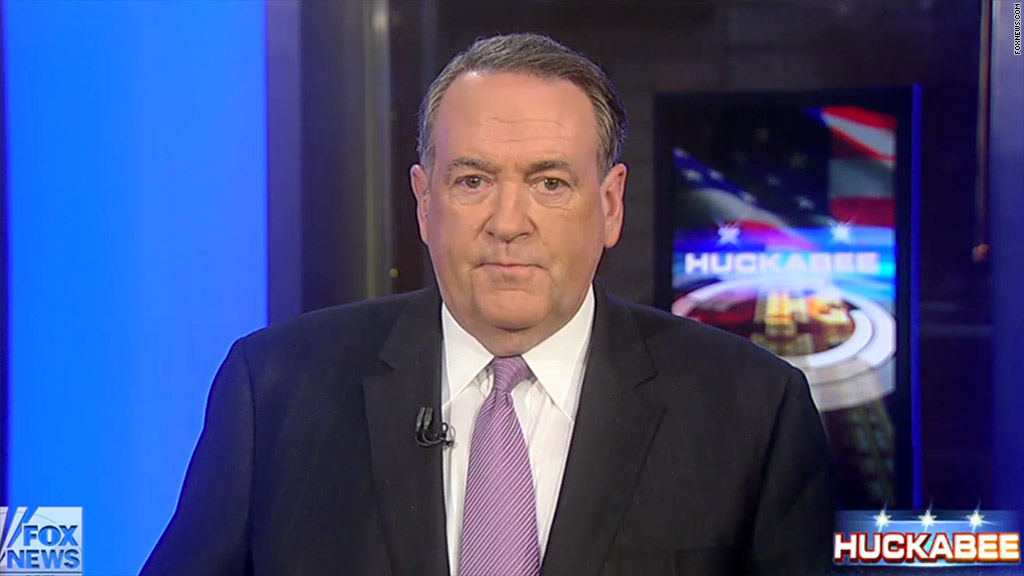 In an instant, Mike Huckabee went from being a colleague to a source of intrigue at Fox News.
Huckabee announced Saturday that his Fox News program was over, effective immediately, amid growing speculation that he will launch a second bid for president. The reaction among the pundits and hosts he left behind has ranged from gracious to downright critical.
"Best of luck!" read an on-screen graphic on "Fox & Friends" the next morning.
But conservative radio host Laura Ingraham, a Fox News contributor, wasn't cheering him on. On "Fox News Sunday," Ingraham complimented Huckabee, saying he had a "great show," but she argued that he and his ideological peers would have been better-served had he run for U.S. Senate in Arkansas.
"The idea that Mike Huckabee is going to be president of the United States?" Ingraham said. "I mean, I'll predict that that's not going to happen."
Related: Huckabee ends Fox show to mull 2016
Fox News senior political analyst Brit Hume didn't waste any time in reading between the lines -- or rather, Huckabee's waist line.
To those trying to gauge Huckabee's White House ambitions, Hume suggested watching "his girth."
"You'll know he's moved from exploring to running when it begins to shrink," Hume said on Twitter on Saturday night.
Hume added later that Huckabee slimmed down ahead of his 2008 run but not before the 2012 election, when he opted against a bid.
Huckabee told viewers that he won't decide whether or not to throw his hat in the 2016 ring until the late spring, but that he had agreed with Fox "that this is the right thing, and now is the right time."
Questions about his political future had put Fox in an awkward position.
From November: Huckabee's political activity gets 'serious look'
The network, which has been a home for a number of prominent Republicans after leaving public office, has severed ties with its employees when they've taken serious steps toward a political candidacy, such as forming an exploratory committee.
Fox News digital politics editor Chris Stirewalt said Sunday that Huckabee's dual roles -- host and potential presidential candidate -- was unsustainable.
 "It was an untenable space and he had to go. And kudos to him for making the jump," Stirewalt said on "MediaBuzz," the Sunday morning media program hosted by Howard Kurtz. 
Kurtz, meanwhile, wondered if it was appropriate for Fox News to provide Huckabee a platform to make such an announcement.
 "Should Huckabee have been able to use his Fox show to make that announcement?" Kurtz asked. "Is that kind of like an infomercial?"
Others within the Fox family mostly eschewed analysis and instead gave Huckabee a parting salute.
Anchor Greta Van Susteren said on Twitter that she's "sad to see Huckabee go," calling him a "gracious colleague" who was well-liked by everyone at the organization.
Geraldo Rivera, a Fox News correspondent and anchor, offered a similarly personal farewell -- and a subtle message to voters.
"Bon Voyage and best wishes to my friend & colleague Gov. Mike Huckabee, a man of strong character, honest, reasonable & worthy of consideration," Rivera tweeted.