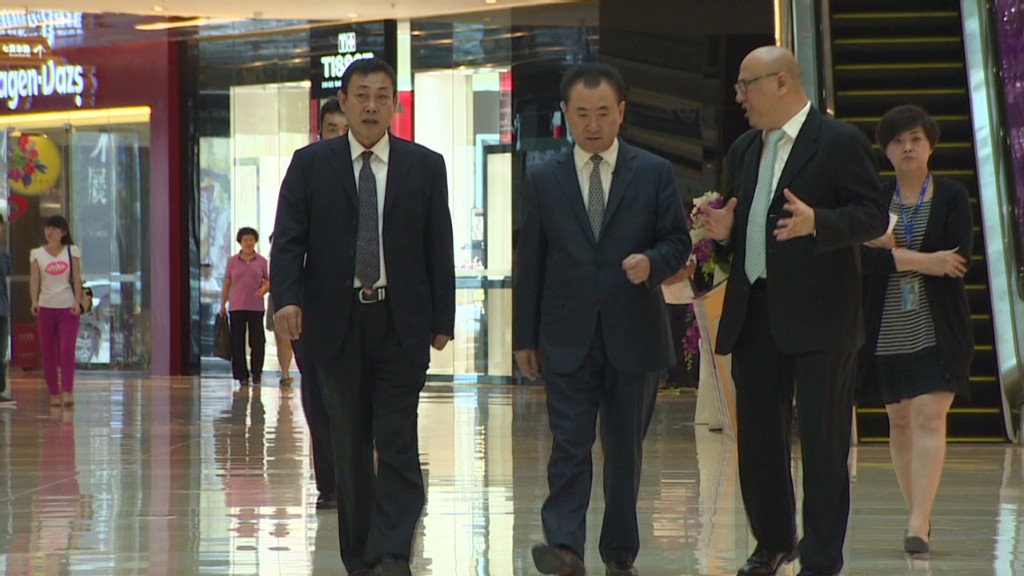 It's
Alibaba

(BABA) versus Wanda.

That's right. A new company, Wanda E-commerce, is challenging Alibaba's stranglehold on China's massive e-commerce market.

Plans for Wanda E-commerce were announced just four months ago, but the venture has already caught the attention -- and dollars -- of two investment funds.

On Monday, Wanda's e-commerce platform raised 1 billion yuan ($161 million) in funding from Chinese investment funds Shengke Limited and Hong Kong Xu De Ren Dao E-commerce Investment. This comes before its business model is even "fully operational," which the company expects to happen by the fourth quarter of 2015.

The investment quadruples Wanda's value to an estimated 20 billion yuan ($3 billion).

Wanda E-commerce -- which aims to leverage WiFi and smartphone capabilities to help shoppers locate and buy products nearby -- is a joint venture between three parties: Majority stakeholder Dalian Wanda Group (a real estate, cinema, tourism and e-commerce conglomerate), Tencent (developer of messaging service WeChat and payment service Tenpay) and search engine Baidu.

Wanda Group's influence is already massive. It has an offline customer base of 1.5 million people (from real estate customers to movie goers). And last month, it acquired a stake in 99Bill, an online payment platform.

China is the largest e-commerce market in the world with sales expected to top $1 trillion by 2018, according to eMarketer.

Yet Wanda's venture faces stiff competition. Alibaba and competitor JD.com dominate China's e-commerce market, and both companies have a sizable head start. In September, Alibaba had the biggest U.S. IPO of all time, raising $25 billion.

That helped Alibaba founder Jack Ma beat out Wanda Group chairman Wang Jianlin (who holds a 35% stake in Wanda E-commerce) to become the richest man in China.

Correction: An earlier version of this story incorrectly listed the investment funds behind Wanda's round of funding.