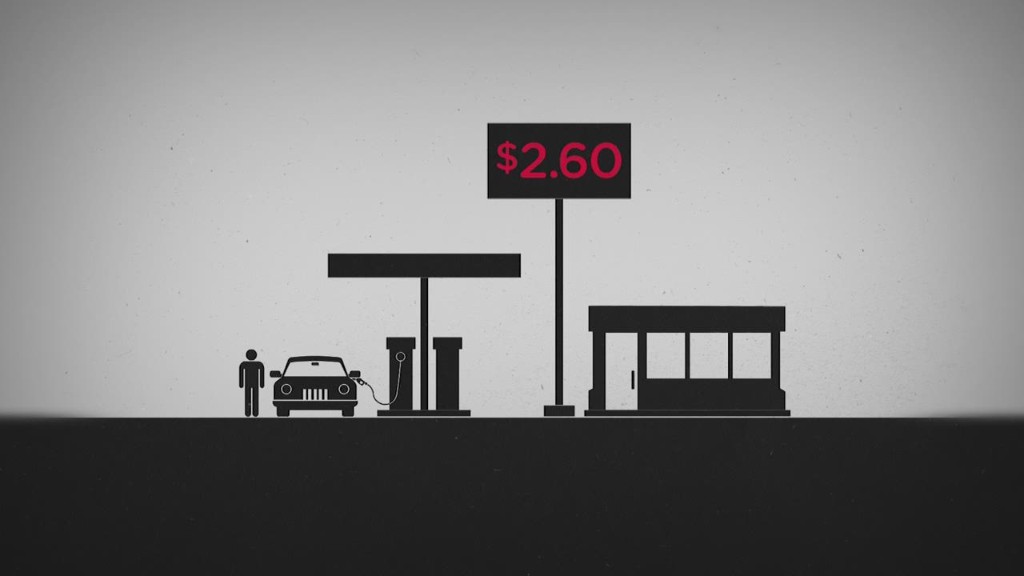 Marcus Benson moved 1,500 miles from his home in Philadelphia to North Dakota for the shale boom.
He made the lengthy drive -- with no job and nowhere to live -- in April 2012 after hearing on the news that the state had the lowest unemployment rate in the country.
"I felt like it was a good opportunity. I wasn't doing much," Benson, who had been working odd jobs after dropping out of college, told CNNMoney.
He immediately landed good-paying work loading rail cars with sand used for fracking.
"I went from doing odd jobs for $8 an hour to $25 an hour. I thought that was crazy," Benson said. It wasn't long before he was earning $30 an hour.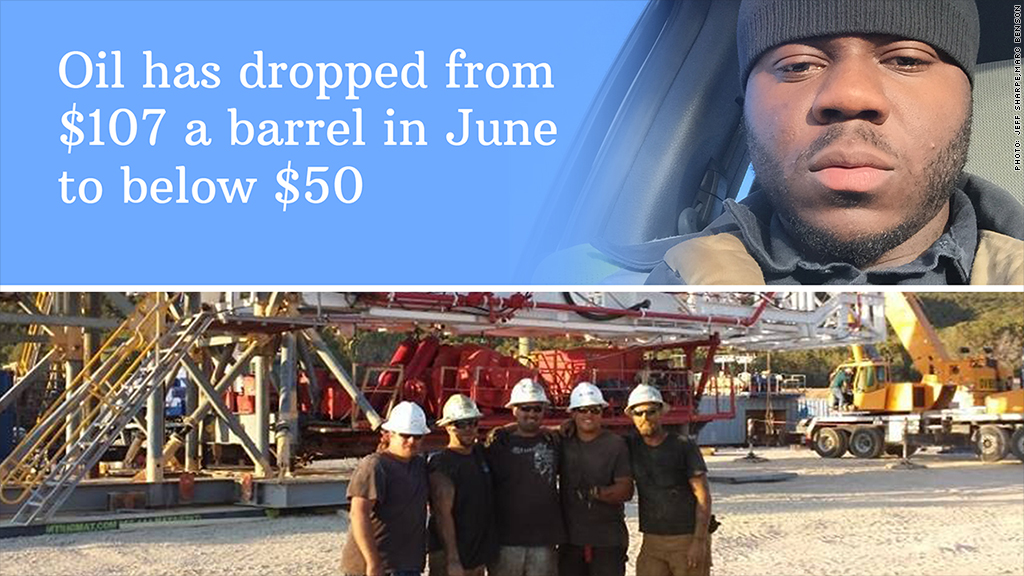 Related: How North Dakota's economy doubled in 11 years
Of course, back then oil brought in over $100 a barrel. This week oil plummeted below $50, squeezing high-cost oil producers like shale companies.
The good times for Benson, 28, ended on New Year's Eve, when he lost his new job at Ames Water Solutions, which serves the fracking industry.
"They said the main reason was the price of oil dropping," said Benson, who filed for unemployment this week.
Are you worried about losing your job because of the oil meltdown? Share your story with CNNMoney!
Now he's worried he won't find another job before getting kicked out of company-owned housing.
Benson is one of thousands of energy workers who have been laid off in recent weeks. In many cases, these were good jobs that were paying healthy wages.
The oil plunge that is saving drivers at the pump is also threatening the livelihoods of people in the previously booming energy industry.
Related: How low will oil go? $30 is possible
'We're all out of jobs now': Jeff Sharpe got the bad news 10 days before Thanksgiving. He and 21 coworkers at a rig in Wyoming were laid off due to depressed oil and natural gas prices.
"All my friends and family keep talking (positively) about low prices. When I say, 'We're all out of jobs now,' they say 'Oh,'" Sharpe, 32, told CNNMoney. "I don't think they realize what's going on in the big picture."
The Colorado native, who has a five-year-old daughter, has been on unemployment since. He recently decided to relocate to North Dakota to take a job working on completed wells, figuring that should be more secure than the drilling side of the industry.
"When I went through this in 2009, I learned my lesson to save my money instead of spending it. That's what is saving me now," Sharpe said.
Related: Tumbling oil could take thousands of jobs
Texas-sized domino effect: Beyond North Dakota, Texas is most at risk from the energy meltdown.
Denise Walker fears she will need to issue pink slips at Frontier Services, the oil services company she co-owns in Alice, Texas. Just a few months ago business was "awesome," but the oil plunge has already cost Frontier a major customer and forced it to discount prices.
"I am probably going to have to lay some people off or readjust their salaries. I hate to do that," Walker told CNNMoney.
Laid off employees lose access to the company's generous health benefits. "I don't know what they are going to do. It's tragic," she said.
Walker is hoping Texas will weather the storm, but said she wouldn't be one bit surprised if the state sinks into a recession. J.P. Morgan Chase's chief economist has already warned it's a very real possibility.
"It's a domino effect. People lose their jobs, they quit spending money. That affects other businesses," she said.
Related: Texas could fall into oil-fueled recession
Layoffs in the Gulf: The pain is also being felt in the Gulf of Mexico, where lower oil prices are forcing drillers to dial back on expensive deep-water exploration.
A supply boat captain who declined to give his last name fears he may lose his job as a supply boat captain. His company has already laid off two other captains and is operating less than half its fleet of boats.
"Oil companies are not spending the money on projects offshore, so many boats are sitting idle or even empty. This is sad because the crews of these vessels are just trying to make a living for their families back home," he said, adding that he has a young child at home and a pregnant wife.
Despite not finishing high school, the boat captain had been raking in $100,000 a year after working his way up as a deckhand. Now his company is enacting a pay cut of more than 10% to cope with the energy industry pullback.
"You live the dream for a while ... and all of a sudden gas prices go down," he said.
Still, he acknowledges the low gas prices are great for tourists and drivers, especially around spring break time in Florida.
"It's nice to have it that low, but prices need to find a medium where everybody is happy," he said.