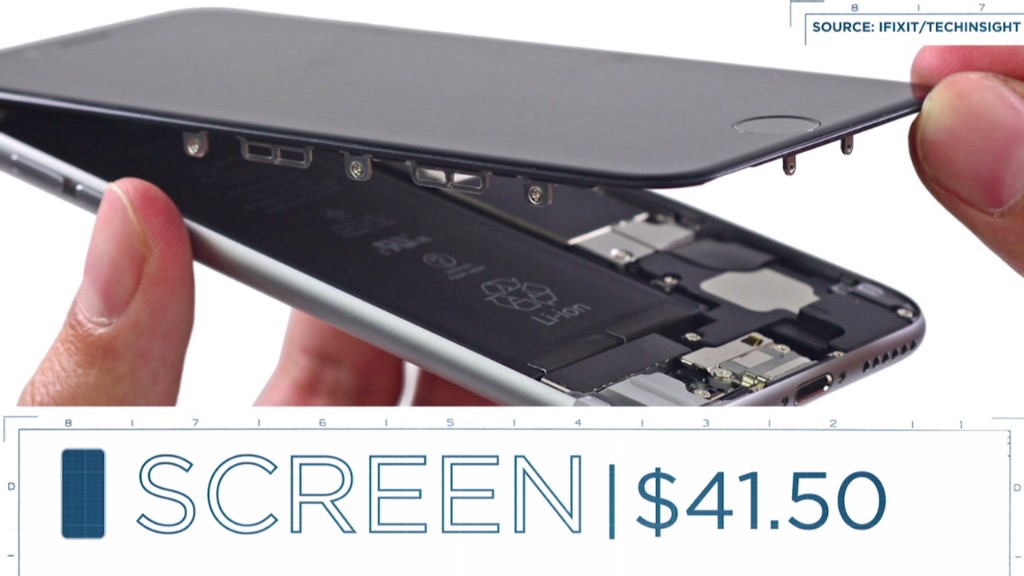 Apple has begun selling unlocked iPhone 6 and iPhone 6 Plus smartphones, letting customers choose their own wireless carrier without entering into a two-year contract.
The contractless iPhone 6 starts at $650 and is compatible with Verizon (VZ), AT&T (T), T-Mobile (TMUS) or Sprint's (S) networks. The unlocked iPhone can also can be used abroad, letting people globe trot without being tied to a single carrier. It comes without a SIM card, which customers have to get from their cell phone company of choice.
"If you don't want a multiyear service contract, or if you prefer to use a local carrier when traveling abroad, the unlocked iPhone is the best choice," Apple (AAPL) said in a message on its online store.
The $200 iPhone is still around, but carriers are phasing it out. Since the 16 GB iPhone 6 costs $650, carriers subsidize $450 of the phone's cost up front, and make customers pay off the value over the course of their two-year contracts.
Carriers don't like paying the hefty subsidies. That's why cell phone companies -- in particular T-Mobile -- are trying to lure customers to buy their phones at full cost upfront, offering lower monthly payments in return. T-Mobile's contract-free iPhone has been available for $650 on Apple's online store since the iPhone 6 went on sale in September.
Related: T-Mobile is the tech company of the year
Contract-free phones, which are the standard for the rest of the world, are rapidly growing in the United States.
Still, competition is fierce in the wireless market, and some cell phone companies are offering iPhones for no money down in exchange for higher-than-average monthly bills.
Apple also offered unlocked versions of the iPhone 5S and iPhone 5 over the past two years. Both of those unlocked phones were offered online two months after their "locked" counterparts initially went on sale. This year, Apple waited four months to offer the SIM-free iPhone 6 and iPhone 6 Plus.