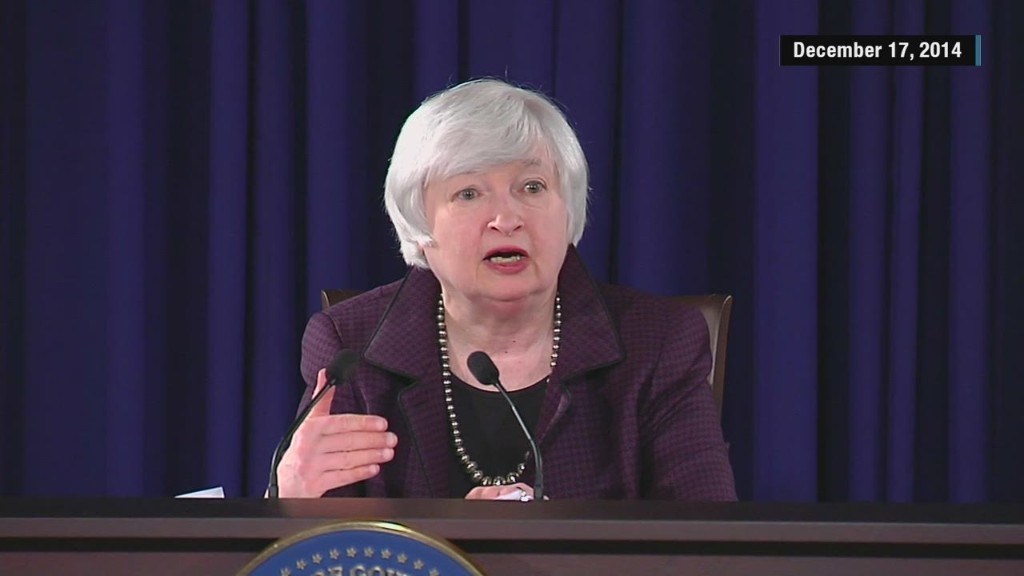 The Federal Reserve seems pretty pleased with how the U.S. economy is doing. Many Fed members think it could get even better in 2015.
The reason? Cheap gas.
According to the minutes, "the real economy may end up showing more momentum than anticipated" this year.
A few Fed members boldly predicted a "quite large" boost to American spending because of lower energy prices.
Stocks, which were broadly higher before the minutes came out, remained positive with the Dow up around 200 points. The yield on the benchmark 10-Year Treasury bond, which has recently fallen below 2%, remained just under that level.
The minutes showed that most central bankers were not terribly concerned about how plunging oil prices would hurt the global economy.
Related: Main Street loves cheap gas, while Wall Street hates it
Fed chair Janet Yellen admitted as much during her press conference after the December meeting when she said lower oil prices are "something that's certainly good for families, for households. It's putting more money in their pockets." She added that "it's like a tax cut that boosts their spending power."
But it's important to remember that this meeting took place three weeks ago. Since then, oil prices have plummeted another 10% to under $50 a barrel.
Related: Gold is glittering once again
Global slowdown spillover? The Fed did concede that problems elsewhere in the world could hurt the U.S.
"A further deterioration in the foreign economic situation could result in slower domestic economic growth than they currently expected," the minutes said.
With that in mind, it will be very interesting to see what the Fed says about oil in its next policy statement, which is tentatively set to be released on January 28.
The Fed helped spark a massive two-day rally in stocks when it said at the December meeting that it would be "patient" about raising interest rates this year.
The central bank is widely expected to hike rates at some point in 2015. But the timing may depend on what happens with inflation.
Related: Europe will print more money. It's just a matter of time
When will rates go up? The Fed has two key things it is mandated to keep in mind when managing interest rates: the job market and consumer prices.
The labor market is undeniably improving. The number of jobs added through November was already strong enough to make 2014 the best year for job gains since 1999.
The government will report the December employment figures on Friday. Economists surveyed by CNNMoney predict that 236,000 jobs were added and that the unemployment rate dipped to 5.7%.
But the big drop in energy prices may muddle the Fed's inflation outlook. Consumer prices are rising at a rate below the Fed's preferred target of 2% a year.
Related: Cheap oil cost me my job
Still, the Fed seemed to suggest that it may not wait until inflation is back at 2% before it starts to raise rates. According to the minutes, Fed members said that inflation would probably remain below target for awhile due to lower energy prices and a stronger dollar.
But the Fed members added that rate hikes might begin as long as the Fed was "reasonably confident that inflation will move back toward 2 percent over time."