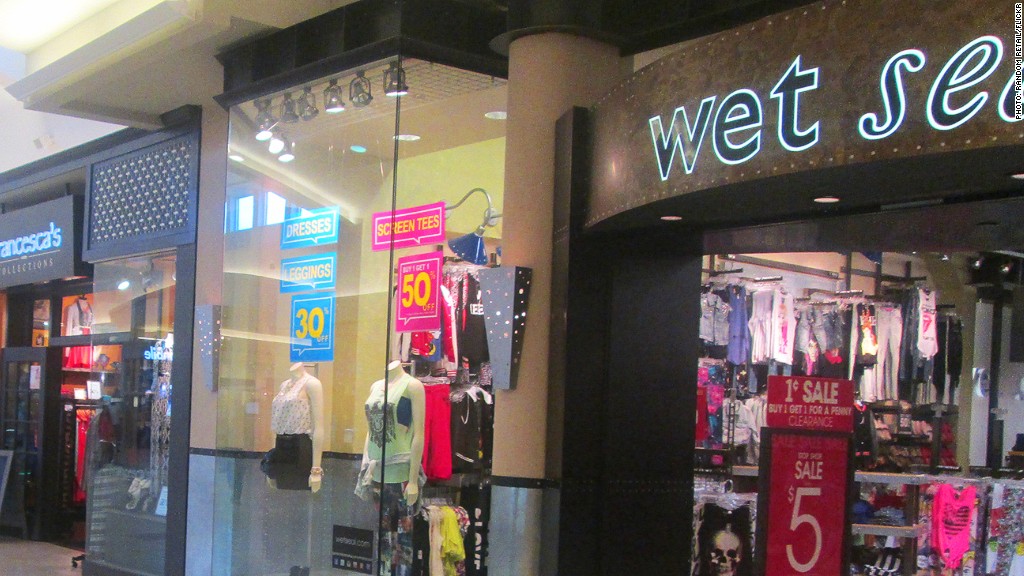 The downfall of
Wet Seal

(WTSL) took another step forward Wednesday when the retailer announced it will shutter 338 stores.

The store closings bring the termination of around 3,695 full and part-time employees. After the closures, Wet Seal will have just 173 stores remaining, along with its online business.

"This was a very difficult decision to make, but after reviewing many other options since I returned to the Company in September, our financial condition leaves us no other alternative than to close these stores," CEO Ed Thomas said in a statement.

The closing stores represented almost 50% of the company's net sales for the nine months ending Nov. 1.

Related: 5 endangered teen retailers

The teen apparel company has been struggling to keep up in the world of "fast fashion" that demands retailers get runway looks on their shelves quickly and cheaply, as well as a slowdown in mall traffic. The company reported a net loss of $36 million in the third quarter as comparable store sales dropped 14.5%.

Wet Seal employees have reportedly been posting signs in store windows claiming the company didn't warn employees of the looming closures, took away benefits and didn't offer severance.

Calls to Wet Seal were not immediately returned.

The company said it expects $5.4 million to $6.4 million in pre-tax charges relating to the store closings.