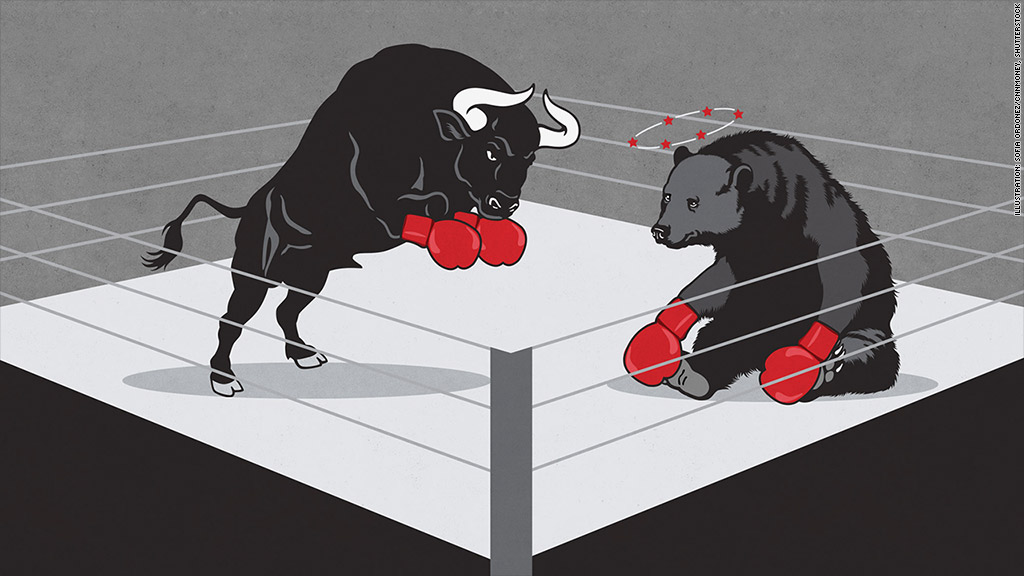 That was fast.
The stock market freak out of 2015 lasted a grand total of three days. The market is on the upswing again thanks to oil prices stabilizing and central bankers around the world reiterating their willingness to do whatever it takes to keep the world economy humming. Will it last?
The Dow soared another 323 points on Thursday and is quickly approaching the 18,000 level it first breached late last year. The S&P 500, after its worst start since 2008, climbed 1.8%. It has surged a whopping 3.4% since its low point on Tuesday afternoon. Both indexes are now slightly positive on the year.
"We keep having these buying dips. This was one of the shorter ones," said Ed Yardeni, president of investment advisory Yardeni Research.
Easy money: He pointed to recent comments by Charles Evans, president of the Federal Reserve Bank of Chicago, who said this week that it would be a "catastrophe" if the central bank tightens interest rates too soon.
"This bull market has been driven by central bankers who continue to provide liquidity with near-zero rates, making stocks look awfully compelling," Yardeni said. "The Fed continues to spread fairy dust on this market -- and it keeps working."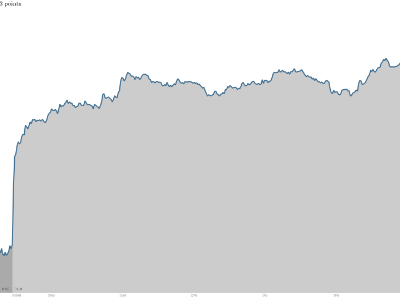 The Federal Reserve released the minutes of its December meeting yesterday afternoon, which also helped brighten the mood of the market. They suggest the central bank is optimistic about the U.S. economy, but in no rush to raise rates.
Several Fed members went as far as to predict that U.S. growth in 2015 will be even stronger than previously thought.
Related: 3rd year of the presidential term is best for stocks
Oil finding a bottom? At the same time, crude oil appears to finally have stabilized after weeks of dramatic selling that left it below $50 a barrel for the first time since the Great Recession. It's settled around the $48.50 a barrel level, allowing investors with exposure to battered energy stocks to breathe a sigh of relief.
The energy sector of the S&P 500 soared 2.5% on Thursday, led by big gains from Valero (VLO), Apache (APA) and Devon Energy (DVN).
While low prices are very good for consumers, they have been spooking the stock market in recent days. There's concern the pain in energy could spread to other sectors. It's also doing lots of damage to the estimated profits of big energy companies.
The apparent oil price stabilization "matters an awful lot" to the stock market, said Peter Kenny, chief market strategist at The Clear Pool Group. "It's very important to know or have transparency into as many constants as possible."
Economic strength: Markets don't like uncertainty and when the oil price appeared to be in free fall in recent weeks -- plunging below $60 and then below $50 -- it became a guessing game of how low would oil go? And what does that say about the state of the global economy?
"The major concern was that the global economy was rolling over the edge," said Bruce McCain, chief investment strategist at KeyCorp's Key Private Bank.
But the latest economic reports, including upbeat ones this week on U.S. employment, have quieted those worries.
"There's no major sign of deterioration. The fear that things are falling apart has begun to ebb a bit," said McCain.
Related: Stay away from these oil stocks
Greek jitters ease: Wall Street is also less pessimistic about Europe. The latest evidence of deflation appears very likely to force the European Central Bank to keep printing money. That's probably a good thing for European stocks and should keep a lid on already-low U.S. rates.
Worries about the Greek elections forcing Athens out of the eurozone have also eased in recent days.
"The market seems to have the attitude of been there, done that. They'll probably figure it out," said Yardeni.
Of course, it's too early to know whether the market rebound will last. The reality is market sentiment shifts all the time and with a big U.S. employment report out first thing Friday and then corporate earnings for the fourth quarter starting to come out next week, investors will have a lot to mull over.