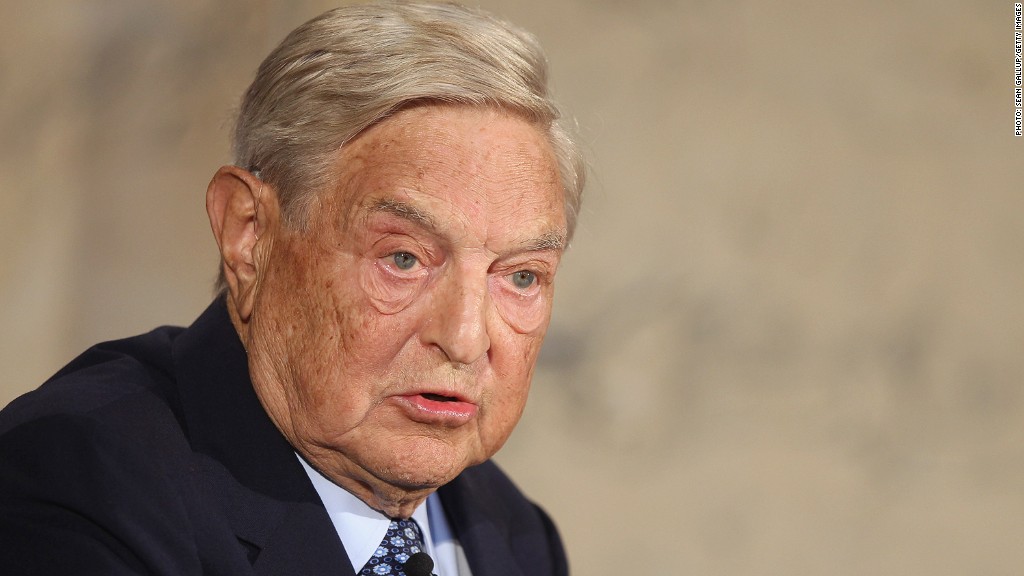 George Soros has called on Europe to stump up $50 billion in aid to support Ukraine as its economy withers in the wake of ongoing conflict with Russia.
In an essay published in the New York Review of Books on Thursday, Soros said the financial package is needed to help the Ukrainian government embark on radical economic reforms.
The billionaire investor and philanthropist said while he supports the continuation of sanctions against Russia, the focus must be shifted from punishing Russia to helping Ukraine.
"Europe needs to wake up and recognize that it is under attack from Russia," wrote Soros. "Assisting Ukraine should also be considered as a defense expenditure by the EU countries."
Related: Russian banks starved for cash as funding crisis worsens
The International Monetary Fund approved a $17 billion bailout for the distressed country in March. In the same month, the European Union offered Ukraine financial assistance worth about $15 billion in the form of loans, grants, investments and trade concessions.
But as economic conditions deteriorate and Ukraine battles pro-Russian separatists in its eastern regions, the Ukraine government has said it will need more support.
The IMF, which begins a new round of talks with Ukraine on its aid program this week, has estimated Ukraine will need another $15 billion to ease its financial troubles.
This is not the first time Soros has spoken out about the need to support Ukraine. In March he said the country needed financial help on the scale of the Marshall Plan, which channeled billions of dollars in aid to western Europe after World War II.
Related: Pro-Russian hackers down German government websites
He also said help for Ukraine would have the indirect benefit of providing "much-needed stimulus to the European economy by encouraging exports and investment in Ukraine."
But Europe has been reticent to dig deeper into its coffers to support the conflict-hit country.
Last month, the head of the European Commission Jean-Claude Juncker said Europe was limited in its capacity to help.
"There is only a small margin of flexibility for additional financing next year," he told the European parliament.
"If we fully use our margin for Ukraine, we will have nothing to address other needs that may arise over the next two years."