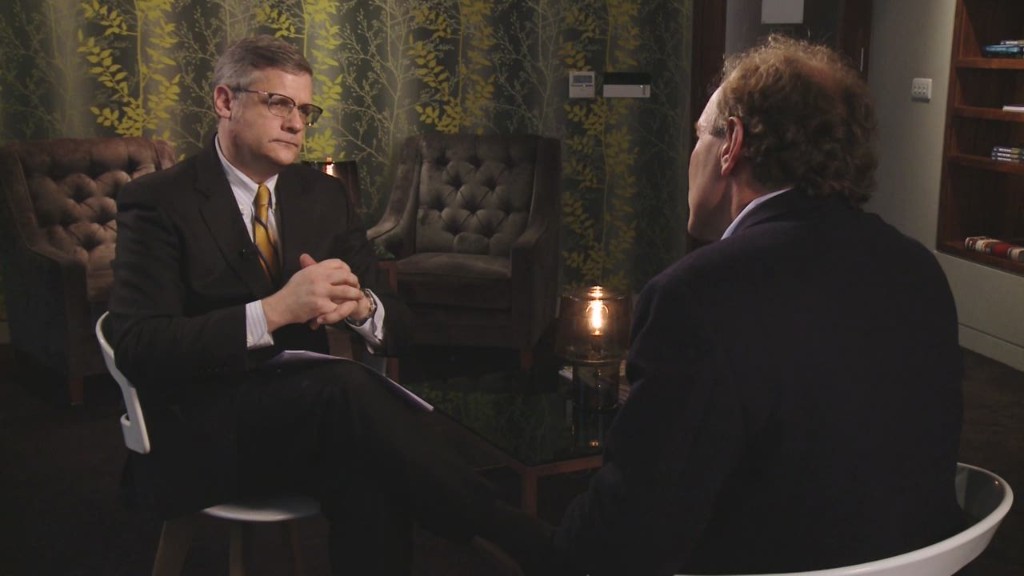 You might feel like the "broadband" you're getting at home feels more like dial-up. The FCC agrees with you.
In a draft proposal provided to CNNMoney, FCC Chairman Tom Wheeler said he thinks broadband should provide minimum speeds of 25 Megabits per second. That's enough to seamlessly stream an ultra-HD 4K movie from Netflix (NFLX) or download an HD movie from iTunes in about 10 minutes.
Most Americans aren't getting anything close to that. The average download speed in the United States is 11.5 Mbps, according to Akamai's (AKAM) latest State of the Internet report, published Thursday.
The FCC's current standard for broadband is a minimum of 4 Mbps, which Wheeler called "inadequate for ... supporting today's high-quality voice, data, graphics, and video."
The FCC says 55 million Americans (17%) don't even have access to 25 Mbps broadband service.
Wheeler has long advocated for increasing broadband speeds. As more people rely on speedy Internet connections to power their smartphones, tablets, cars, televisions and other connected devices, slow speeds just aren't cutting it anymore.
The FCC last changed the standard definition for broadband in 2010, raising it from 200 Kilobits per second to the current 4 Megabits per second standard. Though the FCC has the ability to change the definition of broadband, it doesn't have the power to force Internet service providers to match those speeds.
Still, the FCC can set the minimum speed requirements for government-funded broadband deployments to rural and underserved regions of the country. And declaring that most broadband providers aren't really providing broadband speeds is equivalent to cracking the whip on the nation's Internet companies.
Meanwhile, the largest cable companies are looking for ways to boost speeds.
Comcast (CMCSA) announced at the Consumer Electronics Show in Las Vegas this week that its new modems will support speeds of 1,000 Mbps. It's unlikely that you'll ever see speeds even close to that, but the extra bandwidth will come in handy when you're streaming Netflix on a laptop while simultaneously uploading YouTube clips on your smartphone