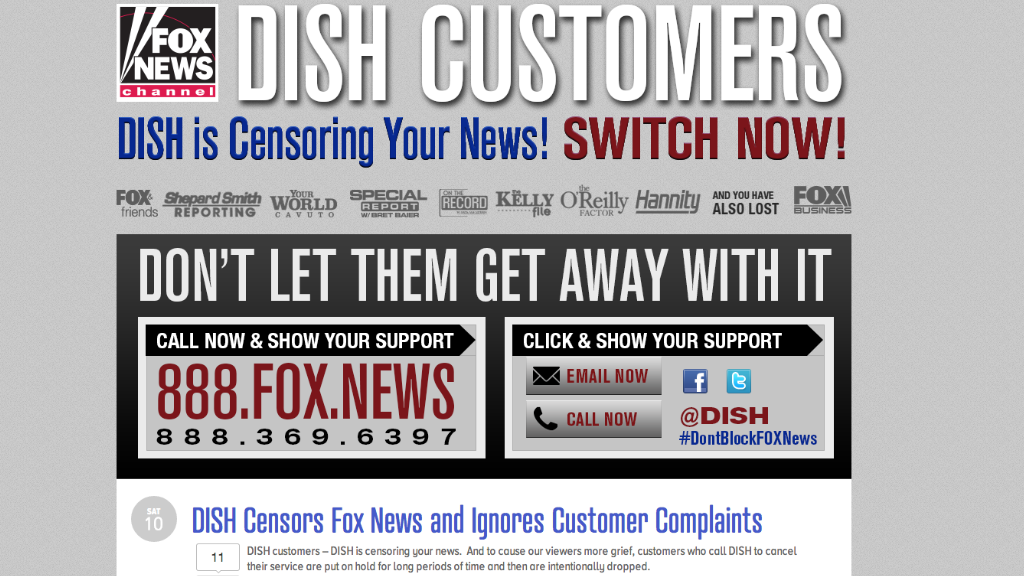 As Fox News enters its fourth week without carriage on the Dish Network, it is making a sensational new charge: "They're censoring what you see."
Bill O'Reilly says so in a new commercial that Fox began to televise over the weekend.
"Dish has dropped Fox News. Now you should drop Dish," O'Reilly declares.
The ad is a dramatic escalation in the war of words between the cable news channel, a unit of Twenty-first Century Fox (FOX), and Dish, the satellite company that delivers TV to 14 million households.
Dish (DISH) declined to comment on Sunday.
Fox News and its sibling Fox Business Channel were blacked out in Dish Network homes on December 22 -- the latest in a series of contract disputes between Dish and various channel owners. The two channels have been missing ever since.
CNN, the parent of this web site, and other Turner Broadcasting channels were blacked out for a month in November. The channels are back now.
Every minute of the day, Fox News has an average of 1 million people watching at home -- far higher than CNN's 400,000 viewers or MSNBC's 350,000 viewers.
During prime time, Fox's audience spikes -- O'Reilly sometimes reaches 3 million viewers at night. Fox routinely ranks as one of the most popular channels on all of cable.
Presumably, then, Fox has a lot of leverage in the dispute. But the blackout has dragged on for weeks, indicating that Dish is willing to alienate some of Fox's most loyal fans.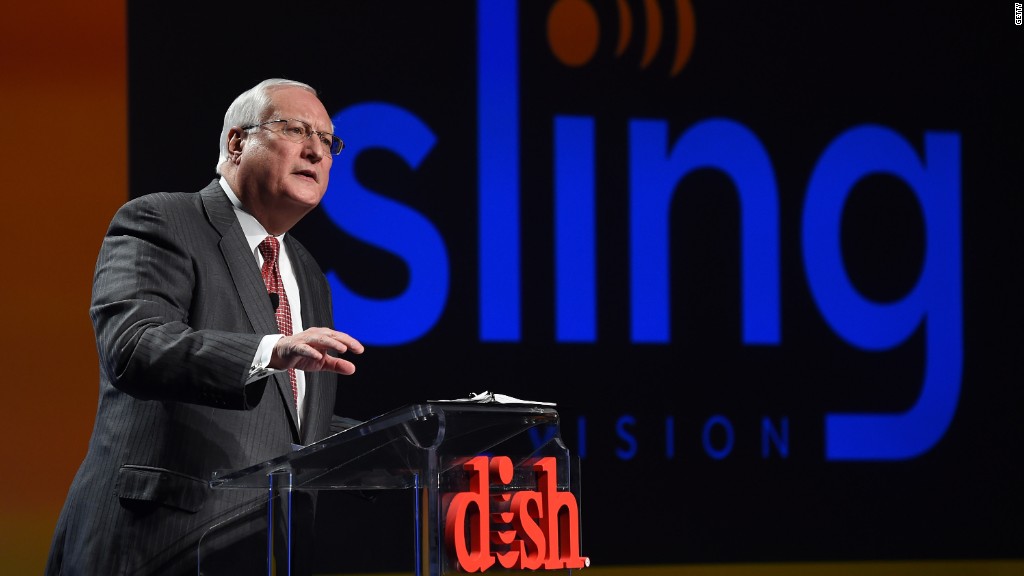 Fox has been encouraging Dish fans to switch to another provider, like DirecTV (DTV), from the beginning of the blackout. This weekend's ad amplifies that effort. It was shown during Saturday and Sunday's highly-rated playoff football games on the Fox broadcast network.
The ad mimics the often-outraged tone of commentary on Fox News.
"Thirteen years at Number 1. Now Dish doesn't want you to have Fox?" prime time host Megyn Kelly says in the ad.
Most disputes between channel owners and distributors center on per-subscriber fees. In recent years, digital distribution rights have also been a big issue.
Rarely, if ever, does a channel owner accuse a distributor of "censorship" -- but that's what O'Reilly says, and what Fox's web site about the dispute says.
"Don't let DISH censor YOUR news," it asserts. "Contact a new TV provider directly to save you time and frustration."
A contract agreement will be reached at some point. In the meantime, Dish is helping out two new channels that want to peel away some of Fox's viewers: It is replacing Fox News and Fox Business with Glenn Beck's The Blaze and Newsmax's TV channel.