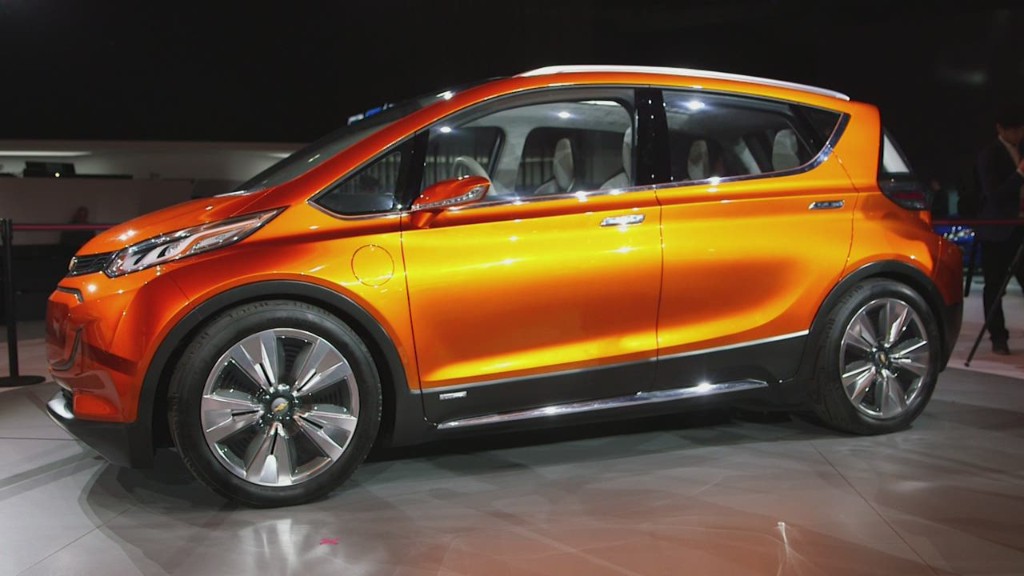 General Motors unveiled two new plug-in cars at the Detroit Auto Show, taking aim at Tesla Motors.
GM unveiled a new, improved version of the Chevrolet Volt, which has both an electric motor and a traditional gas engine. It also debuted a small all-electric car called the Chevrolet Bolt.
The Bolt, which at this point is a concept vehicle, offers a preview of a car that GM expects to begin selling in all 50 U.S. states in 2017. It will have a 200-mile driving range on a full charge and a sticker price of around $30,000 after electric car tax incentives.
"This is a real game changer," GM Chief Executive Mary Barra said at the Bolt's unveiling.
The Bolt will probably compete with Tesla's mass market electric car the Model 3, which has yet to be unveiled but is expected to sell for about $35,000 when it becomes available in the next couple of years.
Tesla has already had success with its all-electric Model S luxury sedan, which starts at nearly $70,000 and can travel at least 208 miles between charges.
Shares of Tesla (TSLA) fell 3% on GM's announcement Monday, while GM (GM) shares were trading slightly higher.
To maximize the Bolt's range, it's made of lightweight materials including aluminum, magnesium and carbon fiber, GM said.
Its price will be in line with the average amount consumers spend on cars today, said Akshay Anand, an analyst with the auto Web site KBB.com.
"So long as the product is done properly, GM should see some serious benefits," he said.
GM also unveiled the second generation Chevrolet Volt plug-in hybrid. The new Volt had appeared briefly in front of journalists at the Consumer Electronics Show in Las Vegas, but no details about the car were revealed at that time.
Besides a softer and more conventional look, the new Volt has an improved battery pack and a more efficient gasoline engine.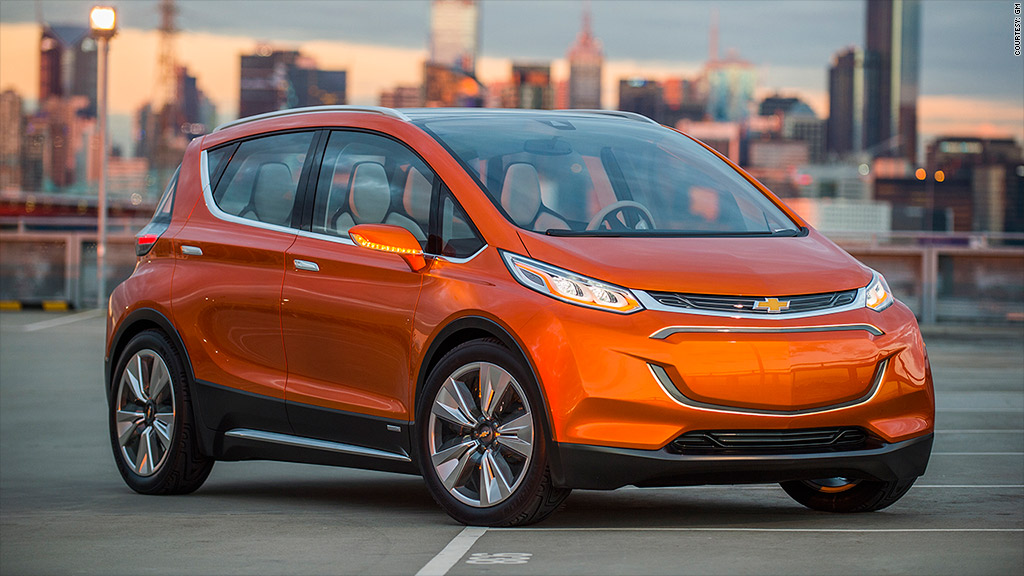 Today's Chevrolet Volt can go about 35 miles on a full charge, according to EPA estimates, but GM says the new Volt will go roughly 50 miles. Once that all-electric driving range runs out, the new Volt will get about 41 miles per gallon in combined city and highway driving, GM claims.
The current Volt gets 37 mpg on gasoline. Volt drivers should be able to go 1,000 miles between trips to the gas pump.
With a total of 149 horsepower, the new Volt also goes from zero to 60 miles per hour faster, according to GM, reaching highway speeds in 8.4 seconds.
The new Volt can fit three passengers in the backseat thanks to a more compact battery. Today's Volt can only two can sit in the back.
The Volt is expected to go on sale in the second half of this year.
-- CNNMoney's Chris Isidore contributed to this report