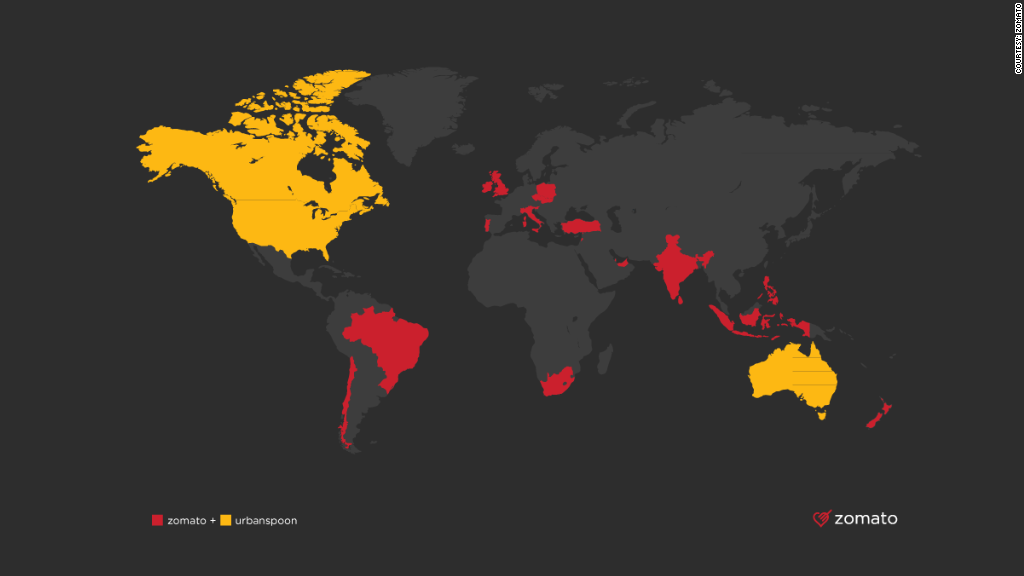 It may not be a household name yet, but Zomato could soon be your go-to restaurant app.
On Monday, the New Delhi-based firm announced the acquisition of IAC (IACI)-owned restaurant search site, Urbanspoon.
The deal grants Zomato entrance into the U.S. and Australia, where it previously had no presence at all. It will also double the site's web traffic: from 35 million to 80 million visitors a month. And its restaurant inventory will triple to 1 million listings (up from 300,000).
Founded in 2008, Zomato already has a strong foothold in Europe, Southeast Asia and South America.
The firm takes a grassroots approach to curating restaurant information. It hires a "street team" in each of the 130 cities it operates in. These employees (roughly 1,000 overall) gather and curate restaurant information -- from hours of operation to menus, directions, reviews and ratings.
With the acquisition of UrbanSpoon, Goyal said they'll look to hire 150 to 200 employees in 20 to 40 U.S. cities where Urbanspoon already operates.
"We really emphasize our local presence everywhere we go," said founder and CEO Deepinder Goyal.
Related: Drone startups swoop up billions
This is Zomato's sixth acquisition. In the past six months, it's gobbled up local restaurant search firms in countries like New Zealand, Poland and Italy.
According to a source close to the deal, Zomato paid over $50 million in cash for Urbanspoon. Zomato's release touted it as "one of the largest purchases ever" of a U.S.-based firm by an Indian startup.
With the new acquisition, Zomato will be in 22 countries. Which is still less than its biggest competitor Yelp (YELP), which operates in 27 countries, according to its site.
But Zomato is laser-focused on the restaurant business, while Yelp serves a variety of business types.
"We are good at one thing. The idea is for us to dominate the restaurant space," said Goyal.
Goyal, 31, said one key distinguishing factor is Zomato's focus on discovery.
Each city offers more than 12 different themed "collections" to inspire food choices -- from romantic restaurants to brilliant brunches. This accounts for roughly half of Zomato's traffic, according to Goyal.
To date, Zomato has raised $113 million in investments from backers including Sequoia Capital.