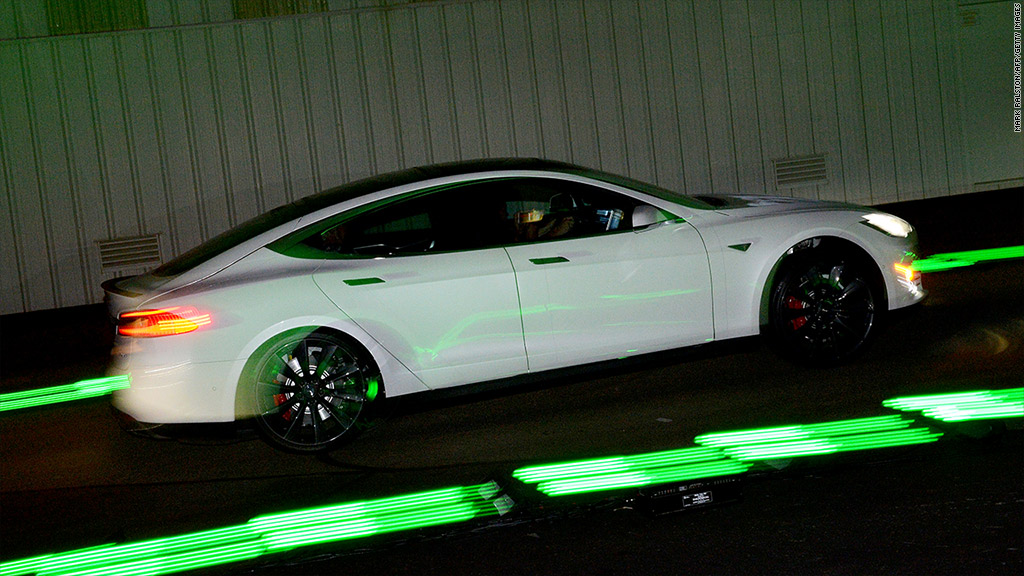 Tesla's stock has been doing its own version of the electric slide lately. (Boogie woogie woogie!)
Shares of Tesla (TSLA) have plunged more 30% since they hit an all-time high of near $300 a share back in September. The stock is now hovering around $200.
The stock fell another 7% after hours Tuesday following comments from CEO Elon Musk at an industry event in Detroit. Musk said that sales in China were weaker than expected.
What gives? Doesn't Wall Street believe that Musk can do no wrong?
It's actually pretty simple:
Gas pains. The plunge in crude oil prices is one problem for Tesla. The stock has tumbled along with oil as some investors fear that demand for electric cars will decrease if gas prices remain low for a long time.
Of course, consumers willing and able to pay about $70,000 for a Model S -- currently the only vehicle sold by Tesla -- may not care that much about gas prices. The decision to buy a Model S is likely more about environmental concerns -- and maybe a little bit of vanity.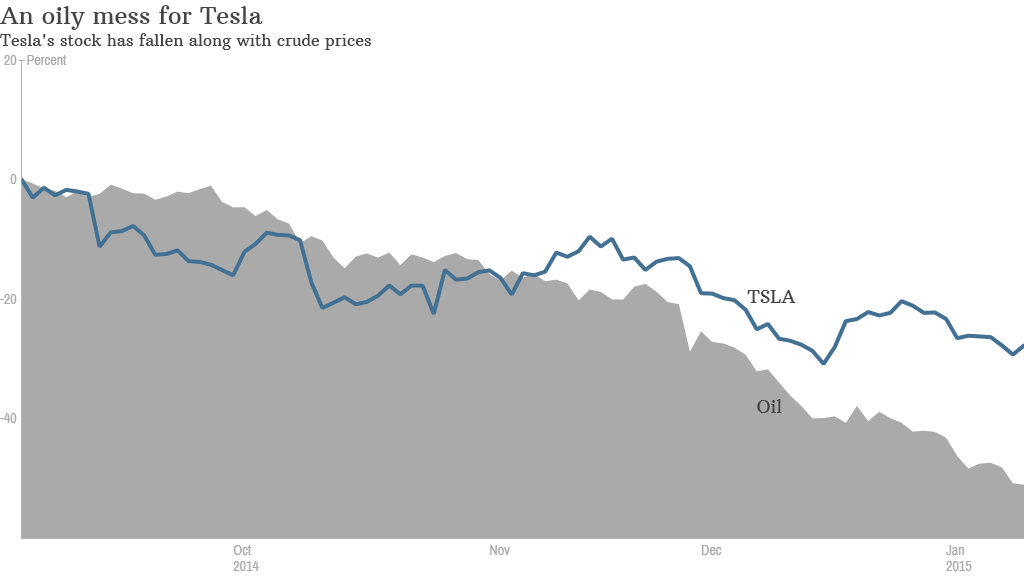 But Musk is hoping that Tesla will one day have a car for the masses. The upcoming Model III, which is tentatively due to be released in 2017, is expected to have a price tag closer to $35,000.
If oil prices remain low for years, then the Model III may not be as compelling a purchase to consumers as a traditional gas guzzler.
Took my Chevy to the charging station. The Model III may also face tough competition from GM (GM), which unveiled plans at the Detroit Auto Show for a new all-electric concept car called the Bolt.
Shares of Tesla fell more than 2% on Monday after GM introduced the Bolt.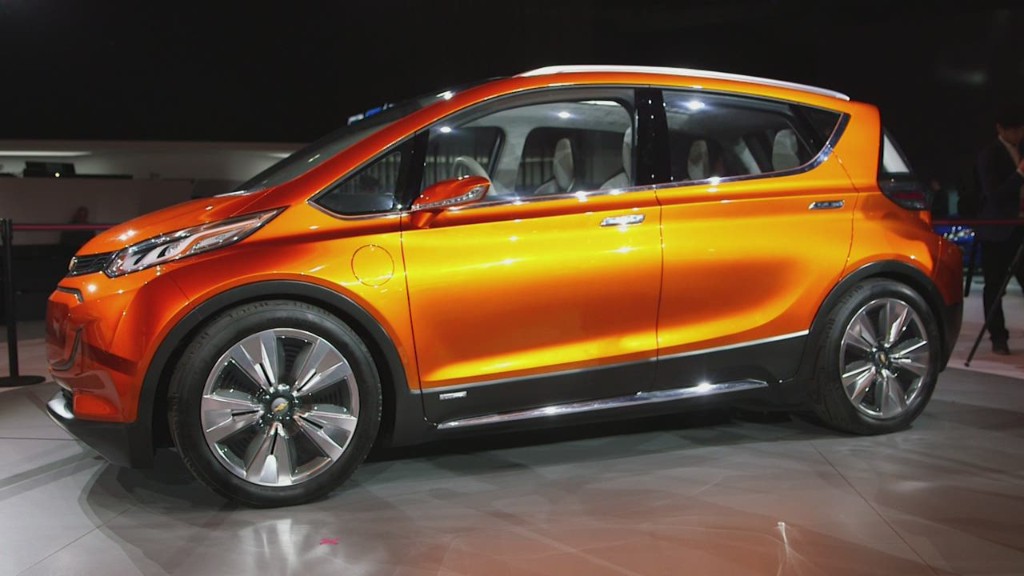 The Bolt may cost as low as $30,000, and GM is promising that it can be driven for 200 miles before needing a new charge.
But Tesla doesn't seem too concerned.
"We are always supportive of other manufacturers who bring compelling electric vehicles to the market. Tesla applauds Chevrolet for introducing the Bolt and we are excited to learn more about the product," a Tesla spokesperson said.
The X factor. Before the Model III comes out, Tesla will start selling its Model X crossover. You should start seeing some of them on the streets and highways later this year. But you probably won't see as many as Tesla first hoped.
Related: Cool cars from the Detroit auto show
Tesla said in November that the Model X won't come out until the end of the year. Demand is pretty strong for the vehicle, but the company can't make them fast enough. As a result, if you pre-order a Model X today, you're unlikely to get it until 2016.
Wall Street analysts have slashed their earnings forecasts for Tesla because of the Model X delays.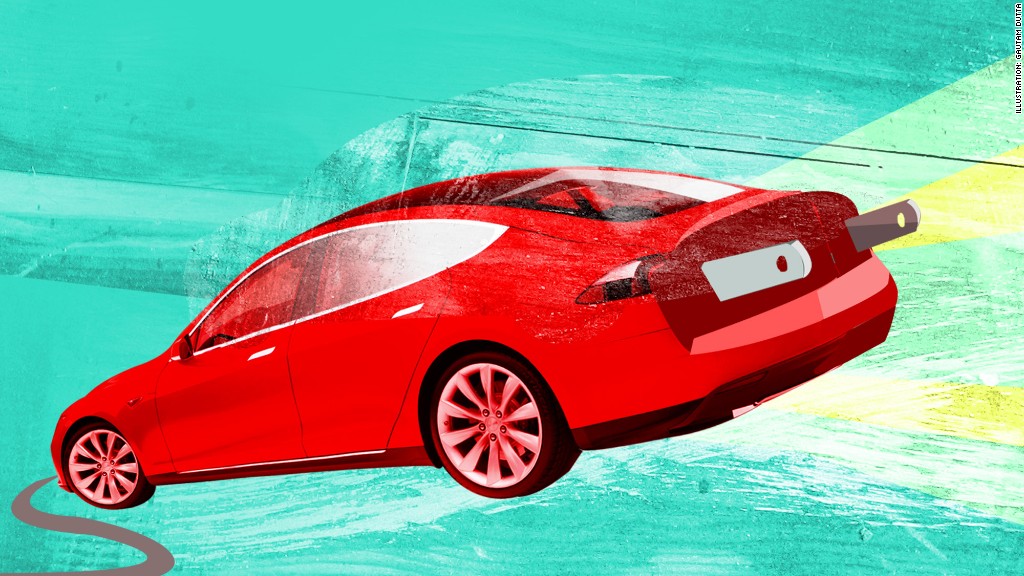 In September -- just as Tesla's stock was hitting a peak -- analysts were expecting Tesla to earn $3.30 a share in 2015. Now? The consensus earnings estimate is down to $2.81 a share -- a 15% hair cut.
Tesla stock is still very expensive. Even though Tesla's shares have pulled back, they remain pretty pricey. The stock is trading at nearly 75 times 2015 earnings estimates.
That's much higher than the valuations for GM, Ford (F), Toyota (TM), Fiat Chrysler (FCAU) and just about every other auto company.
Of course, Tesla is growing much more rapidly than its bigger rivals. Analysts expect Tesla's profits to double in 2016. But even Musk has admitted on numerous occasions that the stock may be ahead of itself.
CNNMoney's Chris Isidore contributed to this report.