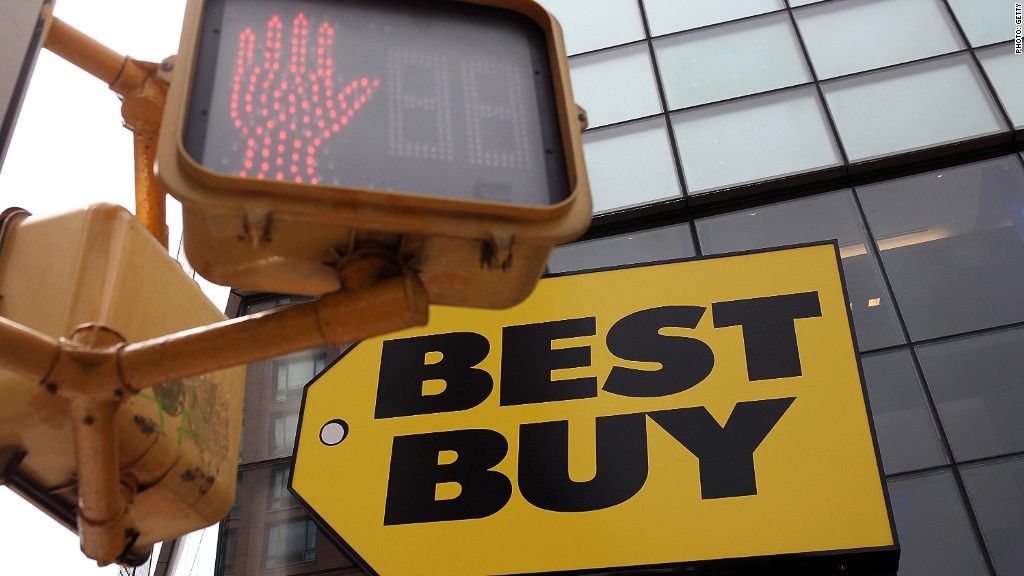 The holiday cheer at Best Buy has vanished faster than you can say "iPhone 6."
Best Buy (BBY)enjoyed a solid jump in holiday sales, thanks to surging online purchases and a frenzy for smartphones.
However, the electronics retailer spooked investors on Thursday by warning the good times aren't likely to continue.
Best Buy believes the holiday boom was driven at least in part by unsustainable excitement about hot products (see: Apple's (AAPL) iPhone 6).
Moreover, management explained that profits this year will be stunted by the need to keep pumping money into the business. Recent investments into Best Buy's website, inventory and supply chain have paid off, but they have been costly and will eat into margins this year.
"One of the challenges for brick-and-mortar retailers is the e-commerce arms race. You have to keep spending to keep up with the Amazons of the world," said Bradley Thomas, an analyst at KeyBanc Capital Markets.
"It's not a one-time cost. It's a continued treadmill these companies will be on," he said.
Related: Target shuts down in Canada
Fleeting holiday cheer: Some investors are hopping off that treadmill. Best Buy's shares plummeted 15% Thursday morning, knocking them into the red for the year. That follows a very merry fourth quarter where Best Buy bounced 16% and appears to be punching back at Amazon.
Overall, U.S. holiday sales increased 4.1% at Best Buy amid the improved economy and strong demand for big-screen TV's and mobile phones like the iPhone 6, which launched in late September. That offset tumbling sales of tablets, which continue to struggle.
Related: New phone wants to be an iPhone killer
A company in decline? On the one hand, analysts believe CEO Hubert Joy deserves credit for ramping up Best Buy's online presence, improving customer service and dedication to matching prices.
"We think Best Buy is a totally different company than it was two or three years ago. Their prices are much more competitive, both in their stores and online," said Thomas, who has a "hold" rating on the stock.
On the other hand, Best Buy's results today show how it, like other retailers, will continue to feel a creeping pressure to invest in the business. And that pressure isn't going anywhere anytime soon, which explains why the stock is now pretty cheap with a price-to-earnings ratio of 14.
"It's hard to buy a company that's seeing declining earnings, margins and cash flow," said Michael Pachter, an analyst at Wedbush Securities.