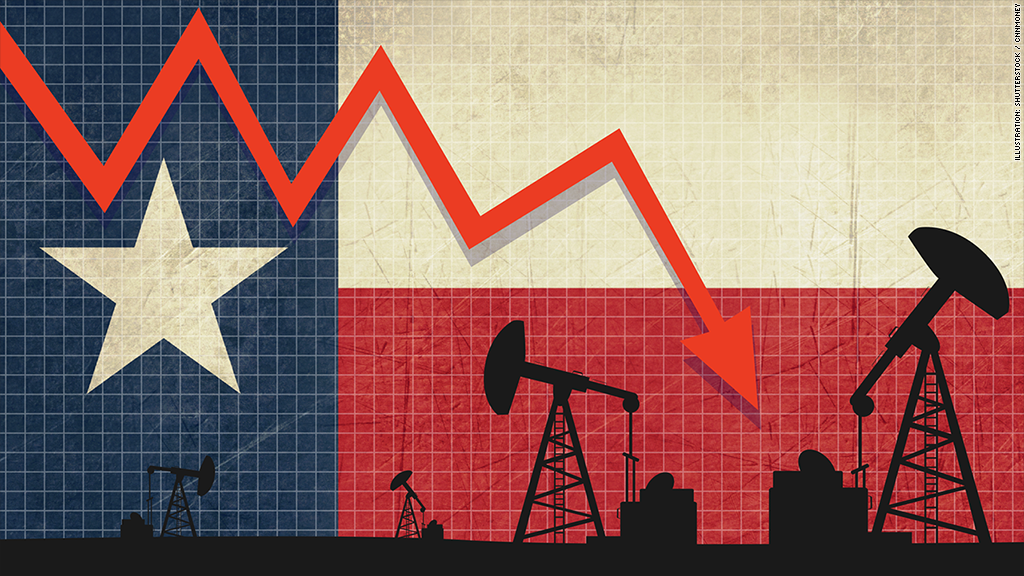 Up until just a few months ago, things were going gangbusters in Texas. Now, with oil breaking below $45 a barrel, there's a legitimate fear the state will tumble into a recession.
While the turnaround in the Lone Star state is dramatic, Texas oil veterans are well acquainted with the boom-and-bust cycle.
For the better part of the last century, Texas has experienced the euphoria of high prices along with the heartache of low prices.
Denise Walker is still pained just thinking about the crash in oil prices that forced her to shut down her oilfield services company in Texas in the mid-1980s.
"I've been there, done that. It's not fun, but you just have to learn how to survive," said Walker.
Back in the oil business after a stint in ranching, Walker is now facing an environment she fears will be even worse than 30 years ago.
"I think we'll be okay...because we learned from our mistakes," she said.
Walker, now co-owner of oilfield services company Frontier Services, learned to keep cash on hand and avoid loading up on debt to pay for equipment.
"I may have to get out in the field and start doing the work myself," said Walker. "I'm older now. I don't want to do it, but I will if I have to. I will put a hard hat on and steel-toed boots and do the work. It's not beneath me."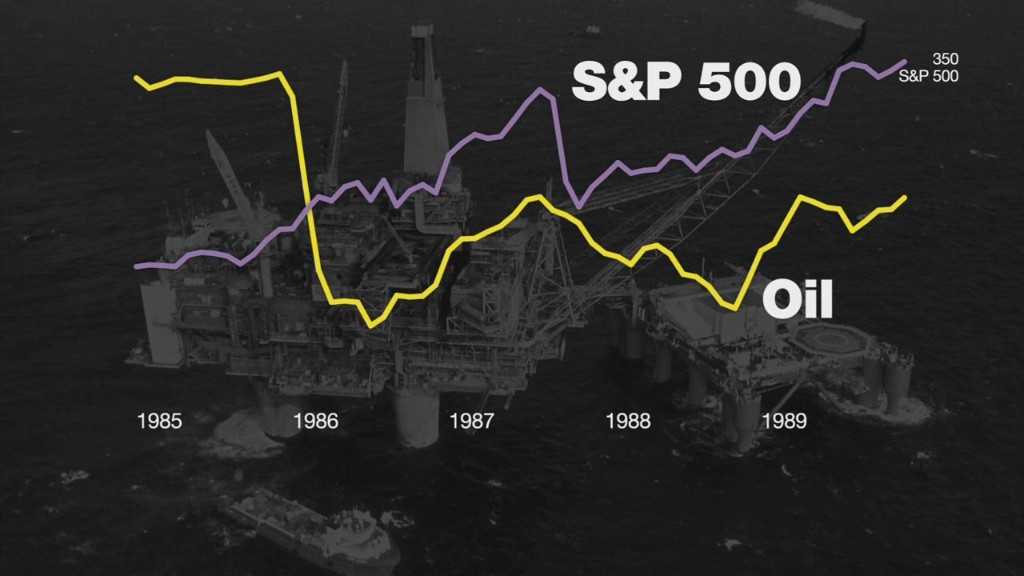 Related: Texas could sink into oil-fueled recession
Bracing for the worst: Back in 2008 Doug Fusilier lost his job at GE Oil & Gas when oil plummeted from nearly $150 a barrel to below $35 amid the financial crisis.
He couldn't find another oil job and eventually took a few position in the coffee industry. The stress and lack of sleep eventually led to health problems.
"Anyone who hasn't been in this business and thinks it's always going to be going like gangbusters -- always making $150,000 a year -- hasn't been here long enough to know there can come a time when you might not be able to find anything," said Fusilier, a 20-year veteran of the industry.
Now he's back, working as a designer at FMC Technologies (FTI), another oil servicing company.
While he believes FMC "should be okay for a while" thanks to a big backlog of orders, he has friends and relatives who are facing job losses and pay cuts.
Fusilier and his wife began bracing for the worst months ago by paying down debt. "If this lasts longer than anticipated, we need to be prepared," Fusilier said.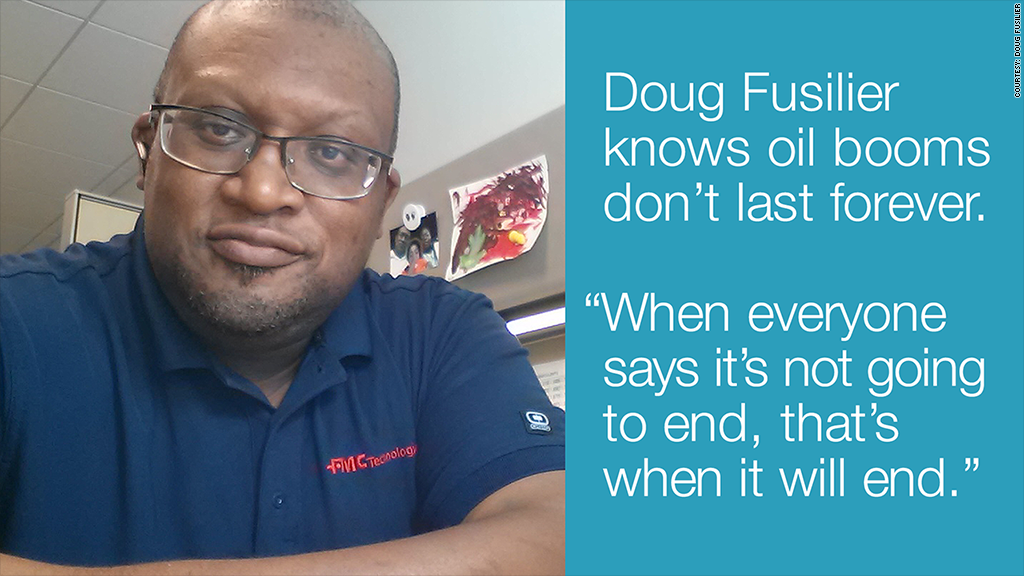 "When things are at their best and brightest, that's when you should start battening down the hatches. When everyone says it's not going to end, that's when it will end," he explained.
Related: Cheap oil is killing my job
Survival of the fittest: While the oil meltdown is causing jitters in Texas, Danny Jimenez knows dramatic price moves also present opportunities.
"A drastic decline in commodity prices is going to result in winners and losers. The weak get weaker and the strong get stronger," said Jimenez, who is CEO of Craig Energy, a Denver-based oil services company.
Jimenez, who previously worked at Texas-based Halliburton (HAL) and Schlumberger (SLB), said companies that are financially irresponsible and believed the good times were "going to last forever" will be in trouble.
"You have to stay within your means so you don't stretch yourselves too much," Jimenez said.
Related: Oil will never return to $100, Saudi prince says
Chasing dollars can backfire: Employees entering the oil industry would benefit from recalling the history of boom-and-bust cycles in Texas.
"Honestly, this dramatic fall in prices is something that a lot of us felt was inevitable," said one geologist in the Texas oil industry who requested anonymity.
He pointed to a long history of technological advancements that lead to supply gluts and price crashes. The same can be said about today's shale boom.
All of this explains why chasing higher paychecks at risky, leveraged companies can eventually backfire.
"Those who follow the tantalizing dollar sometimes end up making a decision to work for a company that looks great at $100 oil but is a bankruptcy candidate at $40 oil," he said.