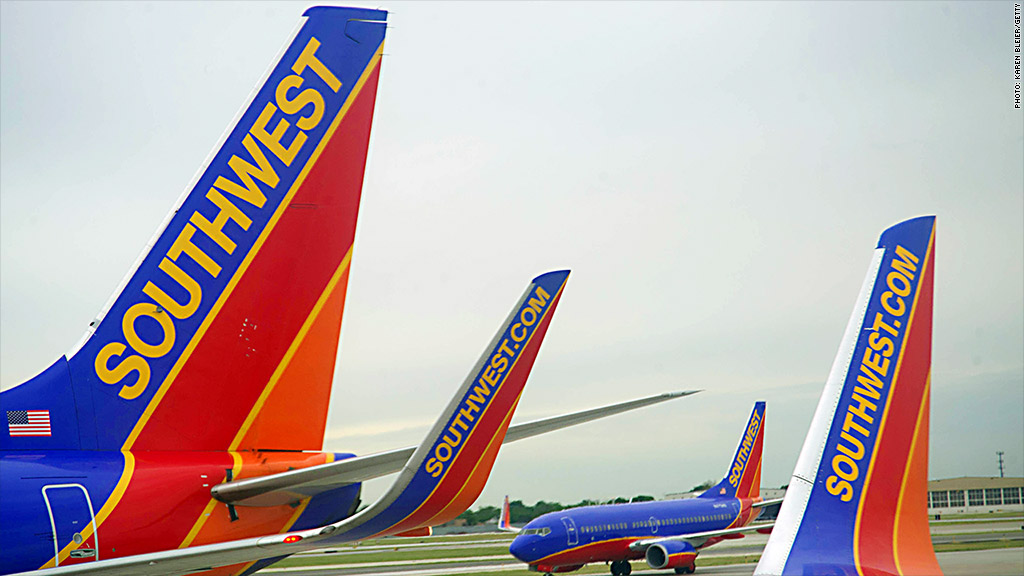 Southwest Airlines has been hit with a record $1.6 million fine for keeping passengers trapped on the tarmac for hours at Midway Airport in Chicago.
The airline failed to clear 16 aircraft off of the runway in a timely fashion on the evening of Jan. 2, 2014, according to the Department of Transportation. Regulations require that flyers must be let off a plane within three hours of landing.
Related: Southwest - top stock of 2014
A bad winter storm was a major factor in the delay. But the DOT says that Southwest's crew scheduling system also malfunctioned, leaving the airline without enough crew members to clear the arriving flights.
"We are disappointed that the government would seek additional money," Southwest (LUV) said in a statement, "after the enormous penalties imposed on Southwest by Mother Nature during the January 2014 winter storms."
The airline said it has since made made "significant investments" in its operations to prevent such delays from happening again. It also paid $269,000 to flyers affected by the January 2014 incident.
Related: Airline stocks and profits soar thanks to oil plunge
JetBlue (JBLU) passengers who were trapped on the tarmac for many hours got national attention after an ice storm caused long delays at New York's John F. Kennedy Airport in February, 2007. In 2009 the department of transportation put rules and fines in place regarding such problems.
Since then, the agency has assessed a total of $5.24 million dollars in penalties for tarmac delays.