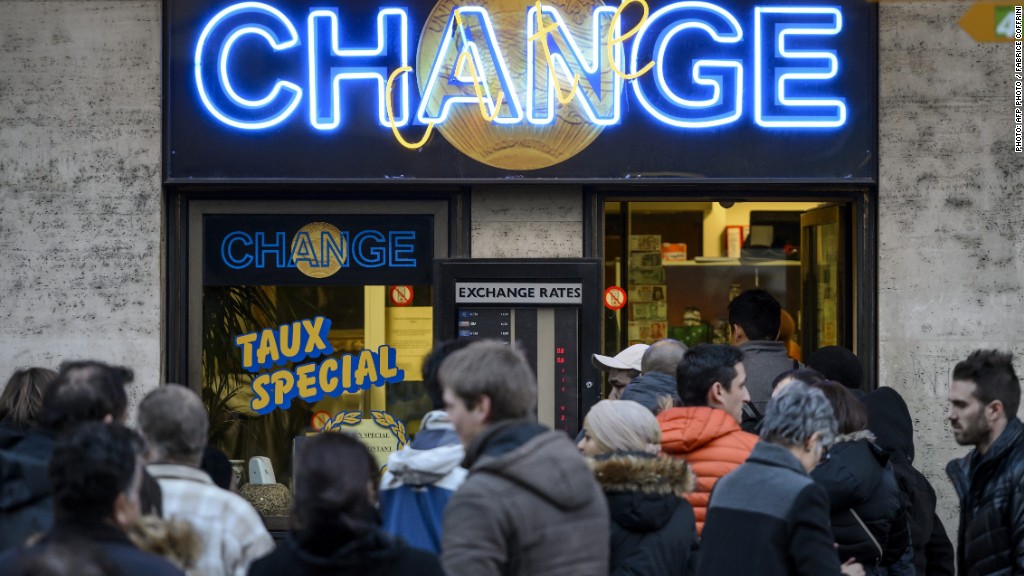 Swiss stocks plunged again and currency brokers licked their wounds Friday as markets reeled from the country's shock move to stop pegging the franc.
Switzerland's benchmark SMI index slumped about 6% Friday, after plunging nearly 10% Thursday when the Swiss franc soared against the euro and other major world currencies.
In one of the most dramatic central bank announcements in recent memory, the Swiss National Bank (SNB) scrapped a three-year cap on the value of the franc against the euro, introduced in 2011 during the eurozone crisis to limit the flow of cash into the country.
Related: Davos just got a whole lot more expensive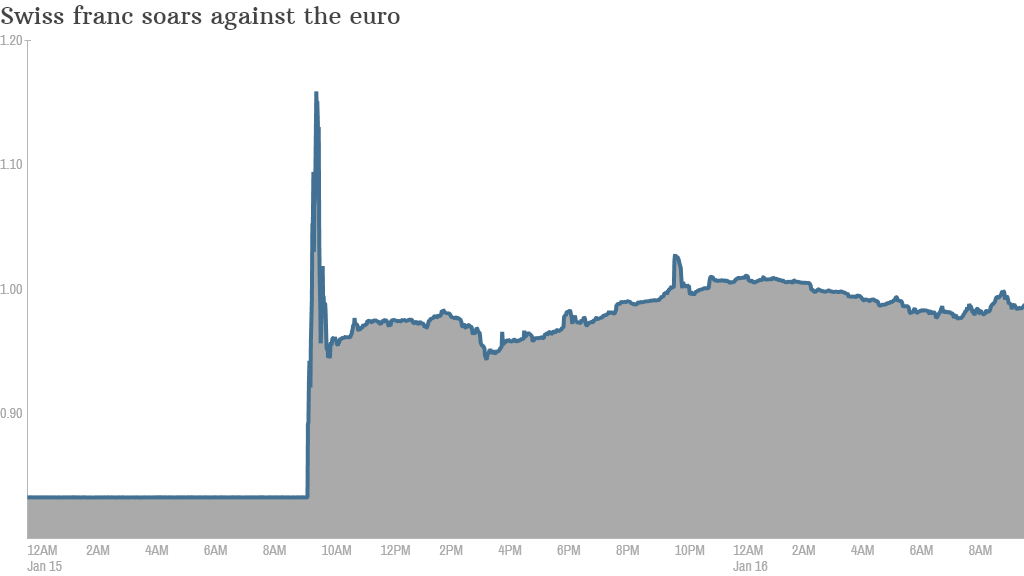 Switzerland was worried at the time that a rapid appreciation in its currency would slam exporters and cause deflation in its economy.
But that's precisely what it got in the wake of Thursday's news, which analysts said was likely triggered by the realization that the cap would be impossible to defend once the European Central Bank (ECB) starts printing money to stimulate the eurozone economy.
"One thing is clear regarding yesterday's SNB action, something was said or hinted in conversation between the SNB and ECB that spooked the SNB," said Peter Rosenstreich, head of market strategy at Swissquote, the country's largest online bank. "[It] scared them so much that abandoning the minimum exchange rate ... was the chosen policy path."
Were you hurt by the Swiss currency turmoil? Tell us your story!
The franc soared by as much as 30% at one point, before settling later in the day at around parity to the euro, still up 20%. On Friday it was holding steady at that elevated level.
Companies, investors and brokers were taken completely by surprise, and many will be struggling to figure out the impact on their businesses. At least two currency traders have gone out of business as a result, and another warned it may not have enough cash to continue.
Multinational companies such as Nestle (NSRGF), Novartis (NVS), Roche (RHHBF) and Swatch (SWGAY) are likely to be among the hardest hit exporters.
"Words fail me," said Swatch CEO Nick Hayek. "[The] SNB action is a tsunami; for the export industry and for tourism, and finally for the entire country."
New Zealand's Global Brokers Ltd said losses on client accounts had completely wiped out its capital and it would be unable to resume trading. In the U.K., Alpari said it was unable to cover client losses, leaving it insolvent.
FXCM (FXCM), a leading global currency broker, said "unprecedented volatility" wiped out its equity. It now has a negative equity balance of $225 million. That's money that customers owe to the company.
Interactive Brokers Group (IBKR) said its customers lost around $120 million due to the sudden move in the franc. Shares tumbled Friday.
Multinational companies such as Nestle (NSRGF), Novartis (NVS), Roche (RHHBF) and Swatch (SWGAY) are likely to be among the hardest hit exporters.