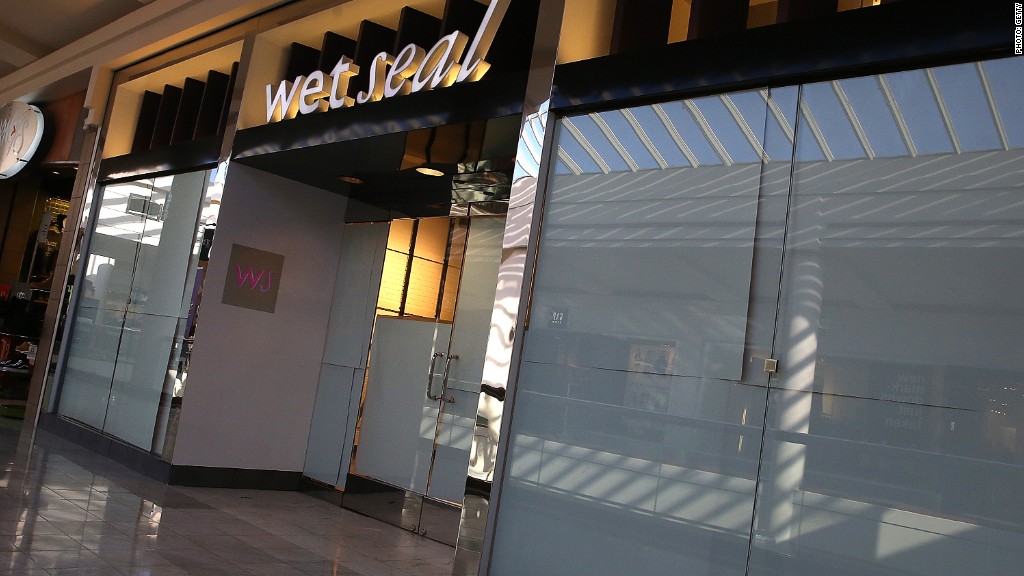 Drowning teen retailer Wet Seal has filed for bankruptcy.
Unable to keep up with the world of "fast fashion," Wet Seal (WTSL) plans to reorganize itself in Chapter 11 bankruptcy.
The floundering company plans to keep its doors open, operating under a $20 million financing agreement from an investment bank.
It was clear Wet Seal was bracing for a very difficult 2015 due to heavy competitive pressures. The teen retailer suffered a net loss of $36 million during the third quarter as sales plunged nearly 15%.
Related: 5 endangered teen retailers
"That whole industry has been shaken to its core by the fast fashion guys" like Forever 21 and H&M, said Paula Rosenblum, a retail analyst at RSR Research.
These faster competitors "are really good at doing cool and doing cheap," she said.
Wet Seal filed for bankruptcy on Thursday and announced the move in a statement on Friday.
The filing comes less than two weeks after the company announced plans to pull the plug on 338 stores. The move sparked the termination of 3,695 full- and part-time employees and left Wet Seal with just 173 stores and its online business.
"We continue to believe in The Wet Seal and remain committed to executing on the strategic steps that we already started," Wet Seal CEO Ed Thomas said in a statement.
In addition to a $20 million loan from B. Riley Financial, Wet Seal has about $31 million of cash on its balance sheet to fund its business.
Shares of Wet Seal fell another 62% to just 3 cents during premarket trading on Friday. They traded as high at nearly $5 as recently as May 2013.
Related: Woe Canada! U.S. retailers struggle up north
-- CNNMoney's Kathryn Vasel contributed to this report.