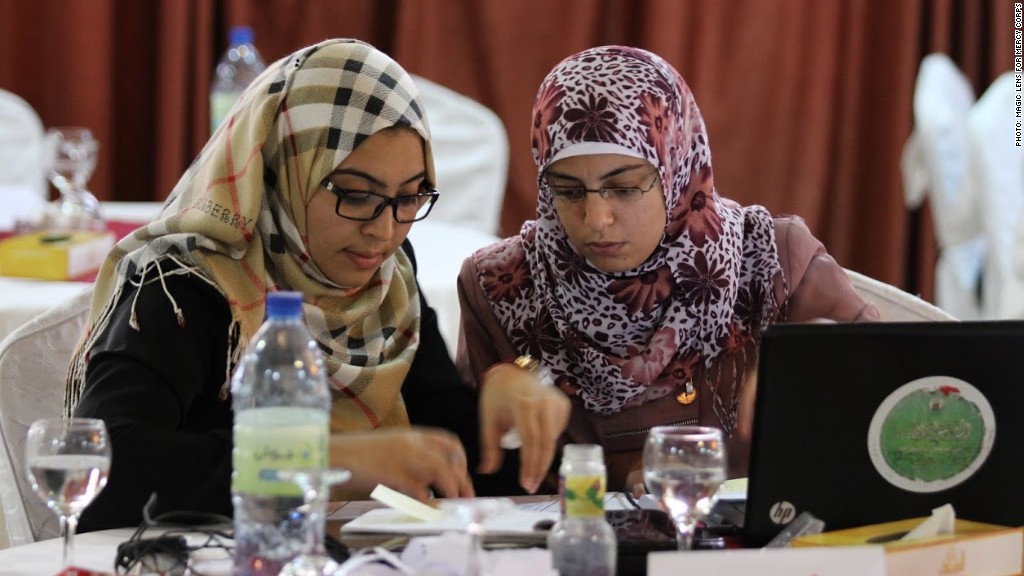 The Gaza Strip isn't exactly known for its burgeoning tech scene.
Gaza's only accelerator -- Gaza Sky Geeks -- is on a mission to change that.
"Most Gazans had never heard of what a startup was," said Gaza Sky Geeks director Iliana Montauk.
Founded in 2011 by global aid organization Mercy Corps, it received $900,000 from Google.org, the tech giant's humanitarian arm.
Since then, Gaza Sky Geeks has held over 100 training events and competitions that it says has reached 1,500 young Palestinians. It also offers free coworking space and helps connect investors with local startups. To date, it's facilitated investments for four Gazan tech startups, including Wasselni, a carpooling and taxi ordering service, and DWBI Solutions, a data-based business management product.
Related: The tech behind smart cities
But there are many hurdles to stimulating the local startup sector.
There are 1.8 million Palestinians living in Gaza, a strip of land bordered by Israel, the Mediterranean Sea and Egypt. Since 2007, it has been governed by militant organization Hamas, and the economy has deteriorated. One quarter of the population lives in poverty, and over 60% of the youth are unemployed. The war this summer just added to the devastation.
"The skill level is definitely lower than Silicon Valley," said Montauk, who is from the U.S. "There isn't a Google or a Microsoft creating that kind of talent. [But] compared to other Arab countries, the tech skills are considered quite high."
Mercy Corps takes care of the logistics of bringing in outside mentors and helps Palestinian entrepreneurs travel outside Gaza for business opportunities. Most Gazans have never traveled more than 20 miles from home.
Related: Cuban entrepreneurs take Startup 101
Gaza Sky Geeks has become a mini-tech hub in a world that starkly contrasts Silicon Valley.
"At most of the universities, men and women sit separately. In general, it's a conservative society," said Montauk, who said men and women equally participate in Gaza Sky Geeks. "One of our biggest successes is creating a place that's vibrant, open to creativity and optimistic."
Many of the entrepreneurs, like Said Hassan Abdalrahim, 30, are highly educated.
Abdalrahim -- who holds a master's degree in business administration -- works as one of Gaza Sky Geeks' three employees. In June 2014, he launched his own startup, a second-screen social network called Tevy that has raised $30,000 in funding.
"We have the skills and the talent but we're still figuring out how to build a startup," he said.
Related: Y Combinator makes push for diversity
U.S.-based techies are taking notice.
"The raw talent and energy are tremendous," said David Renie, a Silicon Valley software engineer who visited Gaza in 2011.
In need of funding, Gaza Sky Geeks took to Indiegogo for financial support in November. It's raised over $180,000 (with an initial goal of $70,000), and captured dollars from many in Silicon Valley, including Salesforce (CRM) CEO Marc Benioff and 500 Startups founder Dave McClure.
"We believe a real tipping point is to start to have a real connection with Silicon Valley," said Montauk, who estimates that there are about 60 entrepreneurs working on startups in Gaza today. "Our goal in 2015 is to bring our startups to Silicon Valley [to visit] for the first time."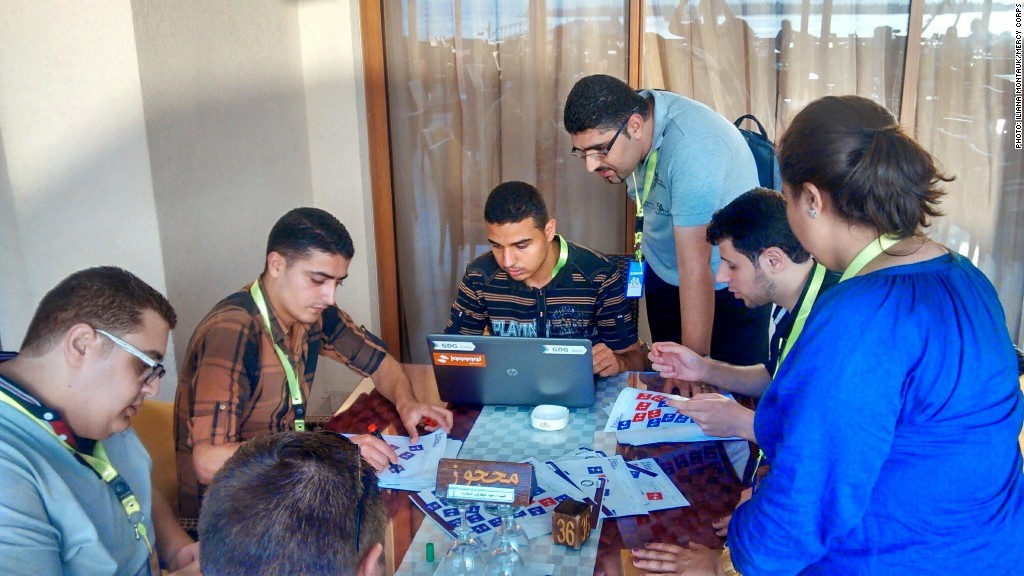 Bridging the gap between Gaza and the outside world is a necessary and important step.
"Gaza is a place that's so cut off. You would assume they'd be so behind. Most people still don't think that Gaza has Internet," said Gisel Kordestani, an entrepreneur in the Bay Area who's been involved with Gaza Sky Geeks since its inception.
Montauk said that's likely why their mission -- once people hear about it -- is resonating with the broader tech world.
"Silicon Valley believes in entrepreneurship and looking for a way forward," said Montauk.