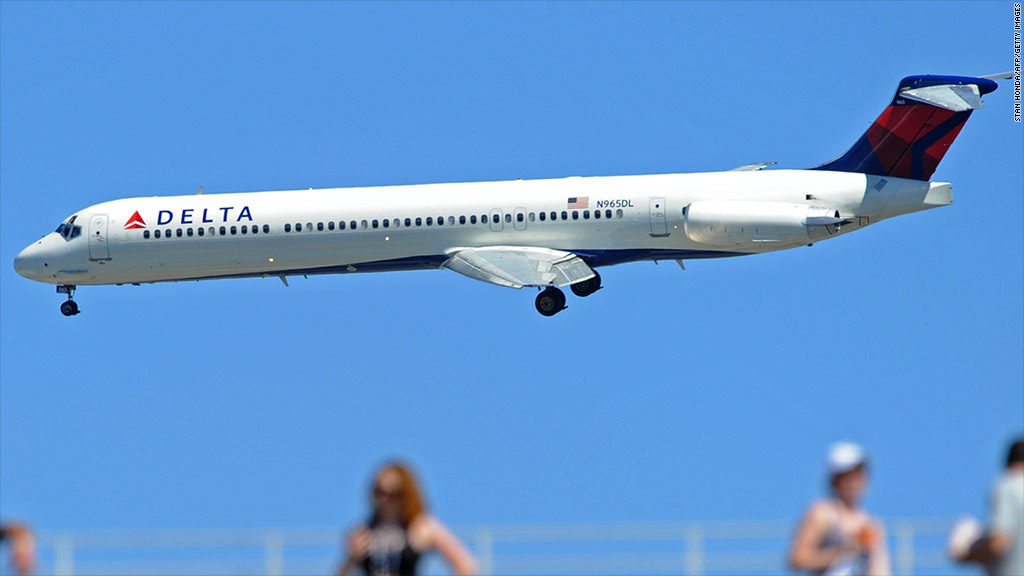 If there was any doubt that lower oil prices were a gift to the nation's big airlines, just check out the latest results and outlook from Delta.
Delta (DAL) CEO Richard Anderson said in a statement that lower fuel prices should save the company more than $2 billion this year. But travelers shouldn't expect any fare cuts anytime soon.
That may not be what consumers want to hear. But Wall Street is happy. Shares of Delta rose more than 7% on the news.
The airline is already doing well. Delta reported a fourth-quarter profit, excluding one-time charges, that topped expectations Tuesday.
Related: Falling oil's next victim
Top stocks: Now the forecast for Delta looks even sunnier. Delta promised strong profit margins for the first quarter and predicted earnings growth in the double digits for the full year.
Delta, along with other airlines, were among the top performers on Wall Street last year thanks largely to lower fuel costs. The stock gained nearly 70% in 2014.
Southwest (LUV), which will report earnings on Thursday, soared about 120% last year, making it the best stock in the S&P 500. Its shares rose on Tuesday morning as well.
So did the stocks of rivals United Continental (UAL), American (AAL), JetBlue (JBLU) and Alaska Air (ALK). Those four airlines will also report their latest results in the coming days.
Shares of smaller airlines Spirit (SAVE) and recent IPO Virgin America (VA) also gained altitude on Tuesday.
Related: Will Bitcoin ever rebound?
Fuel drop was a surprise: But while the sudden plunge in fuel costs is sure to help the airlines for the rest of the year, Delta did take a hit in the fourth quarter as a result of how fast they fell.
The airline technically reported a loss due mostly to a $1.2 billion charge it took to adjust for the cost of fuel-hedging contracts that had been set up in anticipation of higher energy prices.
Most airlines use such hedges so they don't get caught off guard by a big spike in fuel costs.
Still, it appears that investors are more excited about the possibility of cheaper fuel in the future than about the hedging mishap.
Lower energy prices also mean that consumers and business travelers are more willing to fly as well. To that end, Delta said that its revenues were up nearly 6% in the fourth quarter.
Related: Why is United Airlines suing a 22-year-old?
More passengers, more money: Passenger revenue in the United States surged nearly 11%, a clear sign that Americans are taking to the friendly skies in droves.
But the increase in Delta's overall sales was higher than the increase in passenger traffic and capacity. That shows that Delta and other airlines are also doing well thanks to a litany of surcharges that travelers are now forced to pay.
So will lower fuel prices eventually lead to reduced fares now that the airlines are raking in big profits? Don't bet on it.
During a conference call with analysts, Delta chief revenue officer Glen Hauenstein said that the company does not want to turn the airline into a "commoditized" business that is just about lower prices.
He noted that Detla has a great record for on-time departures and arrivals and added that the airline is more interested in offering consumers what they want than focusing on cheap fares.
That's a lot different than how the airline industry used to be run. The business was notorious for fare wars and frequent bankruptcies. It seems like the wave of mergers over the past few years has changed that -- to the delight of investors.
"Lower oil is a positive for airlines but the industry has been improving for years," said Mark Dawson, a fund manager who owns Delta in the Rainier Large Large Cap Equity Fund (RIMEX). "The benefits of consolidation and better management is a multi-year story."