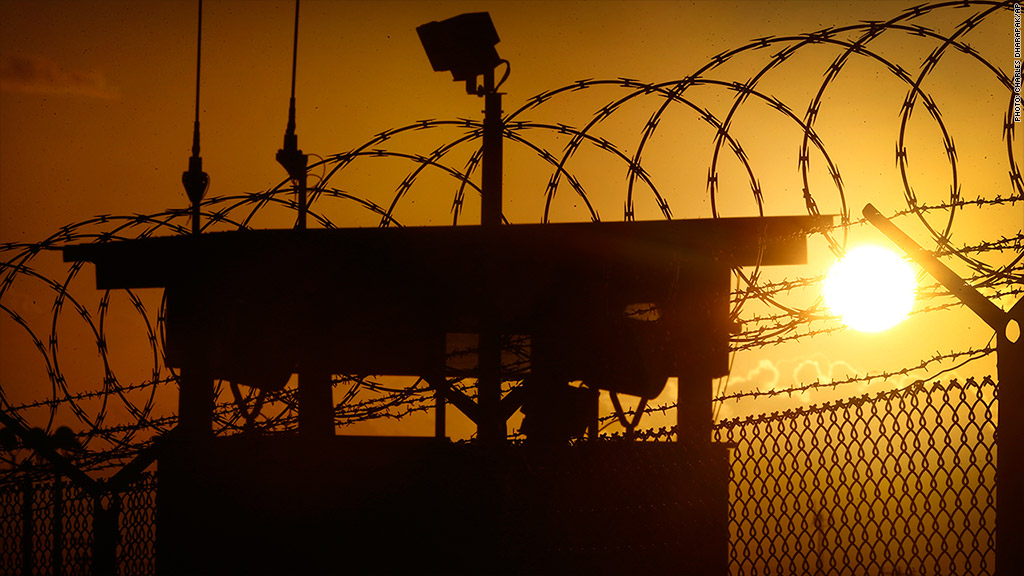 On the same day that President Obama reiterated his call to close Guantanamo Bay, a detainee has published a first-of-its-kind account of his time in the prison.
The book, "Guantanamo Diary," has some sales momentum: After being released on Tuesday, it cracked Amazon's Top 100 best-selling books list on Wednesday morning.
The 400-plus page memoir was written by Mohamedou Ould Slahi, a man from Mauritania who has been held in the prison since 2002.
Slahi, who fought with rebels in Afghanistan in the 1990s, was detained by American authorities after 9/11 on suspicion of plotting to bomb the Los Angeles airport. The U.S. government also said he helped recruit 9/11 hijackers, but has never formally charged him.
In the book, Slahi says he has been tortured and has been unable to get answers about his detention. For many, the account underscores why Guantanamo has become such a disgrace.
In his State of the Union address on Tuesday, Obama said "it makes no sense to spend three million dollars per prisoner to keep open a prison that the world condemns and terrorists use to recruit."
He told Congress that "I will not relent in my determination to shut it down. It's not who we are."
But he faces opposition from a group of Republican senators who announced legislation last week aimed at keeping Guantanamo Bay open.
Slahi's memoir is a new contribution to the debate.
It is something "that every American should read," wrote New York Times columnist Joe Nocera in his review on Tuesday.
Pulitzer Prize-winning journalist Glenn Greenwald echoed those sentiments. "Anyone who reads Guantanamo Diary -- and every American with a shred of conscience should do so, now -- will be ashamed and appalled," Greenwald wrote.
Slahi finished his manuscript in 2006, but the document was originally deemed classified by the U.S. government. The American Civil Liberties Union helped get a redacted version of the manuscript declassified in 2012.
Hina Shamsi, the director of the ACLU's National Security Project, said she can't comment on what was and wasn't redacted.
"But I think it's important to note the extent to which the U.S. government continues to censor the torture by the CIA and the military," she told CNNMoney.
In 2010, a federal judge ruled that the government could not continue its detention of Slahi due to a lack of evidence. But Slahi has remained imprisoned after a subsequent appeal by the government.
Shamsi told CNNMoney that Slahi's accounts of what has been done to him at Guantanamo have been verified by a Senate Armed Services Committee investigation as well as an internal investigation by the government. She said it's "remarkable" that Slahi has maintained "grace, humanity and humor" throughout his 12-year detention.
"He has, despite everything that was done to him, great faith in the American public to right the wrongs," Shamsi said.
There's one moment in "Guantanamo Diary" that particularly resonated with Shamsi: When he finally heard from his mother, Slahi describes how he touched and smelled the letter. She died in 2013 and the book is dedicated to her.
Citing the recent terrorist attack in Paris, the Republicans behind last week's legislation argued that the time isn't right to transfer Guantanamo detainees.
Shamsi said she hasn't heard much political reaction to "Guantanamo Diary," but she hopes certain elected officials find time to read it.
"I very much hope that people who seek to paint everyone at Guantanamo as the worst of the worst will read this work and recognize the humanity in it and accelerate Mohamedou's release and the release of many other men who continue to be unlawfully detained," she said.