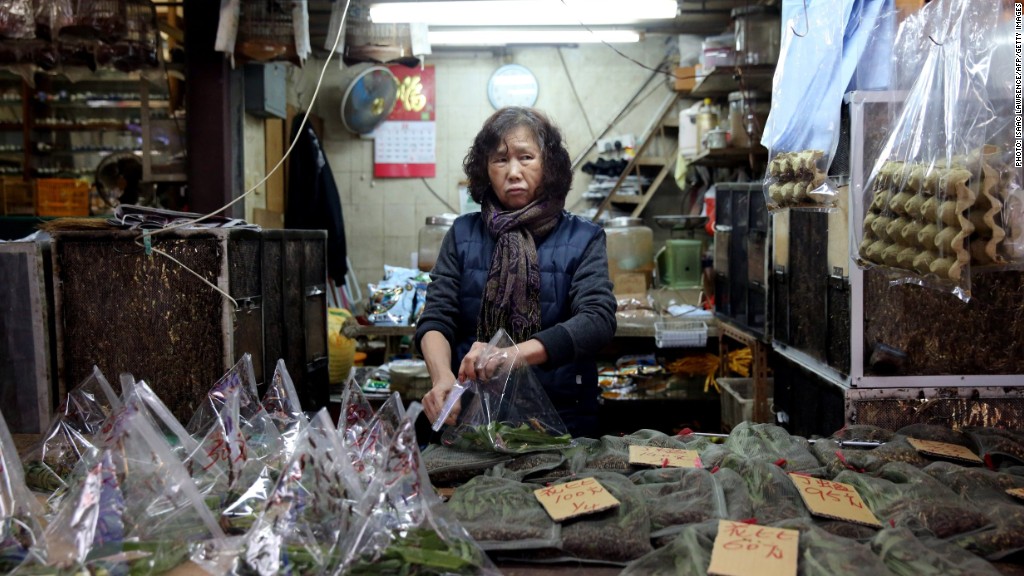 Political and business leaders attending the world's most exclusive meeting in Davos have a harsh reality to face: The world is in worse shape than when they met a year ago.
Extremists are gaining ground in the Middle East. Ebola has killed thousands in west Africa. Relations between Russia and the West are the worst they've been since the Cold War. Scary geopolitics is putting extra pressure on a global economy facing a deflationary spiral as oil prices crash.
Where growth is going to come from will be high on the agenda at the World Economic Forum. The U.S. may be ready to start weaning itself off cheap central bank cash, but the rest of the world isn't.
Related: Complete Davos coverage
Japan slipped into recession in the third quarter, and is relying on fiscal and monetary stimulus to haul its way out. China has just reported its slowest growth in 24 years.
The European Central Bank is priming the printing presses as deflation looms and growth fades. Long term unemployment is fueling anger across the continent, and the upcoming Greek election is adding to fears about the eurozone.
Problems are not confined to the world's biggest economies -- emerging markets are also losing steam. The 50% slump in oil prices since Davos 2014 is hitting producers hard. Key OPEC countries have resisted proposals to cut output, leaving Venezuela, Iran and Russia facing misery.
Russia's economy was already looking shaky after the West imposed sanctions over Moscow's annexation of Crimea and its support for separatist rebels in eastern Ukraine.
Related: All you need to know about Davos
Oil's collapse has trashed the ruble and forced Russia to bail out banks and companies. Its reserves are dwindling fast and austerity is biting -- yet President Vladimir Putin remains defiant, and unpredictable.
"Twenty five years after the fall of the Berlin Wall, the world again faces the risk of major conflict between states," said WEF economist Margareta Drzeniek-Hanouz.
Tensions between China and Japan are also on the rise, but of more immediate concern is Beijing's ability to control the slowdown in the world's second largest economy. Its workforce is ageing and a real estate bubble has burst.
Beijing is trying to manage the slowdown by implementing reforms and cautiously opening its markets to foreigners. Premier Li Keqiang is coming to Davos for the first time and will no doubt project an upbeat message about progress.
Even good news comes with a caveat: Extreme poverty is declining. But inequality is rising rapidly. The number of people using the Internet is growing. So are the risks of cyber attacks. More women are in work -- but they still make much less than men.
The theme of this year's WEF is "the new global context". As the global elite wind their way up the Swiss mountain, it's clear the context is grim.