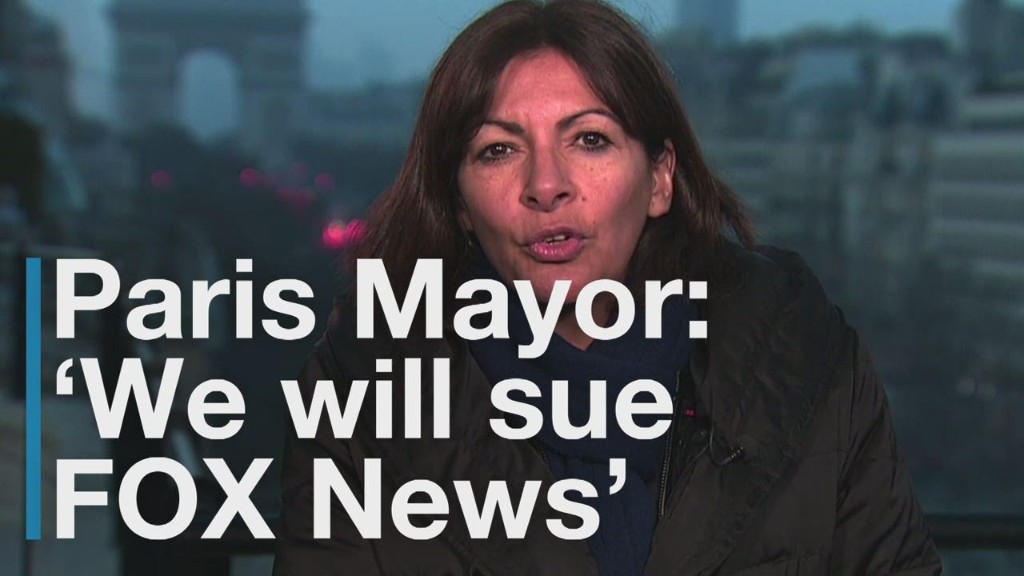 Experts on both sides of the Atlantic say that Paris Mayor Anne Hidalgo's threat to take Fox News to court is largely empty.
Hidalgo hasn't outlined her legal arguments or said whether she'll go to court in the U.S. or in France, but experts on media law said it is unlikely that a court in either country would agree to hear the case.
"I think we'll have to sue," Hidalgo told CNN on Tuesday, saying the U.S.-based network had "insulted" the reputation of her city. The network has been ridiculed for making factually-challenged claims about "no-go zones" that are off-limits to non-Muslims. Fox News has since apologized but said the threat of a lawsuit is "misplaced."
A dead end in U.S. courts
Lawsuits are generally brought where the alleged wrongdoing occurred, so suing the New York-based Fox News in the United States is one of the most likely scenarios. (Fox News is available in very few French homes, and it's very likely more people there learned about the Fox News assertions through French comedy shows lampooning them.)
U.S. judges decided long ago that entire cities can't be slandered. That precedent dates back nearly 100 years, when the Illinois Supreme Court ruled that the city of Chicago could not sue the Chicago Tribune over a series of critical editorials. Even without looking at freedom of the press protections under the First Amendment, the court ruled citizens had nearly free range to criticize their government.
"A claim like this would never succeed in a United States court because there's no such thing as defamation" of a municipality, said Jeff Hermes of the Media Law Resource Center. (Fox News is a member of the non-profit MLRC, which provides resources for media outlets.)
Lawsuits for slander or libel need to identify a particular individual or entity, Hermes said.
Little recourse in French courts
Speech and media laws are different in France, but the conclusion is essentially the same. French law also requires a specific individual to be named.
"In the case of the city of Paris, one fails to see who is the victim or who has been insulted," attorney Dominique Mondoloni told CNNMoney. "It's clearly not the mayor" who has suffered damages, he added.
And since neither the mayor nor her government has individually been hurt, "There was not much cause of action here," Mondoloni said. He has worked on both sides of these cases: media outlets and individuals who believe they have been wronged.
There are other hurdles, too, he said.
The case isn't a good fit for either the law against defamation (which involves making a factually false assertion) or insults (which is more general name calling), he said.
It also likely wouldn't fly under French criminal law that allows individuals to claim other types of wrongdoing.
"In a general tort case, you need to prove your loss, you can't just allege it," Mondoloni said. That means assigning and justifying a monetary value.
"Maybe a symbolic euro could be awarded, but one fails to see how it can go any higher, because one fails to see how the city suffered a loss," he said.
Even if a court gave Fox a larger penalty, it likely has no assets in France to seize, and U.S. law protects media here against the decisions of foreign courts.
A 2010 law called the SPEECH Act "was designed to protect American publishers from defamation lawsuits overseas," said Anthony Fargo, the director of Indiana University's Center for International Media Law and Policy Studies.
Is going to court the right move?
Fargo doesn't even think a court is the proper venue for Hidalgo to air this grievance.
"I can understand that the mayor the city feels probably very acutely the damage that has been done to the city's reputation," he said. "I don't think a lawsuit is really the best way for a city to essentially fight back against negative publicity. The best way is to speak out against what was said."
--CNNMoney's Brian Stelter contributed to this report