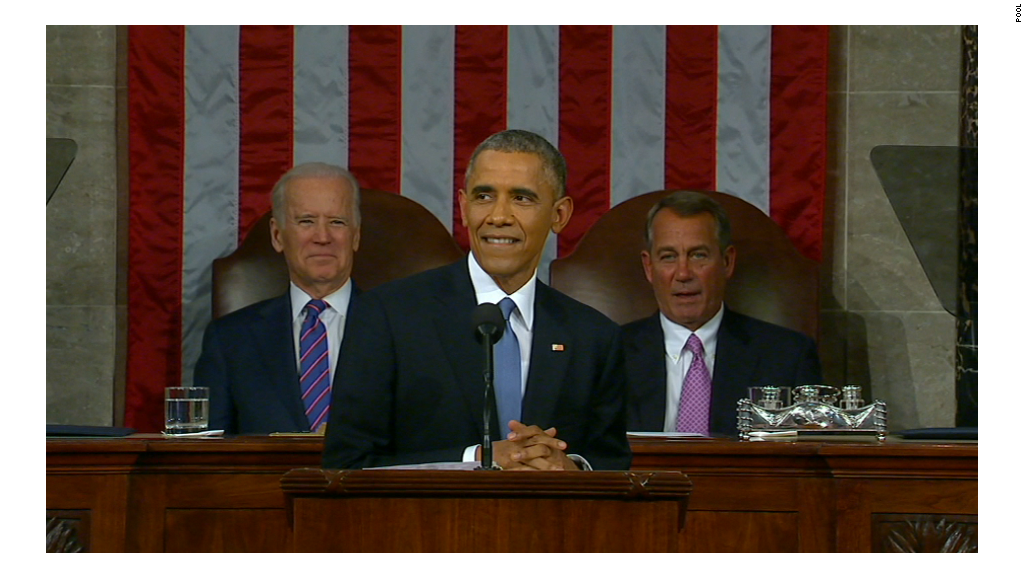 Wait, rewind that video: Did President Obama just say wages are growing?
The president's State of the Union speech had a lot of economic highlights. The U.S. had its best year of job growth since 1999. Unemployment is falling, economic activity is increasing. But then:
"Wages are finally starting to rise again," Obama said.
Unfortunately, new numbers published Thursday by the government don't back up that claim.
Related: American jobs are back, but wages aren't. Is this normal now?
Wages basically didn't grow at all in 2014, according to the Labor Department. The median weekly wage at the end of 2014 was $796 (seasonally adjusted). That's barely changed from the same time in 2013, when the weekly wage was $794.
The usual trend is that as more Americans get jobs, wages rise. So far, that's not happening.
Even the most recent data available for the fourth quarter of 2014 shows that median weekly wages actually decreased $1 from the third quarter if you look at the seasonally adjusted figures.
Related: This is why Obama is so concerned about the middle class
From the big picture perspective, median annual household income in 2013 is essentially the same as it was way back in 1995. It's also 8% lower than where it was before the recession, according to the most recent figures from the Census Bureau.
Middle class America is still frustrated because they aren't earning more money.
The only evidence to back up the president's wage increase claim is that non-seasonally adjusted wage numbers are rising slightly. But a spokesperson for the Bureau of Labor Statistics, which tracks wages, says the seasonal numbers provide the best comparison over time.