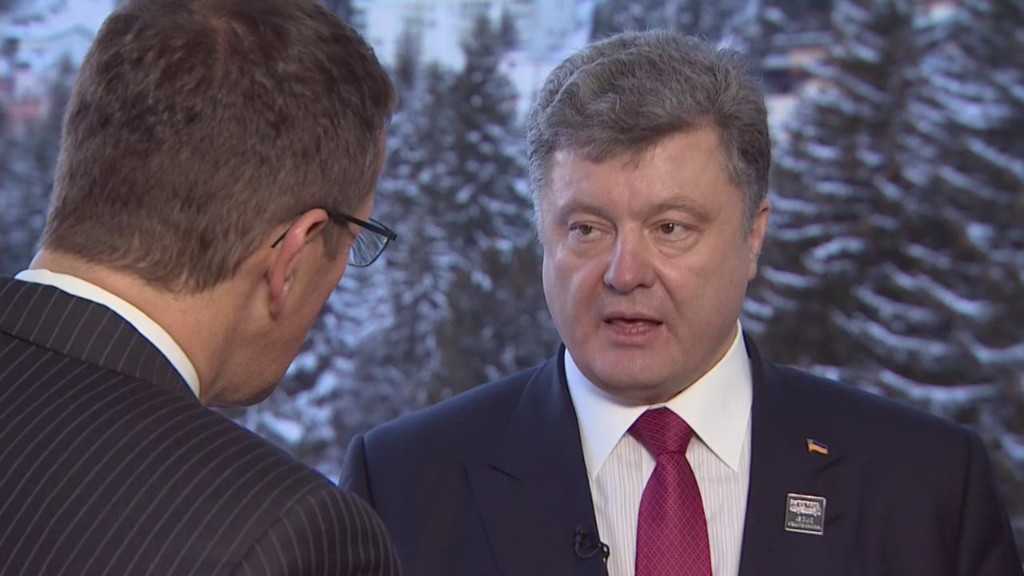 Ukraine is ready to push for more sanctions against Russia, President Petro Poroshenko said on Wednesday.
Speaking to CNN before a meeting between Russia and Ukraine later on Wednesday, Poroshenko said there was no room for negotiations.
"Everything was agreed and signed in Minsk," he said, referring to a pact signed in September with the aim of halting the conflict between Ukrainian government forces and separatist pro-Russian rebels.
Ukraine expects Russia to present a plan for implementing the agreement, which calls for an immediate ceasefire, freeing of any hostages, and the withdrawal of armed groups and military equipment from Ukrainian territory.
"The purpose of sanctions is not to hurt Russia," Poroshenko told CNN's Richard Quest at the World Economic Forum. "The purpose of sanctions is just to keep Russia to be responsible."
Opinion: Why the new Cold War matters
Western countries have imposed sanctions against Russia over its annexation of Crimea, and support for rebels in other regions of eastern Ukraine.
The sanctions left the Russian economy even more exposed to the collapse in global oil prices.
Russian President Vladimir Putin remains defiant, despite the grim economic situation. Moscow has repeatedly denied any involvement in the conflict.
Poroshenko delivered an emotional speech address in Davos, calling a recent attack on a civilian bus an act of terrorism. He showed the audience of business leaders and politicians a piece of charred metal, saying it was from the bus. The attack killed 13.
He drew similarities between the recent terror attacks in Paris, the shelling of the bus in Volnovakha and the downing of flight MH17 over Ukrainian territory.
"Je suis Volnovakha," he said, adapting the "Je Suis Charlie" solidarity campaign that followed the attacks in Paris.
Poroshenko cut short his visit to Davos due to intensified fighting in eastern Ukraine, his spokesperson said.