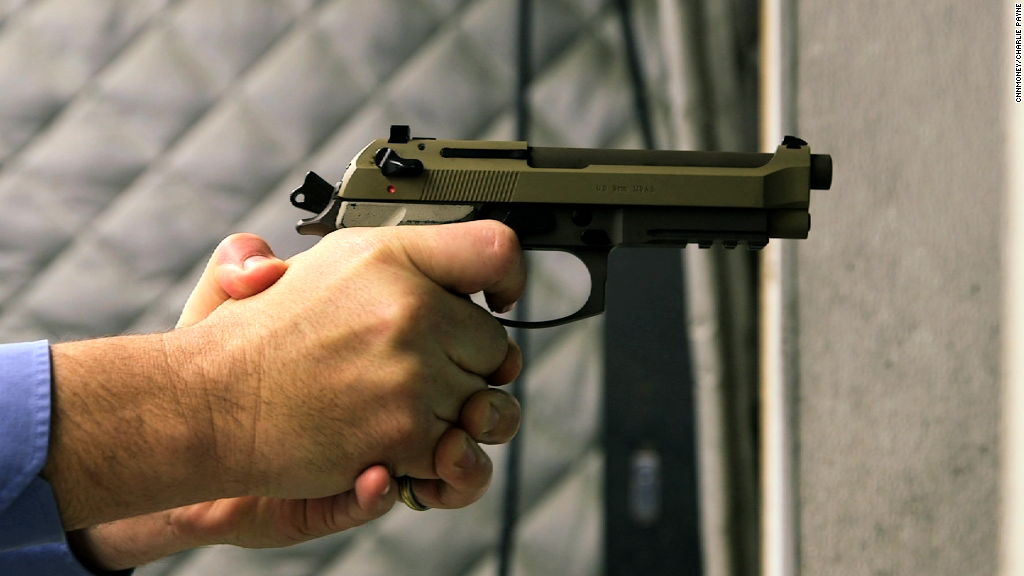 I'd been waiting 30 years to shoot this gun.
And there it was, the Beretta M9. Four of them, actually, representing all its variations and evolutions, splayed before me in an underground shooting range beneath the factory that makes them.
I was invited by gunmaker Beretta to visit its factory in Maryland and test out the M9, which has been the U.S. Army's standard-issue handgun for 30 years. The U.S. Army is currently in the process of looking to replace the gun with something new. And Beretta is trying to woo it back with a new design and an upgraded version of the M9.
The Army's decision to replace its current standard issue handgun is a rare and lucrative event for the gun industry. While it has had the Beretta M9 since 1985, its previous gun -- the Colt M1911 semiautomatic pistol -- was the standard issue for more than 80 years.
However, trying to figure out what the Army wants is a bit of a guessing game, since it hasn't specified key details. For example, it says the handgun prototypes can be mid sized or compact and can be any caliber. It wants "standard" as well as "extended" magazine capacity.
But Beretta and other gun makers like Smith & Wesson (SWHC) are betting that the Army likely wants its new gun to have the latest advances that the industry has to offer -- to be lighter and able to hold more bullets, ergonomically more dexterous, and able to withstand extreme heat and sand in desert conditions, while also equipped with the latest safety features.
I lifted the first gun in front of me -- the sleek, black M9 original -- with both hands and aimed at the target.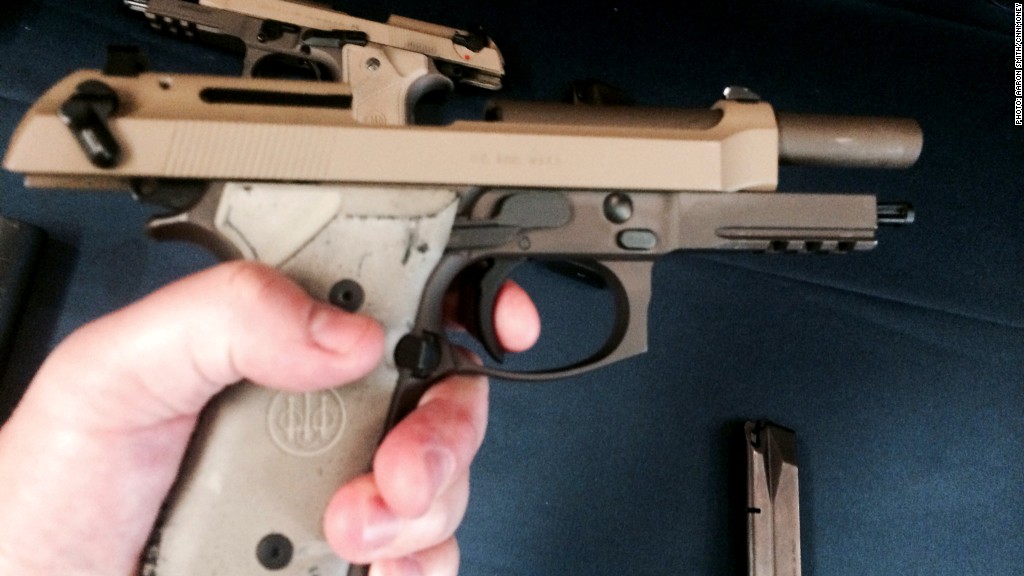 I first heard about the M9 in 1985, when the Army first issued it to replace its previous gun the Colt M1911, reminding me of my grandfather who served in the World War II. As a captain in the Army, he likely used the Colt, which was issued to officers.
The first time I saw an M9 was two years later, when I caught the Warner Brothers action movie "Lethal Weapon" starring Mel Gibson and Danny Glover. Gibson played Martin Riggs, a crazed cop and Vietnam vet with a mane-like mullet. Gibson's lethal weapon was the M9 and he ribbed his older colleague for using a revolver, noting that, "a lot of old timers carry those."
In the most dramatic scene, a helicopter carrying a sniper escapes from the edge of a cliff and Riggs fires furiously at the big chopper with his little black M9.
Related: Beretta wants to be U.S. Army's new gun. Again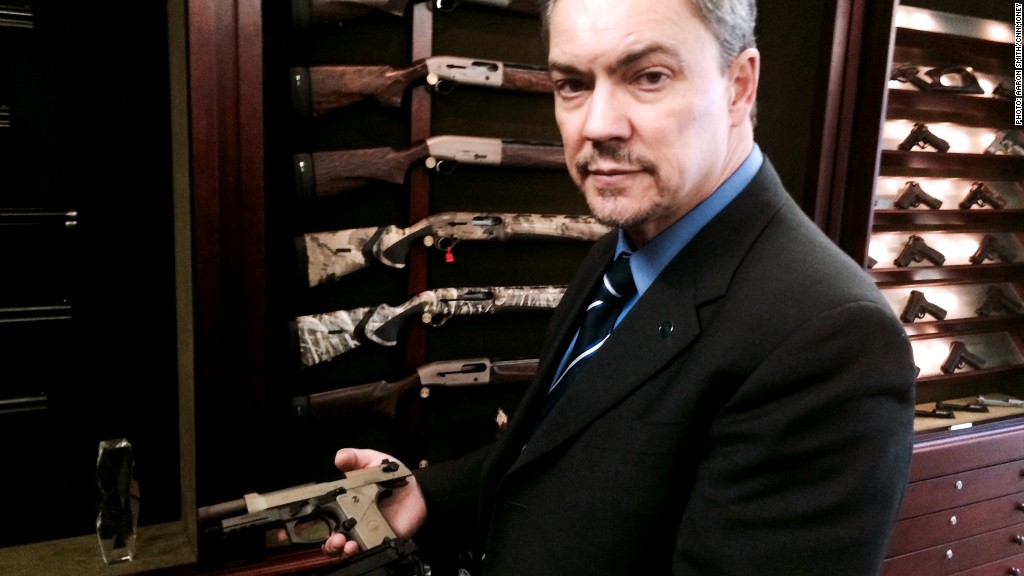 Though I have written about the M9, I had never fired one. I got my chance when Gabriele de Plano, vice president of military sales and marketing for Beretta USA, invited me to the Maryland headquarters to give it a shot.
My colleague, video producer Charlie Payne, and I drove through a snow storm from New York to Accokeek, a town nestled among forests, despite being just 15 miles from Washington, DC.
Beretta, a 15th-generation, family-run, 500-year-old Italian gunmaker, has offices and factories all over the world and has been making guns in Accokeek since 1987.
The boardroom of Beretta USA is a feast for the eyes, especially if you have an interest in guns.
It is lined with an eclectic selection of guns, including the M9 and subcompact pistols like the Nano, as well as shotguns, hunting rifles and an assault rifle, the ARX100.
We made our way to the underground range, a well-lit single lane featuring a target and a metal bin full of spent bullet shells.
I had the four Beretta handguns in front of me: two M9A3s along with the classic "Lethal Weapon" M9 and the nearly identical M9A1, which Beretta produces for the Marines.
Related: Antique guns fetch big bucks on the auction block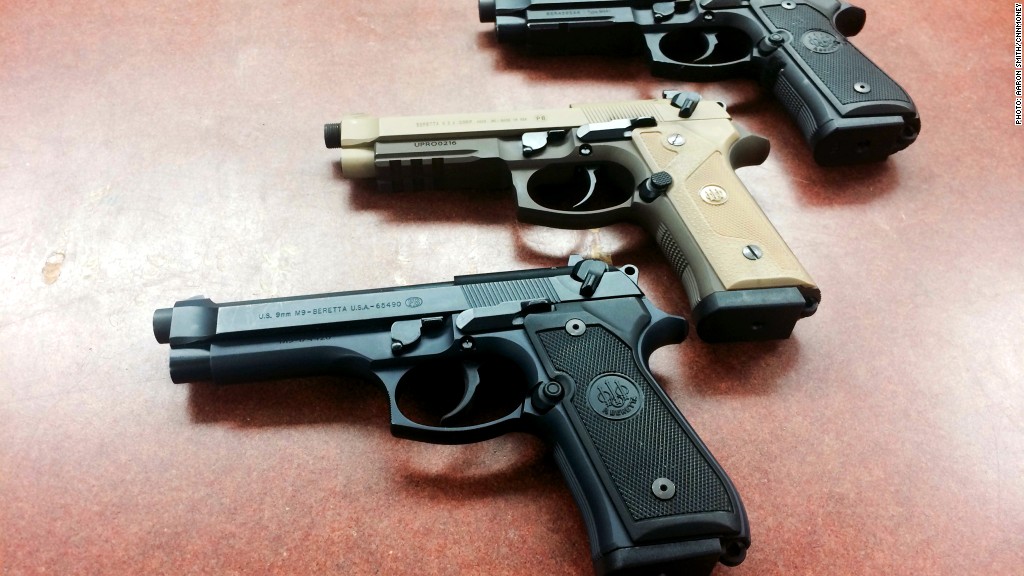 I started with the M9 classic. The action was smooth and the aluminum frame was sturdy, easily absorbing the recoil. The M9 felt more solid than any of the lighter polymer guns I'd fired. Lighter-frame guns generally bounce back a bit too much for my liking, because their recoil is harder for me to control.
I got more confident as I moved on to the M9A1, firing the rounds in rapid succession, forming a crescent of bullet holes around the bull's eye without quite hitting it.
All the guns Beretta displayed for me were 9mm. That's a smaller caliber than the .45 formerly used by the Army. Therefore, it has less power to "knock down" a target. But that also makes it easier to handle, which helps with accuracy. And as de Plano pointed out, lesser caliber bullets are smaller, so you can fit more of them into a magazine. That's why you can load 17 rounds into the M9A3 magazine, compared to the M1911, which has a seven-round magazine.
The last gun I fired was the M9A3, which Beretta hopes the Army will pick as its next standard issue handgun again.
The gun molded easily into my hand, as if it was customized specifically for me. One of the main attributes of the M9A3 is its modularity. That's because it comes with parts and accessories that can be attached and detached, almost like Legos. An extra-fat plastic grip was snapped on to this model, to fit my somewhat large hands.
I squeezed off my last allotment of 10 rounds. The gun was the right balance of weight and strength. It reminded me of a featherweight boxer.
After 30 years of waiting, shooting the Beretta was a blast.