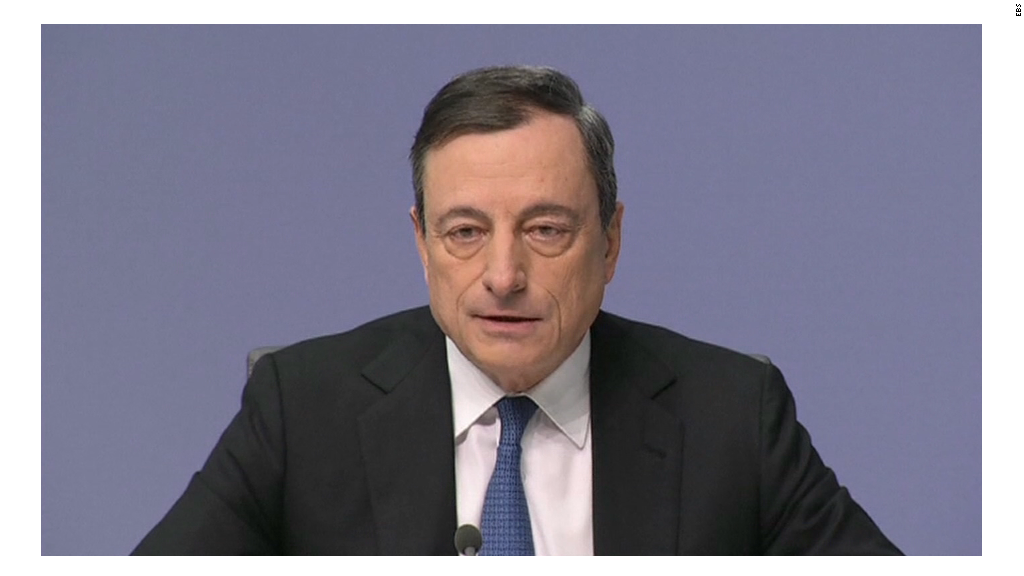 The European Central Bank has taken a dramatic step to stimulate the region's troubled economy, unveiling a massive bond buying program worth at least $1.3 trillion.
President Mario Draghi said the ECB program would cover public and private sector securities including -- for the first time -- bonds issued by eurozone governments.
Even junk-rated bonds from Greece and Cyprus qualify, provided those countries continue to meet the terms of their EU and IMF bailouts.
Purchases will begin in March at a monthly rate of 60 billion euros ($70 billion) and are intended to continue until the end of September 2016.
Draghi said the program of quantitative easing could extend beyond that if necessary to achieve a "sustained adjustment in the path of inflation" towards the bank's 2% target.
The ECB took the unprecedented step because previous stimulus measures -- including record low interest rates and buying other assets -- had failed to boost inflation expectations.
Prices across the eurozone fell in December, pulled down by sharply lower energy costs. The region is also suffering from depressed economic activity, and unemployment remains near record highs.
Related: Deflation 'Death Star' firing lasers at the economy
German opposition to QE has softened as eurozone inflation turned negative, threatening a damaging deflationary spiral of the kind that hobbled Japan for nearly two decades.
The ECB governing council was unanimous in its view that QE was a legitimate tool for the bank to use, and there was a large majority in favor of pulling the trigger now, Draghi said.
QE is the last big weapon left in the ECB's arsenal and most experts say its deployment is long overdue.
But they also caution that printing money alone won't be enough to rescue Europe, and that the best the ECB can do is buy time for governments to carry out urgently needed reforms.
That was a view reinforced by Draghi.
"For growth to pick up, you need investment, for investment you need confidence, and for confidence you need structural reforms," he said. "The ECB has taken a very expansionary measure today, but it's now up to the governments to implement these structural reforms."
The ECB's move was widely anticipated but Draghi still managed to beat market expectations.
German stocks shifted into positive territory following the announcement, while other European markets extended modest gains. France's CAC was up 0.6% and Germany's DAX rose 0.2% in afternoon trading.
Potentially the biggest impact of QE will be to further weaken the euro. The currency fell to an 11-year low at $1.15. That makes exports cheaper, and could help stoke inflation by making imports more expensive.
"Markets will cheer the fact that the ECB is going to be buying bonds on this scale, which is ahead of expectations and with a hint of being open ended," said Luke Bartholomew, a fund manager at Aberdeen Asset Management.
"A weaker euro should help exports a little, but it won't suddenly make European economies much more competitive. That urgently requires structural reforms which European leaders seem unwilling to push through," he said.
Chancellor Angela Merkel of Germany, whose economy has fared better than many others in the eurozone, urged fellow leaders to use the window of opportunity wisely.
"We cannot be tempted to buy time and not do reforms," she said at the World Economic Forum in Davos.
--CNNMoney's Ivana Kottasova and Virginia Harrison contributed to this article.