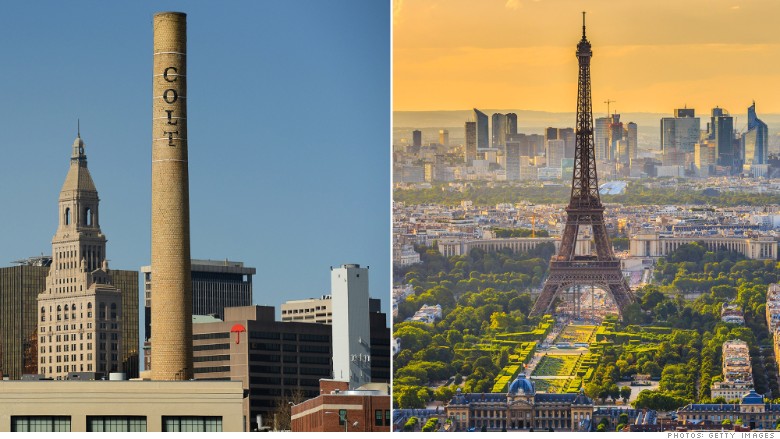 It's a capital on a winding, scenic river and it's among the world's elite cities in one key category. Jay-Z and Kanye West were once there too.
Nope, not Paris. We're talking about Hartford, the pride of Connecticut.
The capital of the nutmeg state has more economic activity per person than Geneva, Paris and basically the rest of the world's great cities, according to a new report by the Brookings Institution.
Only Zurich, Oslo and San Jose, California beat out Hartford.
Related: Most Innovative Cities
Hartford's GDP per capita, $76,510, placed fourth among the 300 cities in the report. Geneva ($74,580), Paris ($70,760) and others placed just below the Connecticut capital in Brookings' list.
Brookings used gross domestic product, a broad measure of economic activity, divided by a city's population as a key factor when it ranks metro areas for overall economic performance. GDP per capita is often thought of as a good gauge of the standard of living in a place.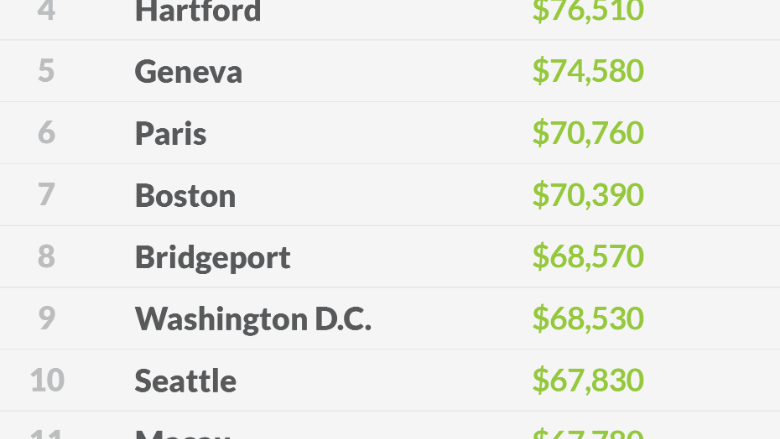 Hartford is known as the insurance capital of the world. The insurance industry generates a lot of cash and does not require many workers, creating a high GDP per capita figure. Business and financial services, a broad jobs category that includes insurance, makes up almost 20% of employment in Hartford, but nearly half of the region's economy, according to Joe Parilla, an author of the Brookings report.
"With only the 20% of the employment base, they're generating a ton of output," says Parilla. "We knew Hartford had this insurance niche that, in a way, is similar to how these other major financial hubs are participating in the economy."
But don't think everyone in Hartford is rolling in the dough.
The city has not recovered to its pre-recession growth levels, especially in employment. Brookings gave it an overall economic performance ranking of only 239 out of the 300 global cities the report scored. Hartford's unemployment rate is 6.3%, well above the nation's 5.6%, according to the Labor Department.
Tourism takeaway: don't change those vacation plans from Paris to Hartford. Enjoy the Louvre.