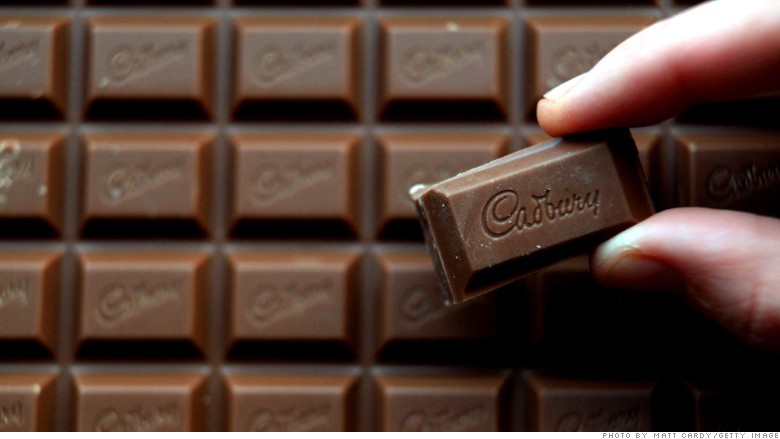 Fans of proper British chocolate are up in arms over a trademark dispute between Hershey and an importer.
Hershey (HSY) filed a lawsuit in August against LBB Imports, a New Jersey company that sells specialty products from Britain, South Africa and Australia.
LBB has since stopped importing the U.K. brands that Hershey objected to. However, the move has ended up offending fans of British-made chocolate.
It sparked an angry response from Tea & Sympathy, a New York store that specializes in British goods.
"Due to legal action by the so-called chocolate maker Hersheys, we can no longer import the real Cadbury chocolate from England," the shop wrote on its Facebook (FB) page. "They want us to sell their dreadful Cadbury approximation but we can't in good conscience sell you such awful chocolate when we have made our reputation on selling you the yummy real English stuff."
Related: Made in Britain -- U.K. factories are back in fashion
Hershey accused LBB of violating trademark laws by importing U.K. candies such those made by Cadbury that only Hershey has the right to sell in the United States.
In the lawsuit, Hershey said LBB violated its trademarks by importing chocolate bars popular in the United Kingdom, such as Toffee Crisp, Yorkie, Maltesers and Cadbury.
Hershey argued that the black and orange packaging of Toffee Crisp too closely resembles that of its Reese's brand. Hershey says consumers might also confuse the U.K. brands Yorkie and Maltesers with its York and Malteser products.
Related: Cronut creator unveils ice cream sundae in a can
LBB also imported British-made Kit Kat and Rolo candies, though Hershey has the right to distribute them in the United States.
"Given the immeasurable value of our brands, we work hard to protect these important intellectual assets and defend them against infringement," said Hershey spokesman Jeff Beckman.
Beckman said LBB recently signed an agreement to stop selling the forbidden confections and the lawsuit has since been dropped.