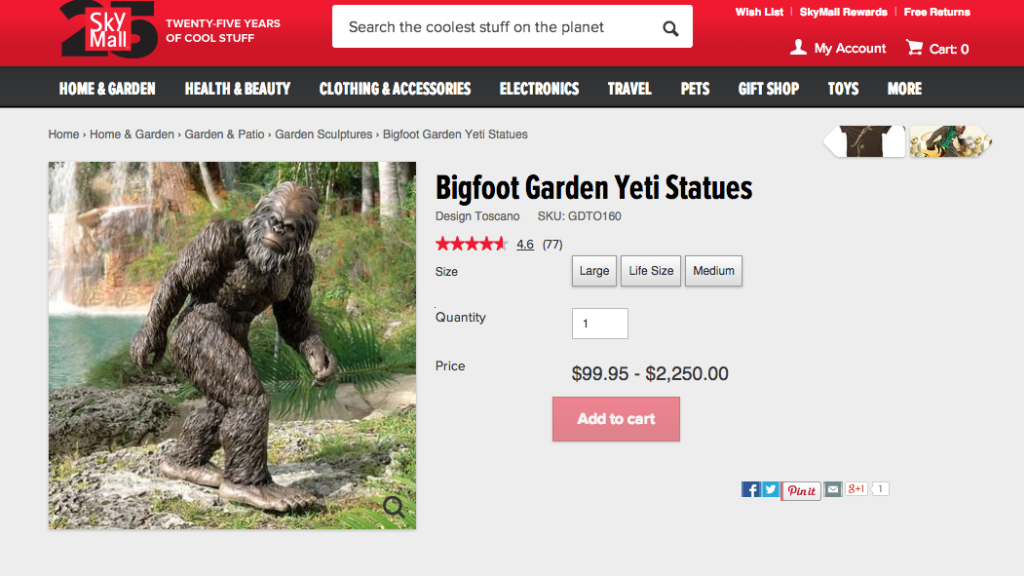 It's a sad day for shoppers who love Sasquatch statues and electric slippers.
The SkyMall catalog, a dog-eared best friend to bored and lonely fliers for 25 years, has filed for bankruptcy.
The seatback mainstay may have suffered a steep decline as airlines began loosening the rules that allow fliers to use electronics, according to court documents.
Related: See SkyMall's craziest stuff
Last year, Delta (DAL) and Southwest (LUV) airlines both ended their contracts with SkyMall, according to court documents.
A spokesman for SkyMall did not immediately respond to a request for comment.
Whatever the cause, it appears that selling a wide range of extremely offbeat products, such as the iFetch ball launcher for dogs and a Bigfoot Garden Yeti statue, proved to be an unsustainable business.
The Phoenix-based outfit reported in its Chapter 11 filing that it has assets of between $1 million and $10 million, and liabilities of between $10 million and $50 million.
Chapter 11 bankruptcy allows companies to restructure their business and shed some of their debt.
Gadget retailers of all stripes have had a tough go of it since Amazon.com (AMZN) came on the scene. Sharper Image filed for bankruptcy in 2008, folding its brick and mortar locations, but still sells products online and through a catalog. Brookstone, home of the giant massage chair, went into backruptcy in 2014 and was then purchased by Chinese investors. Likewise, Fingerhut had been slated to close up shop back in 2002, but remains in business online.