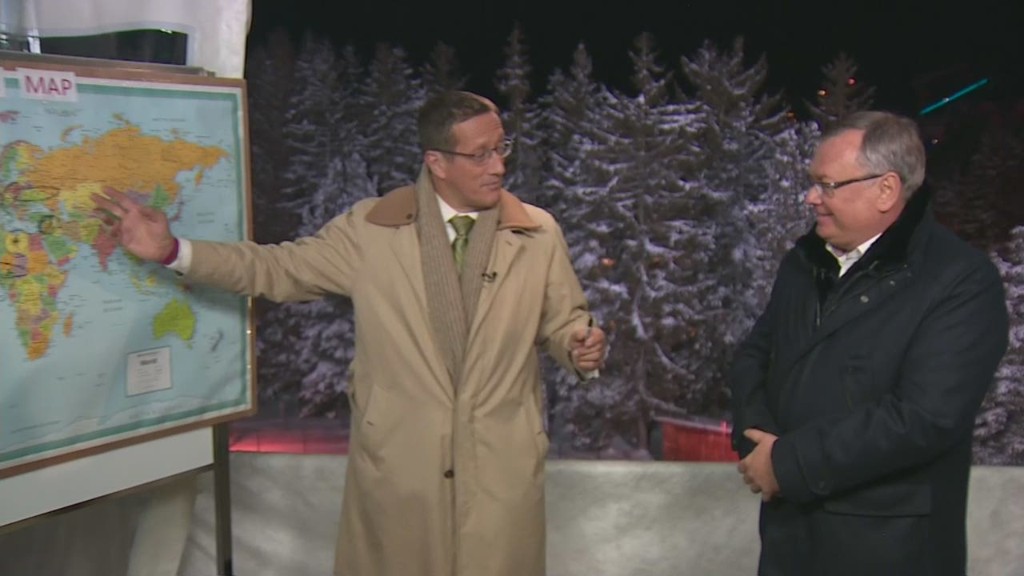 Russian political and business leaders are warning the U.S. and Europe not to push too far as the sides clash over sanctions.
Igor Shuvalov, first deputy prime minister of Russia, warned that Western sanctions are only making a difficult situation worse.
"Sanctions will never ever force [President Vladimir Putin] to do anything differently," he said during a talk at the World Economic Forum, noting that sanctions have encouraged the population to rally around Putin.
"If Russia is told 'Go to that corner, sit their quietly and we will teach you [a lesson with] our sanctions', nothing will be solved and it will be a bleeding wound for decades," he said.
It's widely assumed that Western sanctions against Russia will not increase further.
But the CEO of Russia's state-owned bank VTB warned any attempt to shut Moscow out of a global system used to process payments -- known as SWIFT -- would mark a serious escalation.
Opinion: Why the new Cold War matters
It's a weapon that has been used before -- Iran was barred from SWIFT in 2012. The U.K. reportedly suggested using it against Russia this summer.
"Russia and America might have no relationship after that," said VTB's Andrey Kostin on Friday.
"If there is no SWIFT, there is no banking ... relationship, it means that the countries are on the verge of war, or they are definitely in a cold war," he said.
Ukraine's president said this week he would call for tougher sanctions if Russia continued to flout a peace agreement signed in September.
VTB, like Russia's other leading banks, has already been prevented from raising money from European and U.S. investors under sanctions imposed last year.
The sanctions are part of a coordinated effort by Western nations to punish Russia for its role in annexing Ukraine's Crimea region and supporting pro-Russian rebels in eastern Ukraine.
The sanctions, combined with falling oil prices, have hobbled Russia's economy. The value of the ruble has halved over the past few months, sending inflation soaring above 10% and shock waves across the country.
The Russian government is trying to alleviate the pain by pumping money into big banks that are being starved for cash by Western sanctions.
Europe is due to review some sanctions in March, but unless the situation in Ukraine improves between now and then, it's highly unlikely to relax its stance.