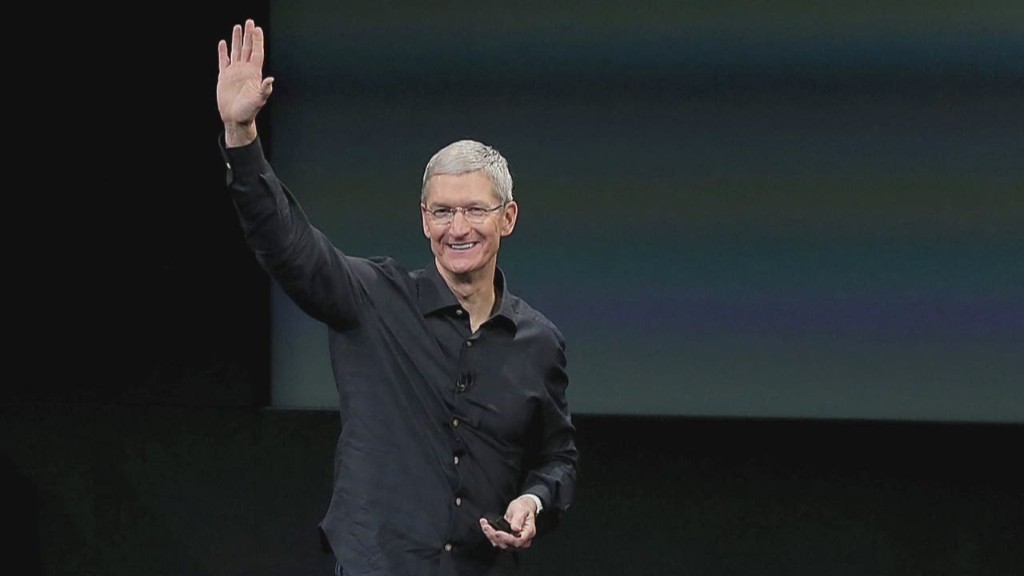 Apple CEO Tim Cook is not yet a billionaire, but he's well on his way.
Cook's pay more than doubled last year to $9.2 million, according to a regulatory filing. His salary rose by a quarter to $1.75 million, and his bonus doubled to $6.7 million. Cook also cashed out vacation time he never took, for a total of $56,923. And he received nearly $700,000 in security expenses.
But his paycheck and perks are the least of it.
Also in 2014, $145 million worth of his previously announced stock awards vested. The shares were part of his welcome package when he took over as CEO in 2011.
Cook still has $536 million worth of stock awards from that package that have not yet vested. Cook will receive those shares over the course of the next six years.
Cook's pay package was valued at $378 million when he became Apple's CEO. But shares have risen so sharply over the past three years (mostly in 2014) that his stock awards are now worth $681 million -- an 80% increase.
Cook doesn't yet appear on either the Forbes or Bloomberg billionaire lists. But he may be there soon.
Despite his big payday, Cook was one of the lowest-paid executives at Apple (AAPL) last year.
New Apple Store chief Angela Ahrendts got a $73.3 million pay package, most of which came in the form of stock awards that will vest over time. She also received a $412,000 salary and a $1.65 million cash bonus.
Apple gave Ahrendts nearly $800,000 to relocate to the company's Cupertino, California, headquarters. She had lived in London when she was CEO of Burberry (BURBY).
Other highly paid executives included software & services chief Eddy Cue, who made $24.5 million in cash and stock, as well as operations head Jeff Williams, who was paid $24.4 million.
New Chief Financial Officer Luca Maestri got paid $14 million, and outgoing CFO Peter Oppenheimer made $4.5 million.
The company's executives were rewarded handsomely because Apple had a banner year.
Apple sold a record number of iPhones and Macs last year, and the company unveiled its plans for the highly anticipated Apple Watch. The company got into the mobile payments business with Apple Pay, and it made its flashiest acquisition in history when it bought Beats Electronics. Though iPad sales are slumping, the iPhone 6 Plus has sold well and represents Apple's answer to the phablet craze.
Bonus targets for the top execs were upped to 200% of executives' salaries (up from 100%) and their maximum bonuses were increased to 400% (up from 200%). Every executive maxxed out his or her bonus.