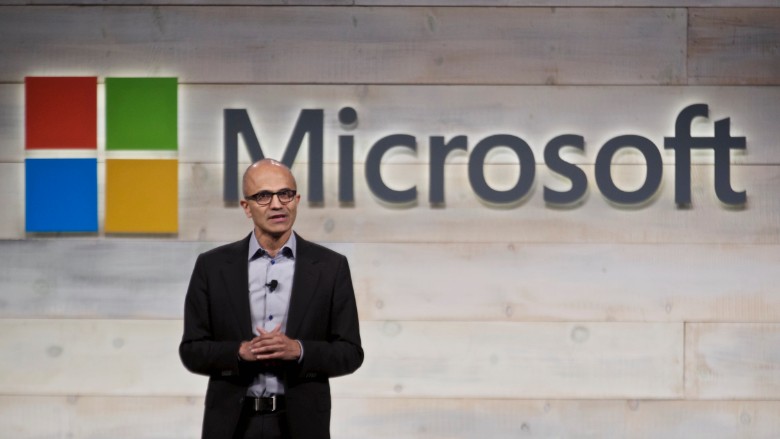 Microsoft sales are growing for just about every product it makes ... except for Windows.
A couple years ago, that would have caused a panic -- Windows has been Microsoft's cash cow since 1985. In 2015, Microsoft (MSFT) isn't sweating it too much. Microsoft would now much rather give Windows away for next to nothing to grow its customer base and support its other products.
The strategy is paying off: Microsoft's revenue grew 8% during the final three months of 2015, despite Windows sales tumbling 13% during the company's fiscal first quarter.
Part of the steep Windows drop is due to the fact that in the previous year, lots of businesses were buying Windows 7 and Windows 8 licenses after Microsoft killed off support for Windows XP.
And in an effort to add some much-needed juice to the moribund PC market, Microsoft was giving away Windows for free to tablet PC makers. Many laptops were selling for less than $300 during the holiday season as a result.
That's just fine with Microsoft CEO Satya Nadella. Microsoft doesn't want to lose customers to Apple (AAPL) and Google (GOOGL), as smartphones and tablets eclipse PCs as the go-to gadget for everyday use.
That's why when Microsoft releases its new Windows 10 software later this year, it will be a free update for smartphone, tablet and PC users on the current version of Windows.
"With our free upgrade offer ... developers will have a large, up-to-date user base to target," he said on on a conference call with analysts. "I'm very happy with that strategy."
A sales bonanza in a bevy of its other products gave the company more than enough of a boost to make up for the drop in Windows sales.
--Sales of Microsoft's Surface tablet were up 24% in the quarter, eclipsing $1 billion in revenue for the first time in the once-troubled tablet's history.
--Microsoft's cloud business more than doubled its revenue, and it is on pace to become a more-than $5 billion business for the company.
--Xbox won the holiday season, beating the Sony (SNE) PlayStation 4. Microsoft sold 6.6 million Xbox Ones, which is more than it sold a year ago. But Xbox revenue was down, because Microsoft no longer requires Xbox customers to buy the Kinect motion sensor attachment with the console, making it cheaper for people who just want the console by itself.
--The company's Office sales fell 1%, but the productivity suite's 365 subscription service is booming. It now has 9.2 million customers, up 30% from the previous quarter.
--Even businesses that hadn't historically performed well for Microsoft had strong quarters. Bing ad sales grew 23%, and Lumia smartphone sales totaled 10.5 million units, up 30% from over a year ago -- the best quarter for the former Nokia brand ever.
Microsoft's profit fell by nearly 11% to $5.9 billion, largely due to the ongoing restructuring at the company -- Microsoft cut 18,000 jobs last year. Excluding those one-time items, Microsoft earned 71 cents per share, in line with Wall Street analysts' forecasts.
Sales of $26.5 billion slightly exceeded analysts' expectations.
But Microsoft said the weak global economy and stronger dollar will weigh on future results.
Shares of Microsoft fell 4% after hours.