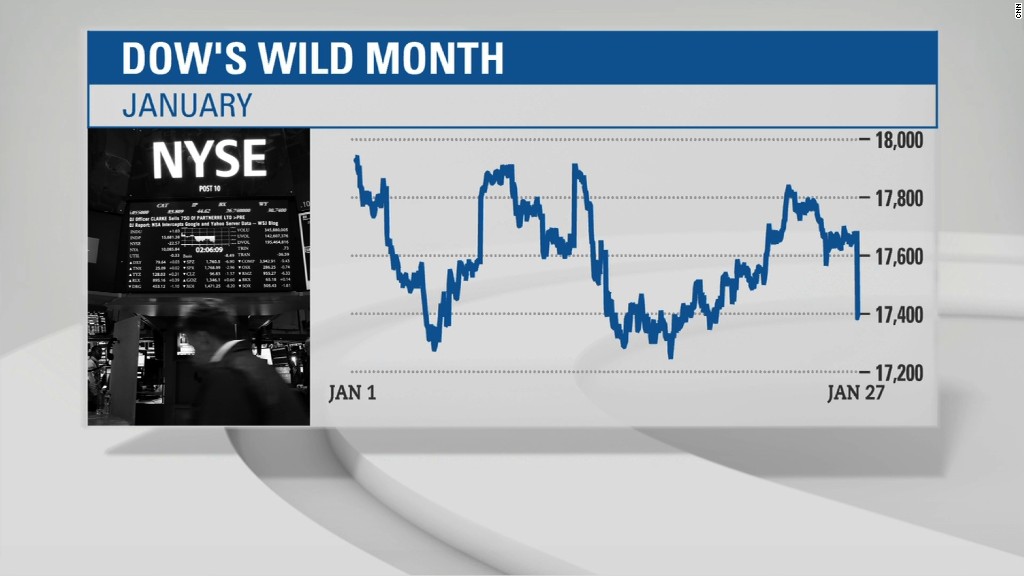 It's official: Falling oil's latest victim is the construction sector.
Caterpillar Inc. (CAT) missed expectations in the fourth quarter -- a concerning sign for America and the world's recovery.
Profits plunged 25% in the fourth quarter from a year ago as demand is starting to slow for their equipment, especially in oil producing parts of the world.
The warning sign was enough to spoke investors. Caterpillar stock slid over 7%, helping to drag the Dow down 291 points Tuesday, since the company is one of the 30 stocks in the Dow Jones Industrial Average.
"The recent dramatic decline in the price of oil is the most significant reason for the year-over-year decline in our sales and revenues outlook," said Caterpillar Chairman and Chief Executive Officer Doug Oberhelman.
The building equipment company's earnings per share fell 20% to $1.35 compared to the same quarter a year ago, well below analysts estimates for $1.55 per share.
Related: Warning sign: Stocks take nosedive
The future isn't looking bright: Oil isn't the only problem for Caterpillar. The company is expecting a particularly big hit in its mining equipment sales business as prices of metals like cooper also plummet.
The slowing global economy isn't helping either. Caterpillar dropped its expectation for sales to China on the heels of the nation announcing its lowest economic activity levels in decades.
Related: China posts it worst growth in 24 years
Caterpillar cut over a thousand jobs at its plant in Belgium, resulting in costs of nearly $100 million in the fourth quarter. What's worse: it expects to have another $150 million in restructuring costs this year. Caterpillar's stock is down 13% since the start of the year.
The company met analysts' fourth quarter revenue expectations at $14.2 billion, but that is down slightly from a year ago.
Caterpillar's earnings come during an important weak for the U.S. and global economy. Over 140 S&P 500 companies are reporting earnings, which experts say will provide some direction on the strength, or weakness, of world markets.
After weeks of whiplash in the markets, companies like Caterpillar will foreshadow what investors and the public can expect for this year.