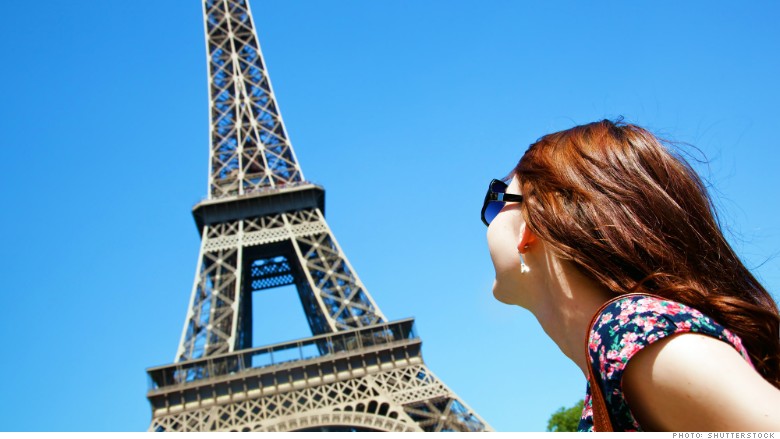 Take it from the experts: Europe is on sale right now.
Christopher Vecchio spends his days analyzing the moves of the U.S. dollar, British pound, Swiss franc and other global currencies. At the moment, he's extremely excited about booking a trip to France because the euro is so weak.
"I'm looking forward to spending my dollars over in Europe. Literally, they haven't been stronger in 11 years," said Vecchio, an analyst at DailyFX.
He and his fiancee want to spend their August honeymoon in Europe. They have a short list of countries they are debating. Vecchio crossed Switzerland off after the Swiss franc spiked 30% earlier this month. But any country that uses the euro looks like a great deal.
Related: Sleep Switzerland jolts currency markets
The exchange rate dipped as low as $1.10 to €1 over the weekend. That's the best rate for Americans since 2003, and some experts predict the dollar and euro could equal each other soon.
It's a heck of a departure from late 2008, when the exchange rate was $1.50 to €1.
"Head for the Alps, either France or Austria to ski this winter," jokes Sebastien Galy, senior currency strategist at Societe Generale. "It's going to be significantly cheaper than the U.S. slopes."
To put it another way, a Big Mac currently costs $4.79 on average in the United States. In Europe, a Big Mac goes for about $4.26, according to the latest calculation from The Economist.
What's making Europe cheap? Europe's economy is going through a bumpy patch. While the U.S. economy continues to rebound, Europe's is teetering on another recession. The prices of goods in many parts of Europe are actually falling, a phenomenon called deflation, which one hedge fund manager recently compared to Darth Vader.
Related: Deflation 'Death Star' shows up in Europe
As Europe struggles economically, so does its currency. The euro took another hit over the weekend when Greece voted Syriza into power, a political party that campaigned to roll back austerity measures. It could possibly mean Greece will leave the euro, a move that would send further unrest in the European markets.
"I haven't booked [my trip] yet. I still think the euro is going to fall," Vecchio says.
Greek and European leaders are currently in talks to figure out next steps, especially over what to do about Greece's substantial government debt.
Flight problem: While Europe will feel cheaper when you get there, airlines haven't cut their prices much despite the dramatic fall in fuel costs.
Delta (DAL) expects to save $2 billion this year on fuel costs, but those savings aren't being passed on to the consumer.
Galy also notes that while the euro is much more of a bargain than it was before for American travelers, many places in France and Germany are still pricey relatively speaking. The best deals are likely to be found in Spain and Greece where the economies are even more depressed.
Related: Why airfares are sky-high when jet fuel is dirt cheap
European wine looks good: Even if you aren't planning a trip to Europe, you could still benefit from less expensive European goods.
"Anybody who has European roots will be happy importing Italian shoes and French wine," Galy says.
The average consumer might also notice a drop in the price of cars and car parts, especially on European brands like Mercedes-Benz.