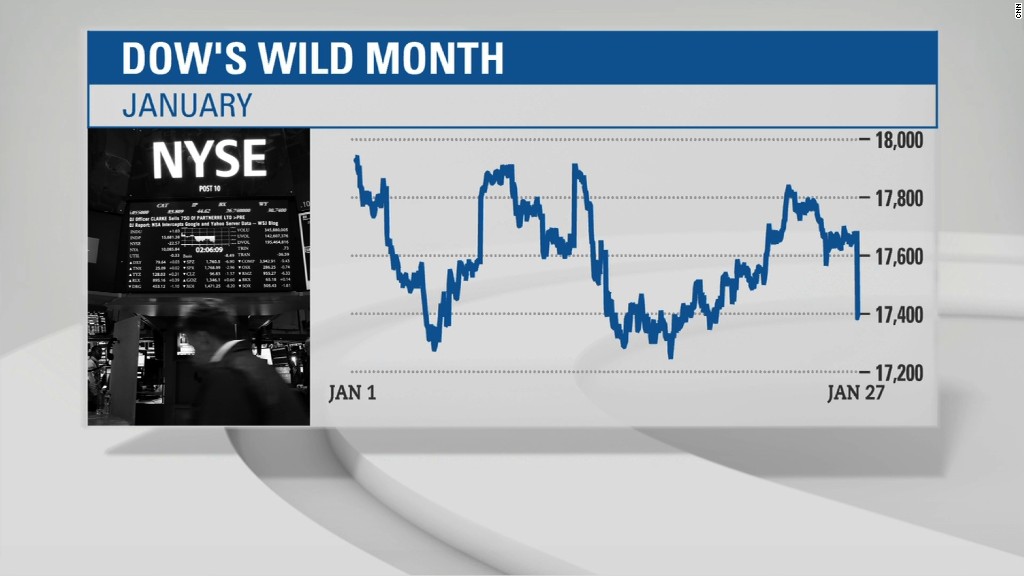 Forget the snow. Investors are getting a blizzard of earnings this week, and so far it's a gray mess.
The Dow shed 291 points Tuesday. It was a rough day, although not quite the carnage it could have been. The Dow fell over 380 points in the morning after Microsoft (MSFT), Caterpillar (CAT) and Procter & Gamble (PG) all disappointed heavily in their results.
The market is reacting to three prongs of bad news: falling oil's impact on companies, more signs of a weakening global economy and corporations cutting their outlook for 2015.
Caterpillar is expecting a big hit on its construction equipment business as China slows down and demand drops off from oil producing parts of the world. Profits for the fourth quarter are already down 25% from a year ago.
Related: Lousy Caterpillar earnings drag the market down
Microsoft was upbeat about sales of Xbox and its Surface tablet, but it warned that the economic jitters in many parts of the world are likely to take a toll on earnings this year. That was enough to send the stock down 9% Tuesday.
The woes for Microsoft are spilling over into the rest of the tech sector with Twitter (TWTR) and Yahoo (YHOO) down about 3% and Intel (INTC) falling 4.5%. But expect some of that to change Wednesday. In a surprise, Yahoo announced a tax-free spin-off of its remaining stake in ecommerce giant Alibaba (BABA). The stock is popping after hours.
The key benchmark for the tech sector will be Apple (AAPL)'s earnings after the bell today. Wall Street expects a huge earnings beat. Anything less than that could be more sign of trouble.
Related: Can Apple earnings live up to the hype?
Overall, the S&P 500 slid 1.3% Tuesday and the Nasdaq fell 1.9% as the tech sector had a particularly rough day.
"The more lowered guidance we get from individual companies, the more it increases the inevitability that earnings projections for the S&P 500 as a whole will have to get revised further to the downside," says Tim Anderson, managing director of MND Partners.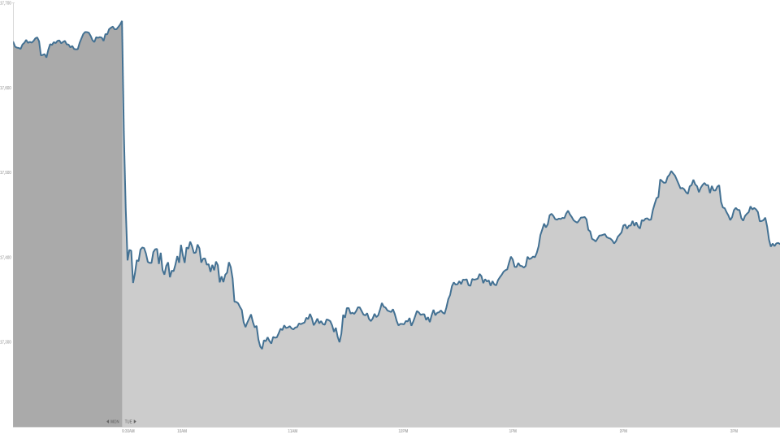 It's a similar story for DuPont (DD), Procter & Gamble and United Technologies (UTX) -- all Dow stocks that are dropping today after they said the global currency moves will impact their sales. Procter & Gamble, which makes household staples like Tide laundry detergent and Pampers diapers, expects weaker its businesses to suffer outside the U.S.
The strengthening U.S. dollar is good for travelers but hurting American companies trying to export their products.
Where's the consumer rebound? The other big warning sign today is new economic data showing people aren't buying as much as expected.
Sales of products meant to last long-term -- like kitchen appliances and home furniture -- dropped 3.4% in December from a month prior, causing concerns about economic growth. These items, called durable goods, are a key measure of consumer spending. Durable good sales decreased four of the last five months.
Anderson called it a "bombshell" for the market today.
Investors and economists have been looking for American consumers to spend more now that they are saving over $750 on gas.
This week could be a turning point for the market. The Federal Reserve will give its latest announcement Wednesday and fourth quarter gross domestic product comes out Friday.
On top of that, 142 S&P 500 companies report earnings, the most in one week for the quarter.
"You just don't get the sense that valuations deserve to go up," says Brian Sozzi, chief equity strategist at Belus Capital Advisors. "Right now, volatility is the name of the game."