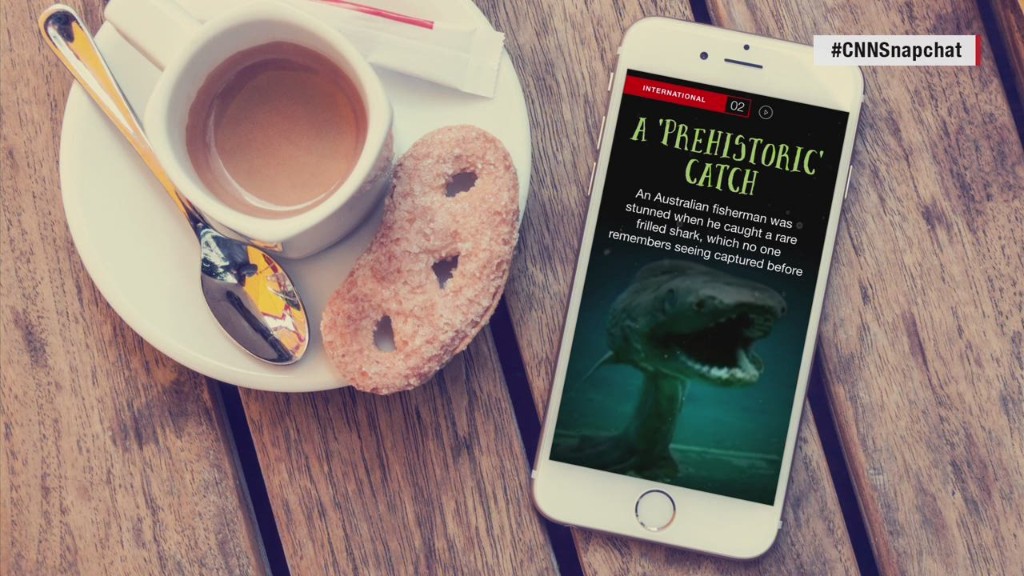 CNN and other major media companies are setting up shop inside Snapchat, the fast-growing messaging app that has big aspirations to showcase news stories and entertainment.
On Tuesday, Snapchat announced a new "Discover" section of its app and deals with almost a dozen different publishers that will program channels within it.
Stories within the Discover section will be viewable for 24 hours -- a whole lot longer than the usual blink-and-you-miss it Snapchat message.
CNN's channel will include five news stories a day, selected by CNN editors and producers.
"You'll be surprised by the amount of context we can include in the snaps," said Samantha Barry, head of social news for CNN. "They are visually-led with great images and videos, but when you swipe up, you will get great CNN context with more images, text and background."
The other publishers working with Snapchat include ESPN, National Geographic, Vice, Cosmo, Comedy Central, the Food Network, MTV, People, Yahoo News, and the Daily Mail. Some will promote news stories while others will publicize TV shows and entertainment content.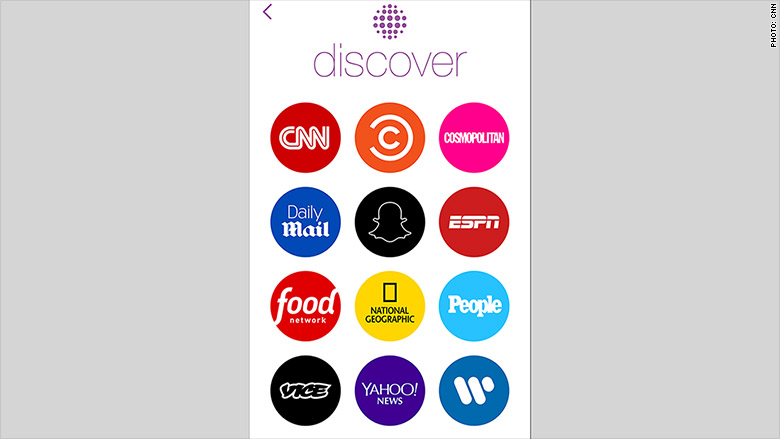 They all want more or less the same thing: to establish themselves on a new social network and experiment with something that is said to have more than 100 million monthly users.
"We're always seeking out new audiences and advertisers, and it's more important than ever to tailor content to suit the platform," Andrew Morse, senior vice president and general manager of CNN Digital, said in a statement.
The publishers also want to explore a new form of advertising. CNN, for instance, has sold an exclusive sponsorship for its Snapchat channel to BMW North America, according to a spokeswoman for CNN's parent company Turner Broadcasting.
Snapchat shares in the ad revenue that publishers earn from the snaps.
Snapchat has been working on the Discover feature for many months, and it's been something of an open secret in the industry. It's a crucial launch for the company as it strives to prove, like Facebook and Twitter before it, that it can make money through its communications platform.
Now the startup will have to persuade its users to try out its media partner's channels.
In an introductory blog post, Snapchat differentiated itself from competitors by saying "this is not social media."
"Social media companies tell us what to read based on what's most recent or most popular. We see it differently. We count on editors and artists, not clicks and shares, to determine what's important," it said.
The media partners were quick to praise the idea: Daily Mail North America CEO Jon Steinberg said "I think the notion of channels and 'snaps' as news makes Discover something truly different than what anyone's seen on a social platform to date."
Barry said that for CNN, "there's a huge opportunity for us to reach new, younger audiences on Snapchat."
"Let's assume that TV audiences are in their 50s, desktop audience are in the 40s, and mobile is maybe 10 years younger than that," she said. "Being on Snapchat helps us reach every decade -- we are going to reach those people in their 20s and younger on this platform."
Barry dismissed the notion that young people are uninterested in hard news, calling it "a myth that has been recycled every generation."
"We just need to understand how different generations and demographics find, engage and share news," she said.
She said the expectation is that some consumers will discover what CNN is covering through Snapchat, then seek more information through CNN's television channels and web sites.