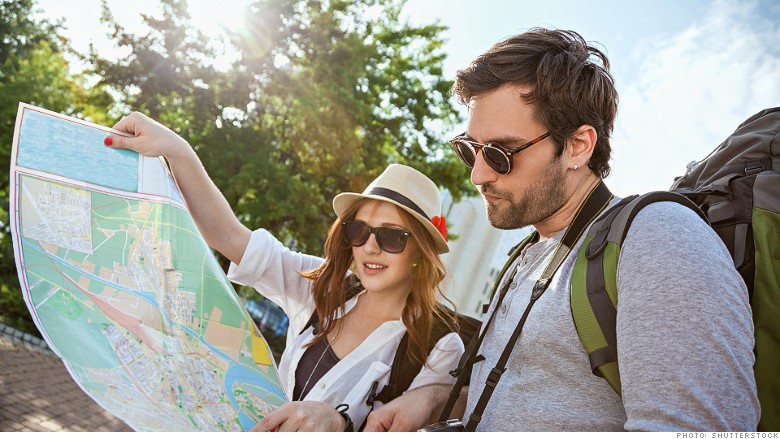 Everyone knows wandering around a city with an open map and a camera hanging from your neck instantly identifies you as a tourist.
But if you're trying to blend in, those aren't the only things that'll give you a way.
Here's a list of what travel experts said might make you unwittingly look like a tourist:
Carrying lots of gadgets. Technology has made capturing travel experiences easy and convenient, but too many gadgets can also draw undesirable attention.
Courtney Scott, senior editor at Travelocity, advised keeping gadgets like a camera, GoPro, smartphone and tablet at a low profile and stored in a mundane-looking backpack.
Wearing shorts. Shorts are not a common apparel choice in many European and Asian cities, according to Pauline Frommer, editorial director at Frommer's.
For American travelers, she added that clothing branded with an alma mater or favorite NFL team can also set off tourist alarms.
Showing too much bling. Most Europeans wear simple gold or silver wedding bands, according to Scott. "A lot of expensive jewelry or a diamond wedding ring is going to peg you as an American tourist," she said. "Big diamond rings are quite the exception, not the rule in foreign countries."
Related: 8 must-have travel apps
Hailing a cab. In many major U.S. cities, getting a cab involves stepping off a curb and raising a hand. But in Europe, it's usually best to call ahead to arrange a cab.
Take it from Scott, a seasoned traveler: She hailed a cab from the sidewalk in Rome and the unscrupulous driver took off after she loaded in her luggage, but before she got in.
Crossing the street as a pedestrian against the light where that isn't common can also signal that someone isn't from the area, said Joel Zack, president of Heritage Tours Private Travel.
Soaking up too much sun. Getting the perfect vacation glow is a priority for some travelers, but over or under doing it can show unfamiliarity with an area.
Brazil travel specialist Jill Siegel noted the sun is so strong in the country that most locals hit the beach early in the morning to avoid over exposure. "They can tell a [tourist] a mile away by their bright red face."
Staying protected from the sun is always a good idea, but make sure the precautions align with the setting. "Too much sunscreen on the face or a sun hat in the spring" might be a little too much for a city setting, said Zack.
Related:7 up-and-coming foodie destinations
Eating an early dinner. Eating before 8:00 pm is uncommon in many places outside the U.S. "Brazilians won't go out to a fine restaurant to eat until 9:00 at the earliest, 10:00 is normal," said Siegel. "But I've had dinner starting at 11:00 and midnight."
Eating too quickly or getting frustrated with slow service can also identify a non-local diner, the experts said.
Not ordering local. Countries are known for their local delicacies. And veering away from known specialties can be a tourist giveaway.
What's more, sticking to comfort foods can be expensive. "In many places, a Coca-Cola will cost more than a glass of wine," said Frommer. "If you go to Ireland and order wine, it will often cost triple that of a beer."
Ordering cereal for breakfast can also show unfamiliarity with cultural norms, she added.