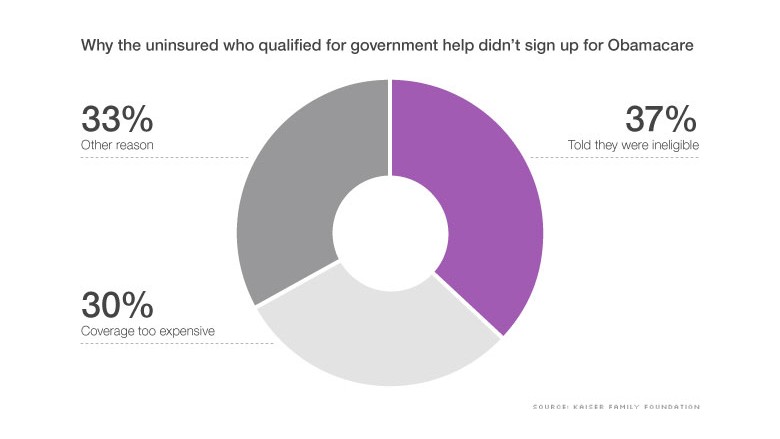 Many Americans who likely qualified for financial help on the Obamacare exchanges opted to remain uninsured last year.
Some two-thirds said they thought the coverage was too costly or were told they weren't eligible for insurance, according to the Kaiser Family Foundation survey released Thursday.
Far fewer of the uninsured cited reasons often mentioned in political circles: a philosophical opposition to the 2010 health law or sign-up difficulties caused by the early technical problems experienced by the healthcare.gov website.
"Lack of awareness of new coverage options and financial assistance appear to be a major barrier," the report said.
Related: Millions to owe Obamacare tax penalty
There are roughly 30 million uninsured adults in the country, though many, such as undocumented immigrants, are not eligible to shop on the exchanges or receive subsidies.
But nearly half of the uninsured appeared to be eligible for government assistance on the exchanges, including 30% who likely would have qualified for subsidies to help pay for premiums and 18% who likely were eligible for Medicaid, the survey found.
Many, however, didn't even try to sign up. The survey found that nearly six out of 10 uninsured people who appeared eligible for coverage through the health law did not attempt to get it last year. Cost was the main reason cited.
Related: Obamacare 2.0 sign ups hit 9.5 million
While most people who were interviewed for the poll did not blame red tape in enrolling, six in 10 eligible people reported difficulty with at least one aspect of applying for insurance, including trouble collecting all the required paperwork or submitting an application.
Kaiser Health News is a national health policy news service. It is an editorially independent program of the Henry J. Kaiser Family Foundation.