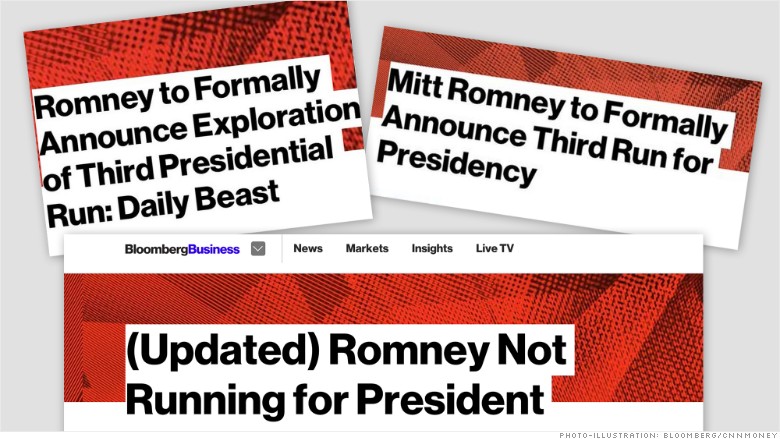 Within hours on Friday, two popular news websites went from claiming a big 2016 scoop to reversing course.
There was plenty of speculation that Mitt Romney would announce his plans to embark on another White House run, and the Daily Beast and Bloomberg News appeared to ratify those assumptions.
The two websites each published reports -- neither of which had a byline -- citing sources who said the former Massachusetts governor was ready to explore a third presidential campaign.
Shortly before Romney's scheduled 11 a.m. call with donors, conservative radio host Hugh Hewitt -- a vocal Romney booster -- posted a statement that said otherwise.
"After putting considerable thought into making another run for president, I've decided it is best to give other leaders in the Party the opportunity to become our next nominee," Romney said in the statement, which Hewitt posted on his website.
The news triggered an immediate about-face from the Daily Beast, whose reporters and editors had earlier trumpeted the apparent scoop.
"Confirmed: Romney is in for sure," tweeted the Daily Beast's executive editor Noah Shachtman at 10:21 a.m.
Shachtman owned up to the mistake.
"Our sources were wrong. Romney's not running," he said on Twitter.
Shachtman declined to comment beyond his tweet. He noted that all of the items in the Daily Beast's "Cheat Sheet" -- the section where the original story was published -- are unsigned.
Bloomberg published a new story about Romney's statement to Hewitt.
It also added a correction to its original story that attributed its error to the Daily Beast: "This story was based on an article from The Daily Beast, which contained inaccurate information. A statement released by Mitt Romney today clearly states he is not exploring a 2016 presidential bid."
Bloomberg spokesperson Vidhya Murugesan, in a statement, said the article "was posted to reference a report in another news outlet, and did not cite the source. We realized our mistake, and it was quickly corrected."
Bloomberg's headline for the story evolved over the course of the day.
The original headline -- "Mitt Romney to Formally Announce Third Run for Presidency" -- did not cite the Daily Beast. That changed a bit later, when the headline was tweaked: "Romney to Formally Announce Exploration of Third Presidential Run: Daily Beast."
By around noon, with the correction appended to the top of the story, the headline was amended to reflect Romney's decision to not run: "(Updated) Romney Not Running for President."
But the changes didn't end there. A few hours later, Bloomberg shifted back to the original headline, restoring the Daily Beast citation and noting parenthetically that the post had been updated.
The changes did not go unnoticed.
"Been fun watching this headline change all morning," New York Times reporter Michael Barbaro said on Twitter.