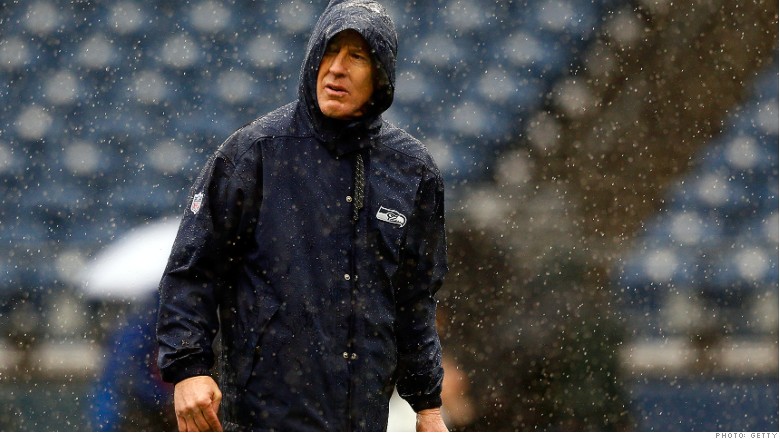 Seattle isn't the only place dealing with post-Super Bowl doom and gloom today. Major companies sound pessimistic about the future.
From Caterpillar (CAT) to Microsoft (MSFT) to Procter & Gamble (PG), executives are bemoaning the fallout of the soaring U.S. dollar, tumbling oil prices and lifeless overseas economies (see: Europe, Japan).
Among the S&P 500 companies that have issued guidance for the first quarter so far, a whopping 87% warned their results will likely miss expectations, according to Goldman Sachs. That's the ugliest prediction metric ever, at least in the eight years Goldman has been tracking it.
Goldman called the level of negativity "astounding" as typically "only" 71% of S&P 500 issue negative guidance at this time of the year.
"There are some forces at play that companies are being forced to acknowledge," said David Lebovitz, global market strategist at JPMorgan Asset Management, which has $1.7 trillion of assets under management.
All of the corporate pessimism is bumming out investors. The Dow tumbled 3.7% during January, its worst month in a year, on the gloomy guidance as well as other issues like political chaos in Greece.
Related: US economy misses the mark at end of '14
Strong dollar, weak guidance: Just look at what United Technologies (UTX) said late last month when it warned of below-consensus results. The helicopter and elevator maker said that while it sees revenue "momentum," the surging dollar is creating serious headaches.
During a conference call with analysts, United Technologies CEO Gregory Hayes complained about how he "can't control" foreign-exchange rates. "We'll do as much as we can to mitigate these headwinds."
While a stronger greenback (up 9% during the fourth quarter from the year before) is great for Americans traveling abroad, it hurts companies when they translate sales generated overseas back home. That's a big deal because many major companies make money in other countries.
Related: Stocks plunge, but bonds are still red hot
Oil crash fallout: Here's another thing consumers are cheering that some companies are not: cheap oil.
Not only is the crash in crude causing oil producers to dim their guidance, it's creating trouble for other companies like some regional banks, home builders and construction equipment makers.
Last week Caterpillar (CAT) shares plunged after the company said the "dramatic decline" in oil prices is hurting the corporate bellwether.
Following lackluster holiday sales, companies are also getting worried that consumers may decide to hoard their gas savings rather than spend it. Besides oil and FX-exposed sectors, the consumer discretionary and consumer staples groups have some of the lowest guidance ratios, according to BofA Merrill Lynch.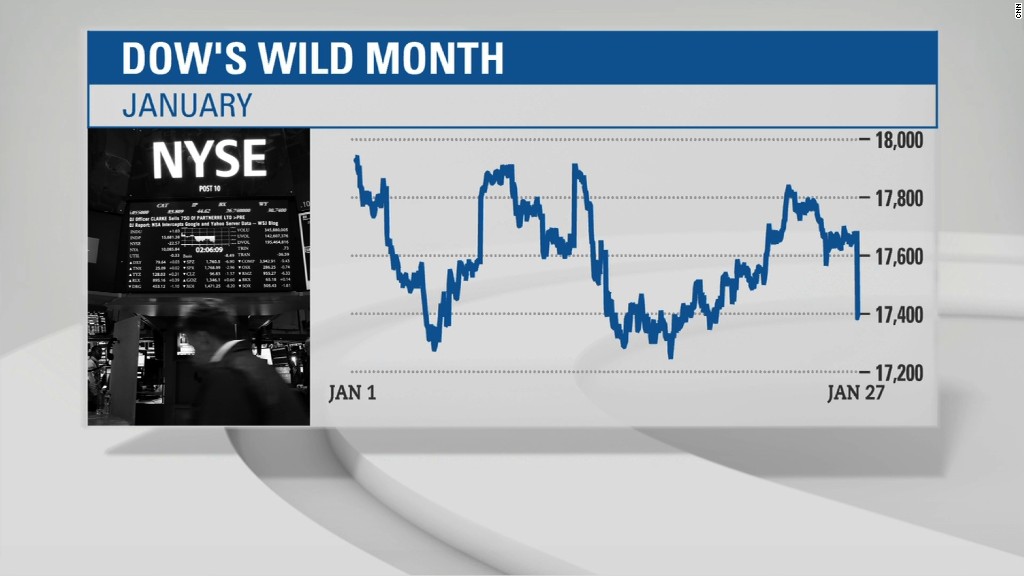 Related: Oil crash may kill the Texas housing boom
Silver linings: Bummed out enough? Lebovitz, the JPMorgan strategist, isn't letting the corporate pessimism get him down. He believes the biggest drivers of the negativity will be "transitory" in nature.
"I think oil prices will go back up and the dollar will come back down. With a strong U.S. economy behind Corporate America, I don't see why these companies can't make money a couple of quarters down the road," he said. "I don't think we're in a situation of dollar strength evermore."
Morgan Stanley offers a dose of hope as well. The firm said companies are beating revenue expectations this earnings season by more than any time in three-and-a-half years. Morgan Stanley said that's a "potential harbinger" for stronger earnings later in the year.
If they're right, the recent retreat in the stock market could turn out to have been a great buying opportunity.