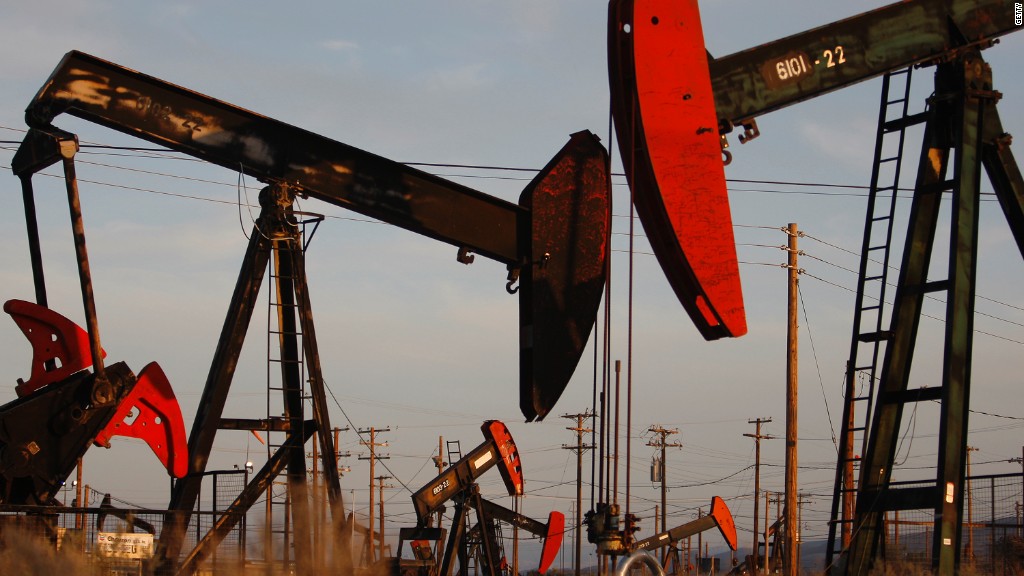 Wall Street's oil nightmare might be over -- at least for now.
Most Americans love cheap energy, but the crash in oil prices spooked investors. Many feared the meltdown was being caused by sudden economic weakness that other metrics didn't reveal. Investors also worried about a dramatic decline in profits for the energy industry.
Now that oil is showing signs of stabilizing, Wall Street is cheering. The Dow soared 305 points on Tuesday as the slide in oil prices appears to have ended, at least for the moment. After a terrible start to the year, the Dow is now just 2.5% away from all-time intraday highs.
Related: The 5 hottest ETFs in the world
Since sinking below $44 a barrel last week, oil has ripped 19% higher to settle above $53 on Tuesday. That's the biggest three-day spike since January 2009 when the Great Recession neared an end.
"We want the precipitous sell-off to stop. Whether that stops at $35 or $55 is not the issue," said Art Hogan, chief market strategist at Wunderlich Securities.
He said stabilization in this closely-watched commodity is pivotal for market psychology.
"When you see an asset class in free fall, it's hard to get excited about anything else. You're not going to buy stocks because you're afraid falling oil is a barometer for global GDP," Hogan said.
Related: Making money as the Fed raises rates won't be easy
Rig counts plunge: The oil rebound has been triggered at least in part by signs the energy industry is racing to fix the supply glut that caused prices to spiral lower. In recent weeks oil producers like BP (BP) and Chevron (CVX) have announced plans to slash capital spending and shelve certain projects.
Another bullish sign for oil: Companies are scaling back drilling activity. Baker Hughes said U.S. rig counts tumbled by 7% last week to the lowest level in three years.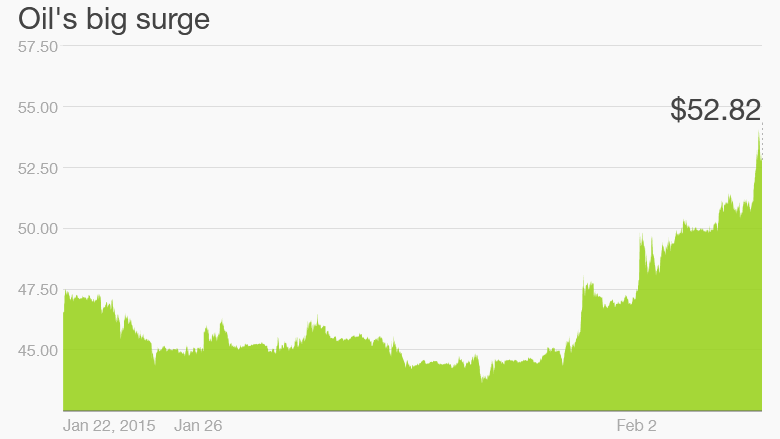 Oil prices have also been boosted by the first large-scale refinery strike in 35 years and the U.S. dollar, which fell sharply on Tuesday against the euro. (Oil is priced in dollars so a cheaper greenback cuts the price for overseas buyers.)
Hogan said it's too early to say whether oil prices have truly bottomed or if this is just a "head fake."
"Energy production isn't like flipping a light switch. Supply response happens in months, not days," he said.
Related: Wall Street bets on Staples-Office Depot marriage
Oil, solar stocks pop: Still, the sense of relief over oil has allowed stocks to bounce back from January, their worst month in exactly a year.
The Dow started February at a six-week low, but now it's up more than 500 points in just two days. Big winners include energy behemoths ExxonMobil (XOM) and Chevron.
After getting pummeled for months, the energy sector is the clear standout performer this week. It soared 3% on Tuesday, fueled by big rallies from the likes of Freeport-McMoRan (FCX), Denbury Resources (DNR) and Transocean (RIG).
Solar stocks are also being swept up by the rebound in oil prices. First Solar (FSLR) is up a whopping 14% in just two days as investors bet higher fossil fuel prices will make renewable energy more economical.
Related: netflix is king of content...but it's still risky
Turbulence for airlines, Greece: On the other hand, previously high-flying airline stocks have been grounded by the oil rebound. Delta Air Lines (DAL) and United Continental (UAL) are down more than 2% a piece this week.
Greek stocks are also doing a 180 this week.
The newly-elected government in Athens is toning down its debt demands, raising hopes a compromise can be reached that will avoid a disastrous Greek exit from the eurozone. The stock market in Athens spiked more than 12% on Tuesday on the signs of hope.