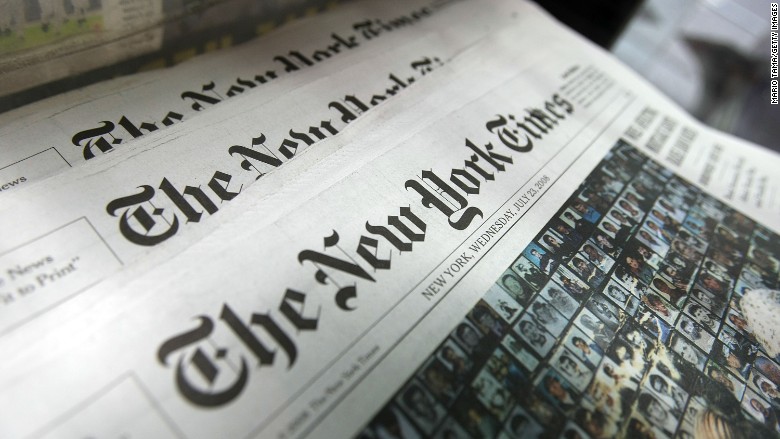 The advertising problem at the New York Times continues - and it may only get worse. But at least the trend might be slowing.
Overall, ad revenue dropped 2.1% in the last three months of 2014. The main culprit was a big dive in advertising in print, which fell 9.2%. Digital showed a healthy gain (19.3%), but it wasn't enough.
Print advertising still accounts for the lion's share of the Times' ad business.
The company said to expect another decline this quarter.
Times CEO Mark Thompson sounded an optimistic note: He said the less than 1% decline in 2014 ad revenue was the most encouraging year-over-year trend for the newspaper since 2005. The market appeared to share Thompson's optimism early Tuesday, with New York Times (NYT) shares rising about 6%.
In this challenging media economy, outlets both new and old have turned to traditionally unconventional methods to make up for the advertising shortfall. The Times is no different.
Last month, Dean Baquet, the newspaper's executive editor, said in a memo that he's been working more closely with advertising salespeople and suggested that the Times could trot out a regular ad-sponsored feature -- practices that have been resisted by many old school journalists.
Related: Times editor promises to 'fix the things the buyouts broke'
In a conference call on Tuesday, Times executives sounded bullish on "paid posts" -- the newspaper's native advertising platform -- and signaled that it will expand in 2015.
Baquet also used last month's memo to reiterate his commitment to the Times' digital initiatives, and on Tuesday, the company announced some gains on that front.
Revenue from digital-only subscriptions went up by 13.6% in the fourth quarter, with the number of digital-only subscribers eclipsing 900,000 by the end of the quarter. Thompson expressed confidence that the Times will top one million digital subscribers in 2015.
Between the increase in digital subscribers and a jump in home-delivery prices, the company said it "more than offset a decline in print copies sold."