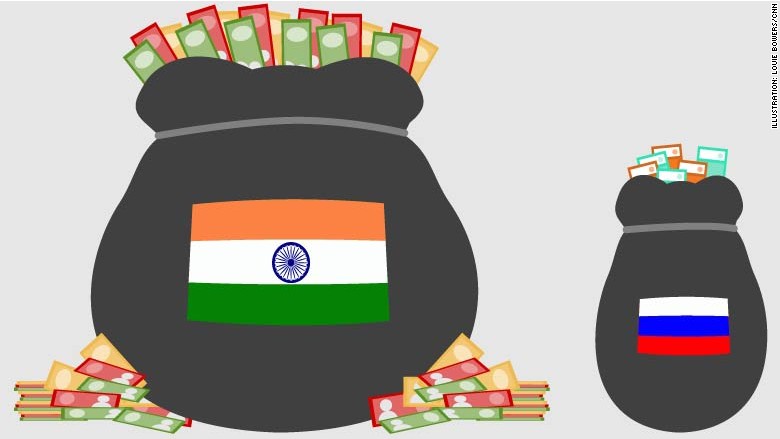 India's billionaires club is getting bigger: The country now boasts the third highest number of super rich in the world.
Asia's third biggest economy has 97 billionaires, 27 more than a year ago, according to an annual survey by research firm Hurun. That means it has overtaken Russia and the U.K. Only the U.S. and China have more.
India's economy is beginning to recover from its weakest period of growth for decades. Analysts expect lower oil prices and policy reforms to boost growth in the year ahead, and some forecasters even see it outpacing China in 2016.
That's driving India's stock market higher -- the benchmark index grew 48% in the last 12 months, a key factor in swelling the ranks of the super rich, Hurun said.
Manufacturing and pharmaceuticals produced the most new billionaires last year.
India's richest man, Mukesh Ambani, is worth $20 billion and ranks 41 in the global list. He is the largest shareholder in Reliance Industries, a group that spans mining, petrochemicals and retail.
Read more: How to invest like a billionaire
But what has been a stellar year for India has been a disaster for Russia's business elite.
Falling oil prices, a collapse in the ruble and Western sanctions pushed Russian economy into recession -- and the country's billionaires are counting their losses.
Ten Russians dropped off the Hurun list altogether. Of the remaining 93 billionaires, 60% saw their wealth shrink.
Energy oligarch Vladimir Evtushenkov was the biggest loser. His wealth fell by 77% after the government seized his oil company and put him under house arrest.
Hurun said the number of billionaires globally rose by 222 last year to a new record of 2089. The total wealth they control dipped slightly, by 1.5%, to $6.7 trillion.
The U.S. and China still lead the pack. Their citizens account for half of the world's billionaires.