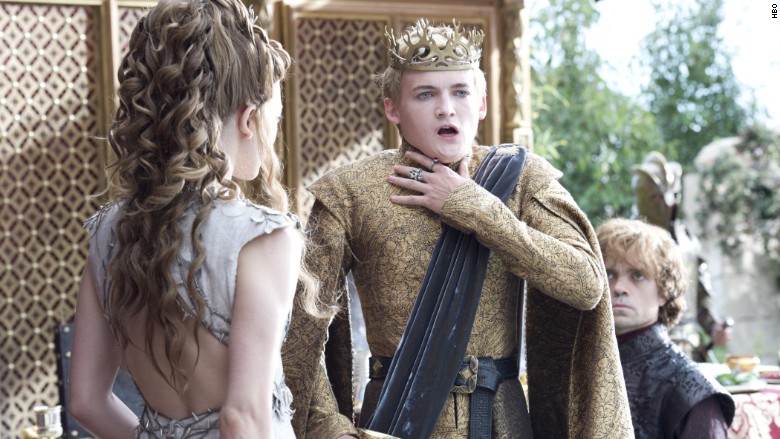 HBO is inviting "Game of Thrones" fans to try and win seats at a Westeros-themed feast, a contest that isn't for the faint of heart, considering the show's notoriety with dinner events.
HBO is calling the event "All Men Must Dine," a play on the show's tag line, "All Men Must Die." That seems appropriate enough, since banquets in the land of Westeros are typically associated with poisonings and massacres.
The "epic banquets" are being held in London from Feb. 13 to 15, according to HBO UK, the British arm of the cable television network. Contestants can choose their preferred day. A dozen contestants will be picked for each day, and they can each bring a guest. Travel costs are not covered. Entrants must be permanent residents of the United Kingdom.
"Entries from the Republic of Ireland are not permitted," said HBO on its web site.
"Throughout the evening, guests will sample the finest delicacies Westeros has to offer over multiple courses, accompanied by a carefully selected drinks menu of cocktails fit for a King."
(HBO did not say whether the cocktails would contain anonymously placed black jewels from a fatal tiara.)
The site invites contestants to enter for a chance to win two seats at the table by answering this question: "Who is your favourite [sic] Game of Thrones character, and what would you cook to win their heart?"
Related: Learn to speak 'Game of Thrones'
Which begs the question -- what would the Westerosi like to eat? Maybe roasted dragon heart? Dothraki horseflesh? The severed head of an enemy?
A panel of judges will pick the best answers, says HBO UK. The event will take place at the Andaz hotel on Liverpool Street in London's East End and will be catered by The Wandering Chef and mixologists from Grosvenor Events.
Contestants had better act fast. The deadline to enter is today (Wednesday, Feb. 4) at 11:59 p.m. Greenwich Mean Time. Entrants must be at least 18, which is drinking age in the United Kingdom.